Stranded seals: Tiny pups rescued from Scotland's shores
Fergus is the latest to be picked up by the Scottish SPCA after journey from the Netherlands.
Fergus the seal pup has been on quite the adventure in the last few weeks.
After being released from a rehab centre in the Netherlands at the start of October, the little seal has journeyed to Scotland, where he was picked up by the Scottish SPCA.
By the time he was in the care of staff at the wildlife centre in Fishcross, he had lost half his body weight and needed immediate help.
To give him a fighting chance of hunting in the wild, the team have been working tirelessly to help feed Fergus and equip him with skills invaluable to his survival.
He is just one of the many rescued seal pups taken in by the centre.
Last year, staff cared for more than 150 pups, the charity's biggest intake yet, with it costing around £500 to treat and release each seal.
Bringing the pups up to a healthy weight is the first priority for staff, with a strict tube feeding regime in place for the smallest of the pups.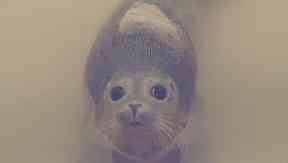 Assistant manager Jonathan Appleyard says: "All the seals that come in are normally orphaned or injured seals. Because they come in so young, they don't really know how to eat.
"They are the ones that have been left by their mums and some of them have not coped very well.
"In the wild they would get mums' milk up until three weeks but because we can't do anything that is going to be anywhere near the same richness and quality of that, we need to replace it with something."
Boiling down mackerel and mixing it with water, the smallest pups are fed through a tube around four times a day until they get to a point where their teeth and fur are starting to come through.
They gradually introduce the pups to solid fish and teach them how to eat them whole before they are released back into Scotland's waters.
"In the wild, this is a skill they would need to learn," Jonathan says.
"It gives them the steps and basic survival skills to move on and survive in the wild."
He adds: "What we try to remember is that they are scared. They are wild animals - they don't want to be near us.
"Once they get to a weight where they can go outside, they are put into a pool outside and the only interaction they have with humans is when we clean the pool and throw the fish in.
"It keeps them wild. They get back to being with other seals and they just socialise with the other seals."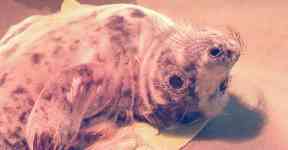 Usually, the pups are rescued at the beginning of October but Fergus arrived just before November, which could be due to milder temperatures.
Factors such as storms can also influence the number of seals that end up being rescued.
Jonathan says they could well see record numbers this year, making calls from the public more important than ever.
"What we always advise if you see a seal on the beach is not to approach it because they are quite dangerous and you have got to remember they are a wild animal and they will be scared if someone approaches them," Jonathan says.
"So if you see an animal that looks in distress or injured just call our helpline and they will send someone along to look at it and if it needs to come in they will bring them to us."
If you spot a seal, you can contact the Scottish SPCA on 03000 999 999.
Download: The STV News app is Scotland's favourite and is available for iPhone from the App store and for Android from Google Play. Download it today and continue to enjoy STV News wherever you are.