Wee Guys: Tiny Lego coastguard crew on huge safety mission
The wee crew are helping to keep Scots safe through their social media messages.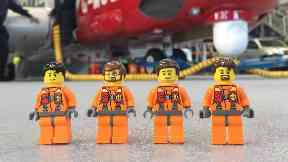 They might be only 1.5 inches tall but these tiny rescuers have a pretty big mission.
Scotland's Lego coastguard team, affectionately named the Wee Guys have spent the last three years trying to keep Scots safe.
Thousands of fans have been following as the itty bitty 999 crew warn against coastal dangers including swimming after drinking alcohol and playing on frozen lakes.
Through the power of social media - and some quirky outfits - the brick crew have been spreading their vital safety messages.
Why it's not a good idea to play with a maritime safety flare, for example, or what to do in a cliff or beach emergency.
Sometimes the messages are delivered in a shark suit or a hot dog costume but that only draws in more fans.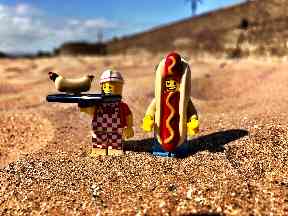 The big man behind the Wee Guys is Kevin Paterson, 33, Station Officer at the Coastguard team based in Ardrossan.
"As a child I loved Lego but I guess as I grew up, other things took over," says Kevin.
"But then, in 2014, Lego released a whole range of Arctic exploration sets in conjunction with National Geographic Magazine."
It had been nearly 20 years since he last purchased any Lego, but Kevin picked up one of the small sets on a whim.
"I was instantly taken back to my childhood and quickly ended up buying the whole series," he says.
"I then thought how cool it would be document these little adventurers out exploring the real world across social media platforms."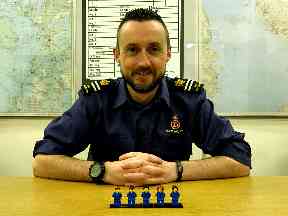 The world's smallest Coastguard Rescue Team was born - and the 'wee guys' began to combine the power of social media and the popularity of Lego to promote coastal safety and the work of HM Coastguard.
They now have more than 7000 Twitter fans and a growing following on other social media channels.
Kevin, who has loved the little yellow toys since he was a child, had become a very busy man.
When not at work with the emergency services, he was out with his wee crew on the coast, setting up shots in the waves.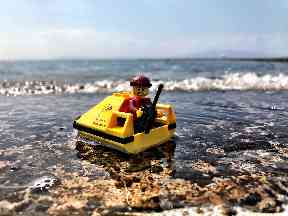 "When you're a Coastguard you become passionate about its work in saving lives at sea," he says.
"We know people love going to the coast - we love the coast too - but we know all too well that a great day out can go tragically wrong.
"I wanted to help by putting out coastal safety messages in a fun and unique way. "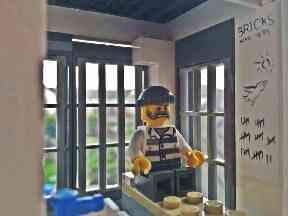 As well as pushing key safety messages, Kevin also wanted to promote the important work being done on a daily basis by Coastguard Rescue Teams around the country.
There are more than 3500 Coastguard Rescue Officers who are on call 24 hours a day, 365 days a year ready to leave their full time jobs, family and friends to rush out and help people in need.
"A lot of the work often goes unnoticed," says Kevin. "I feel it's only right to recognise the commitment and dedication of the Coastguard Rescue Teams and the great work they are doing."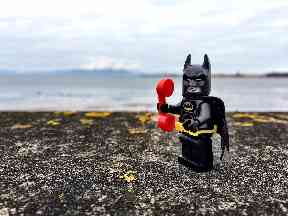 The project has also given Kevin the opportunity to visit other Coastguard Rescue Teams and Search and Rescue units around the country.
During 2017 one of the 'wee guys' also made the epic trek to Everest Base Camp in support of a fundraising campaign from a member of the Trossachs Search and Rescue Team.
"As far as I am aware this was a world's first for a LEGO minifigure," says Kevin proudly.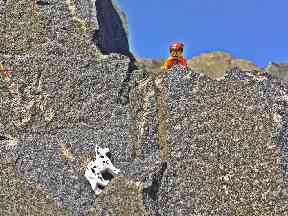 Currently there's also a 'wee guy' in Antarctica along with a real-world Coastguard who is on a six month secondment with the British Antarctic Survey so there'll be lots of new photos coming from that adventure in the near future.
"The biggest highlight though has to be overall support the project has received across social media," adds Kevin.
"Every day the interactions and followers continues to grow and the 'wee guys' have really been embraced in the hearts and minds of the wider public around the country."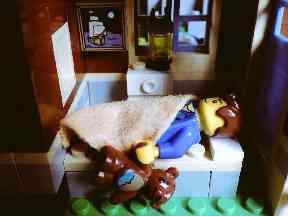 Almost half of all people rescued by UK coastguard helicopter crews between April and June this year were airlifted by Scottish-based crews.
New figures released by the Department for Transport in August 2017 show 444 people were rescued across the UK.
Coastguard search and rescue helicopter crews based in Scotland rescued 49% of them.
The Scottish crews operate from Sumburgh, Stornoway, Inverness and Prestwick.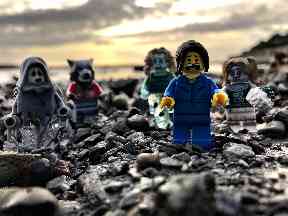 Kevin's little figures, such as Wee Donna and Wee Kev, are kitted out with a full range of rescue equipment and vehicles, and dish out crucial advice in a string of life-saving scenarios.
Scotland's human coastguards rescue those in peril at sea and on cliffs both on the coast on on the mainland.
Those who work up near Jura have to navigate the notorious Corryvreckan Whirlpool, the third largest in the world, which lies off its north coast.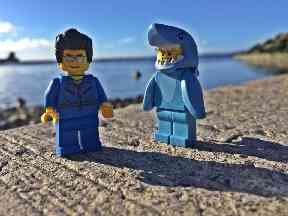 The Wee Guys get to meet many of them and Kevin frequently gets requests for them to make an appearance.
It has led to a raft of coastguard selfies between the big crew and the little crew, with the Wee Guys also making special appearances with partner services such as Police Scotland.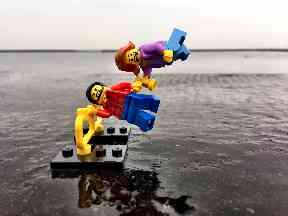 Their most popular posts on social media have also come in the battering the country gets when a storm hits.
Since the UK began naming its storms, the Wee Guys have been there with their special safety messages for each storm, too.
They advise not putting your life at risk to take a selfie of a big wave and plead with the public to take care at exposed coastal areas.
Although the world's smallest coastguard rescue team is a personal project for Kevin, he has been fully supported by the Maritime and Coastguard Agency, with assistance from its Southampton press office.
The Wee Guys have also visited many real-life coastguard rescue teams and search and rescue helicopter crews.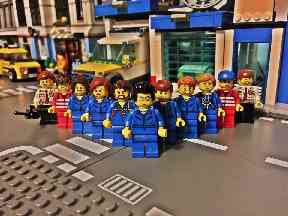 "The one key message which the Wee Guys are promoting all year round is ensuring that people know to dial 999 and ask for the coastguard in a coastal, beach or cliff emergency," stresses Kevin.
"Ultimately we want everyone to have a safe and peaceful festive season and the 'wee guys' will be supporting a number of festive safety campaigns throughout December, including the Royal Life Saving Societies Don't Drink And Drown campaign."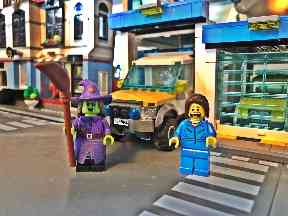 Aside from the safety aspects, the 'wee guys' will also be reminding everyone that Coastguard Rescue Teams are on call 24 hours a day, 365 days a year to respond to those in need.
"For me, there's no greater feeling than coming home after a callout, knowing you've had a positive impact in saving someone's life," Kevin adds.
"There is no greater calling than that."
You can follow all the Wee Guys updates here online at The Coastguard Team page.
Download: The STV News app is Scotland's favourite and is available for iPhone from the App store and for Android from Google Play. Download it today and continue to enjoy STV News wherever you are.