Endometriosis: Sufferer reveals agony of 'invisible illness'
Carrie-Mae Macmillan first felt crippling pain at 16 and begged for a hysterectomy at 33.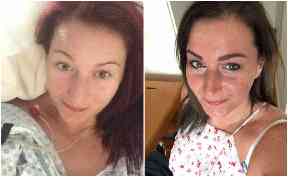 For six years, Carrie-Mae Macmillan was in crippling agony and had no answers.
Suffering with heavy periods at 16, her doctor assured her the pain was normal and although she felt there was something wrong, Carrie-Mae found it difficult to be more persistent with her doctors at that age.
When she finally met a different doctor at 22, she discovered she had been living with endometriosis.
"It's so disheartening when someone keeps telling you it's all in your head and you start to believe it for so long," she explains.
"I wouldn't be able to walk, my ex-husband had to literally carry me up the stairs."
Some ten years later, she would beg her surgeon for a hysterectomy to relieve her of the daily crippling pain which left her in agony.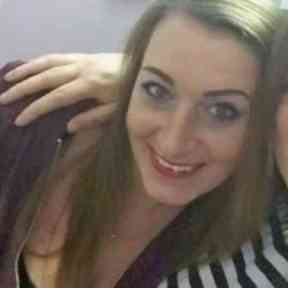 Endometriosis is a condition where cells normally found lining the womb are found elsewhere in the body.
Usually these cells break down in the lining of the womb and are released from the body as a period but in endometriosis, cells break down in other parts of the body.
The internal bleeding has no way of leaving the body and leads to inflammation, pain and the formation of scar tissue.
Symptoms include painful, heavy or irregular periods, as well as pelvic pain, painful bowel movements, difficulty in getting pregnant and pain during or after sex.
Explaining that endometriosis is often difficult to diagnose, the doctor sent Carrie-Mae for a laparoscopy and her condition was confirmed.
Endometriosis UK says it takes seven and a half years on average for a woman in the UK to be diagnosed with the condition, resulting in prolonged pain and making future treatment more difficult for patients.
It is estimated 10% of the female population of reproductive age in the UK have endometriosis, with the condition costing the economy £8.2bn a year in treatment, loss of work and healthcare costs.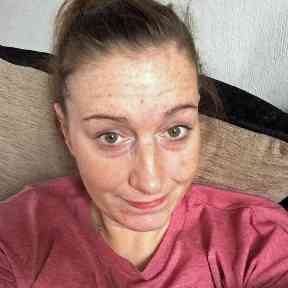 "Timely diagnosis could save women from many years of pain, distress and suffering," explains Emma Cox, chief executive of Endometriosis UK.
"The impact a delayed diagnosis has on a woman's life - her education, work, relationships and personal life - can be huge.
"On top of coping with the disease itself, women have to put up with being told, sometimes for years, that what they have is 'in their heads' or 'normal', when it isn't."
Over the years, Carrie-Mae had struggled with her health, often doubled over in pain, feeling exhausted and unable to work.
The 35-year-old from Clydebank in West Dunbartonshire, says trying to explain the illness to colleagues and bosses was difficult and many people could not understand why she was always in pain.
Carrie-Mae likens the experience to an invisible illness, where other people cannot see the symptoms, the term often linked to conditions such as Crohn's disease, anxiety disorders and autism.
"My ovaries hadn't actually been producing eggs for something like two years at this point, so my ovaries were actually stuck," she says.
"That's what was causing a lot of the pain at the time."
She was given an initial procedure before being booked in for surgery six months later to have the rest of her endometriosis scraped away.
Yet Carrie-Mae had no idea what lay ahead on her endometriosis journey.
"That first surgery lasted me around four years," she says.
"I thought 'oh brilliant, one surgery' but how wrong I could have been."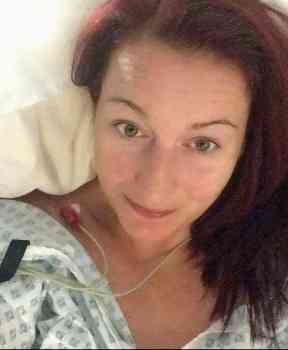 While Carrie-Mae's first surgery left her with symptoms that were far more manageable, the condition worsened four years later and soon she was in hospital every 18 months to try to release the pain.
Living with stage four endometriosis, the worst possible stage, each surgery was clearing away almost double the amount of adhesions.
"At one point my ovaries were stuck to my Fallopian tubes, my Fallopian tubes were stuck to my womb and my womb was actually stuck to my bowel," she says.
"So everything had literally stuck together and there was no give at all.
"There was times I had been admitted to hospital crying and screaming with pain. I was basically begging my surgeon for a hysterectomy."
Having married at the age of 21, Carrie-Mae had expressed a desire to have a family but was devastated when she suffered multiple miscarriages.
Her marriage broke down when she was 27, the heartache of miscarriage tearing the relationship apart.
"I had been trying for children for two and a half years previously and nothing was happening and there's only so much you can invest in that for yourself before you lose yourself and you have to take a bit of control back," Carrie-Mae explains.
"So it was decided that the hysterectomy, although it was a big risk, was the only option and a risk worth taking."
While having a hysterectomy would not guarantee Carrie-Mae could have her life back free of endometriosis, she decided it was worth pursuing.
With the support of her new partner David, she had the procedure done privately, aged 33.
"I think I've probably been mentally preparing myself for it for a good seven years," Carrie-Mae adds.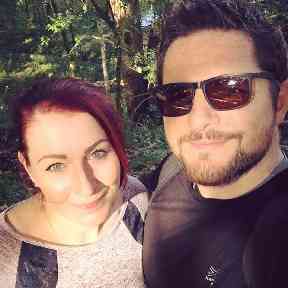 Two years on, Carrie-Mae frankly says while the procedure did help with the pain, it did not clear her of endometriosis.
She is looking at having to undergo treatment for the rest of her life.
As a type of therapy, she began to write a blog about her experiences and had women around the world contacting her with their own stories of endometriosis.
"It was more to raise awareness because knowing I was going through a hysterectomy, you soon realise that this disease is still not really spoken about at all, it's still a really taboo subject.
"I'm quite passionate about trying to raise awareness because I know if I had got diagnosed a lot sooner, I probably wouldn't have been in this situation."
Carrie-Mae now champions early diagnosis for women and urges them to be persistent with their doctors if they spot any of the symptoms such as painful periods, fatigue and pelvic pain.
"The blog was just a way for me to get out there, the way that I viewed it was that everything I have been through, it hasnt helped me but if it can help one other person then it has not been for nothing," she adds.
Download: The STV News app is Scotland's favourite and is available for iPhone from the App store and for Android from Google Play. Download it today and continue to enjoy STV News wherever you are.