Sweet life: Classic cakes transformed into vegan bakes
Louise Nicholson creates gluten-free cakes and vegan macarons in her Dunfermline bakery.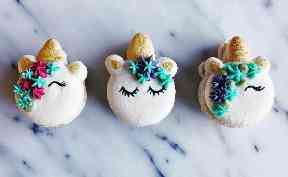 It's another busy day in the Naked Bakery, with hundreds of colourful almond cookies piped on to trays.
Louise Nicholson's signature macarons in a rainbow of colours are sandwiched together with sweet fillings from bubblegum to blueberry and packed away neatly ready for her customers.
The 36-year-old from Dunfermline's bakery is filled with sweet temptations from towering birthday cakes adorned with pastel meringues to fat Oreo doughnuts and glittering unicorn macarons sandwiched with candyfloss buttercream.
"I really enjoy making macarons, I don't think there's anything more satisfying than when you're pulling trays out the oven and they're completely perfect because they are quite difficult to make," she says.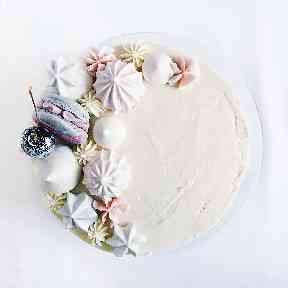 Each and every treat that Louise creates is free from any eggs or dairy, the Naked Bakery paving the way as one of Scotland's most popular vegan bakeries.
"About seven years ago my son became really ill and two years later doctors still couldn't figure out what was wrong with him so I started doing a bit of investigating myself," Louise explains.
"I discovered that quite a lot of his symptoms were pointing to a lactose intolerance. I essentially cut dairy out of our diets overnight and discovered that his illness basically cleared up as soon as I did that."
Louise decided to change her diet along with her son having experienced similar symptoms and soon began to cut meat out of her diet.
She became vegan four years ago along with her husband Ross and son David, finding it easier to avoid dairy products by preparing meals at home.
Yet the one thing she missed was cake. Having been bitten by the baking bug while studying home economics at high school, she would regularly bake birthday cakes for family members in her spare time.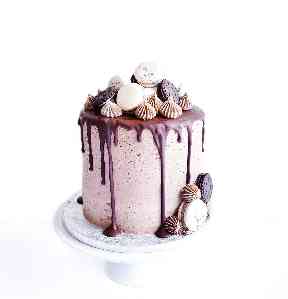 Without eggs or butter to fall back on, Louise began to experiment in her kitchen to ensure her son could still enjoy a birthday cake despite his allergies.
"It wasn't easy at all, I had quite a few failed attempts," Louise admits.
"I took to the internet and I took basic recipes like a vegan cake and I would make it and I wasn't happy with it so I would adjust it and kind of through learning through errors,I learned what worked and what wouldn't work and what sort of substitutes to use for eggs.
"I make vegan macarons and it probably took me about a year to perfect them and even to this day, I can cook 100 batches and the last batch will come out wonky - that's just the perils of baking macarons."
Family and friends began to ask for Louise's cakes, with one suggesting she capitalise on her vegan baking skills and start her own business.
In 2016, Louise opened the Naked Bakery with the aim of producing cakes, cookies and macarons that looked and tasted as good if not better than those containing animal products.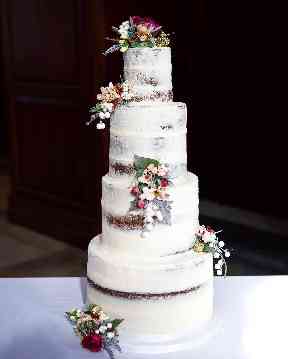 Since launching, Louise has created cakes smothered in toasted marshmallow frosting, piles of Oreos forcing chocolate ganache to drip down the sides, towering wedding cakes filled with white chocolate and raspberry and a festive reindeer with tall gingerbread antlers.
With four years of veganism under her belt, Louise still has to be careful with the products she uses in her cakes and for decorations, scrutinising labels for e-numbers and additives.
"There quite a lot of food colourings that contain animal products, for example red is quite a big one as it uses crushed beetles to get the red colour," she says.
"You learn to know what products you can and can't use in vegan baking.
"There are great vegan websites out there for resources or accidentally vegan products, because quite a lot of supermarkets and products don't advertise that their products are actually vegan."
Since launching her bakery, Louise has been swamped with orders and regular visits to vegan festivals across the country have shown her just how many people have switched their diets in recent years.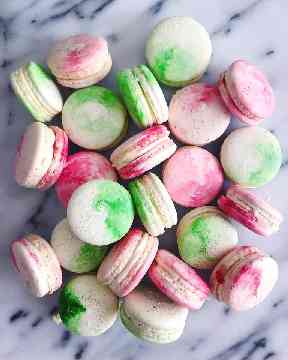 "Because veganism is becoming more mainstream, it's becoming easier for people to find products and more and more places like coffee shops are offering vegan options," she says.
The Vegan Society estimates there are around 300,000 vegans across the UK, while the People for the Ethical Treatment of Animals (Peta) named Glasgow and Edinburgh as the UK's most vegan-friendly cities in 2013 and 2015 respectively.
"Savvy supermarkets, restaurants, and other businesses are falling over themselves to meet the ever-increasing demand for vegan foods," explains Elisa Allen, director of Peta.
"The world is waking up to the fact that a plant-based diet is healthier, better for the planet and infinitely kinder to animals, so it comes as no surprise that there are now more than half a million vegans in the UK, a number that's only set to rise, as 20% of 16 to 24-year-olds identify as vegetarian or vegan.
"From 'fakin' bacon and tofu turkey to dairy-free ice cream and egg-free cakes, there are so many delicious and exciting cruelty-free vegan foods available - any business not catering to this growing market is surely missing a trick."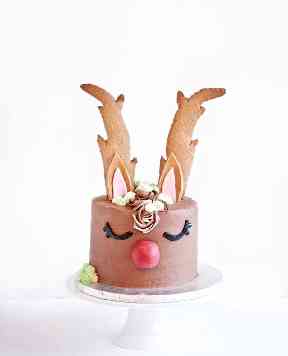 For Louise, baking for those who follow a vegan diet as well as people with allergies from lactose intolerance to gluten sensitivities means she can elicit a smile over something as simple as a slice of cake.
"One of my favourite big cakes I've ever made was a Rudolph cake I made for a little boy who had egg and nut allergies," Louise says.
"I did a cake and cupcakes for him last Christmas and he was absolutely over the moon that he could actually eat cake.
"Those kind of customers I have a wee special place in my heart for."
Download: The STV News app is Scotland's favourite and is available for iPhone from the App store and for Android from Google Play. Download it today and continue to enjoy STV News wherever you are.