On the scrapheap: Remploy workers' struggles five years on
Hundreds of disabled staff lost their jobs when factories were shut down in 2013.
It is a miserable morning in Glasgow but Simon Yearling is out in the rain, digging in a community garden.
The 40-year-old is not paid to be here, though. This is his weekly volunteering spot, something to keep him busy.
He has not had a paid job since he was let go by Remploy nearly five years ago.
Simon, who has Down's syndrome, held down a steady job for more than a decade assembling wheelchair brakes at the company's Springburn factory until early 2013.
Back home, he flicks through photos he took on his last day at the factory. When he sees the faces of his old colleagues, he breaks down almost immediately.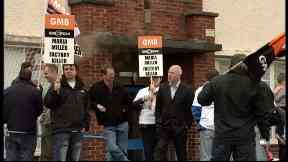 "I thought when I started that it would be my future, for me to carry on," he says.
He misses Remploy, he says, "because I was happy with my workmates and I was getting paid work".
Despite help from agencies and the Department for Work and Pensions (DWP), he still cannot find a job.
Simon's story is by no means unique. After Remploy, others found themselves, as one worker claims, "left on the scrapheap".
Set up in the wake of the Second World War, Remploy's factories were renowned for offering a sheltered working environment for those with disabilities in manufacturing areas such as textiles, furniture and signage.
The businesses had been steadily losing money, however, and shedding jobs for over a decade.
The sheltered factory model was becoming outdated, disability campaigners said, and became branded as "employment ghettos".
In the final year, the DWP said Remploy operated UK-wide at a loss of £49.5m.
It was figures like these that prompted the UK Government's decision to pull subsidies from Remploy's factories. The aim was to guide most of the workers back into the mainstream workforce.
This led to the closure of 54 sites and the loss of 1800 jobs for disabled people across Britain.
In total, 252 people across nine Remploy sites in Scotland were out of work.
"I want to work and I find it very, very hard. I feel gutted, really angry about it, like all the other colleagues as well. We all got on well in there. All of my friends were in there and I am just devastated."

Neil Calliga
By August 2015, DWP figures show 148 workers in Scotland had managed to find work, around 60% of those let go.
Some had retired but more than 220 people applied for the help of a government scheme to help them back into jobs.
Kay Clark is one of those who made it into the mainstream.
She was a manager at the company's Aberdeen factory and clocked up 30 years' service. When its closure was finalised in 2013, she told STV News it was the "end of an era".
Of the 14 let go, eight colleagues - including Kay - decided to set up their own cooperative, providing work wear for the area's oil firms.
After two buyouts, Kay and three colleagues now work for a mainstream company.
"I was lucky," Kay says. "I had a bit of confidence to go out and at least try.
"But some of the guys at Remploy couldn't do that.
"It was a bad decision [to close the factories] for them, because some of them are still unemployed. Five years on, and they're still unemployed."
Around a third of ex-Remploy staff with jobs in Scotland made their way back into similar "employment ghettos".
At least 59 staff were employed by supported businesses such as Haven PTS and RSBi.
In Wishaw, North Lanarkshire Council moved its own supported business into the old factory. NL Industries now employs six former Remploy workers.
"It was a life-saver," says Ian Thatcher, 50. He has cerebral palsy and was made redundant after 21 years' service.
He struggled with part-time and seasonal work before he was employed by NL Industries, where most of the staff are also disabled.
Even if 89 disabled Scots made it into the mainstream, unions say the DWP claims still do not tell the full story.
Many of those classed as in work, one union source tells us, have joined what they term the "precariat" - workers without security or stability.
Some are in part-time work or stuck on temporary or zero-hours contracts.
Others, like Neil Calligan, could not get that far.
Aged 55 and with learning difficulties, he has been unable to find work despite training, volunteering and weekly visits to job clubs.
Every Tuesday, he passes the empty factory in Dundee where he spent 32 years of his career making army and NHS uniforms.
He says: "I want to work and I find it very, very hard. I feel gutted, really angry about it, like all the other colleagues as well. We all got on well in there. All of my friends were in there and I am just devastated.
"I've been left on the scrapheap, definitely. No doubt about it, no question."
Remploy still exists and in 2015 marked its 70th anniversary. Now it operates as an employment agency, seeking work for disabled people such as Simon and Neil.
In 2015, 867 out of 1800 former Remploy staff in the UK were in work.
A DWP spokesperson said: "The UK is recognised as a world leader in disability rights and equality, spending over £50bn a year to support disabled people and those with health conditions, and promoting inclusive workplaces through our Disability Confident scheme.
"Our reforms support disabled people into work, which is why it is encouraging that almost 600,000 disabled people have moved into employment in the UK over the last four years."
"But we know there's more to do, which is why we consulted through our Work and Health and Disability Green Paper and will set out the next steps shortly."
Download: The STV News app is Scotland's favourite and is available for iPhone from the App store and for Android from Google Play. Download it today and continue to enjoy STV News wherever you are.