Pupils' peace boats travel world with help from kind strangers
Art teacher Kathryn Brown wanted to show her classes how generous people can be.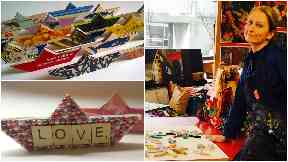 When an art teacher spotted the relics of a model boat lying in a bin, she could see it still had beauty.
Slightly broken, dusty and in need of some love, Kathryn Brown felt compelled to make it seaworthy again.
As the Inverkeithing High School teacher began lovingly restoring her "peace boat", a bigger picture began to form in her mind.
She decided to get her pupils involved, too, and set a challenge to try to send the little boat to every country in the world.
Relying on kind members of the public, she hoped the boat would show her pupils how generous people can be.
"I was feeling in the classroom that there was a growing anxiety about things that were happening in the world," Kathryn says.
"I thought maybe we could decorate this boat and send it on a mission of peace and love, and take love from our school to other people."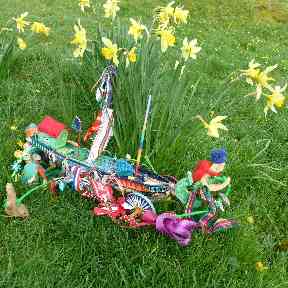 After travelling to nine countries, the little peace boat kept making its way back home and so the direction of the project took a new steer.
In her own time, the talented teacher began making hundreds of tiny boats from plywood, their shape a tribute to Scot artist George Wylie who famously put a giant paper boat on the Clyde.
Before long, the little boats were being "dazzled" by people like artist John Byrne, singer Terry Hall and local school pupils.
Kathryn was overwhelmed when requests to be a part of the project started coming from all over the world.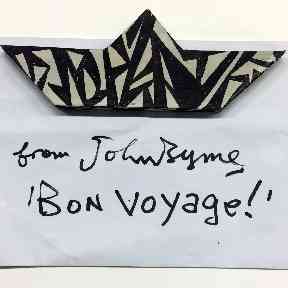 "I couldn't have done the project in isolation," Kathryn says.
"It is completely dependent on everybody making a contribution."
People would ask her how the boat was going to get anywhere without an engine.
Kathryn simply told them it was "people powered".
"Whether it was the original boat or these little wooden boats, it's a people powered project where people, in exchange for a little piece of plywood, have been given the opportunity to present an idea," she says.
"I wanted it to make connections and reassure that out in the world there weren't just examples of violence but also examples of a lot of positivity and good things, and that there are still peaceful places in the world - that people are still generally kind.
"It only moved forward when people were motivated to connect, receive the boat and do a project with it that was entirely at their own discretion."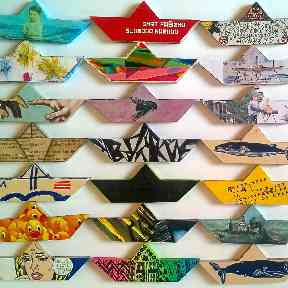 Over 200 of the decorated boats have now made their way back to Scotland and are being displayed together for the first time as part of a new exhibition.
Inspired by the evolving journey these tiny boats have taken, Kathryn is now hoping to get more people involved and make 2000 boats by 2018.
Her hope, to pay tribute on the centenary of Armistice Day to the number of dazzled boats painted between the first and second world wars.
"We are looking for the quiet goodness, the goodness that doesn't get any headline news," Kathryn says.
"I can see that the return I get is full of hope and optimism and positivity and hopefully the children that follow it see that too."
The exhibition launches at Workspace Dunfermline on December 9 between 6.30pm and 9pm and will run until January 11.
Download: The STV News app is Scotland's favourite and is available for iPhone from the App store and for Android from Google Play. Download it today and continue to enjoy STV News wherever you are.