Santa School: Merry band bringing joy to children at Christmas
Stuart J Thompson has trained up his Father Christmases for another busy festive season.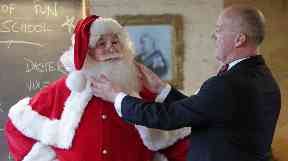 There is a time shortly after the festive season is over when Santa's helpers hang their boots up and gather for a post-Christmas chinwag.
A merry band of gentlemen, most of whom are in their 70s and 80s, they have been donning their famous red coats and black boots for years.
They usually emerge in late November, with a packed out calendar of events and appearances across the country.
When the grotto doors close up once the big day is over, that's when the Father Christmases meet.
They all graduated from the same Santa School in Scotland together, undergoing training with top Father Christmas instructor Stuart J Thompson.
"We do get together after the season is finished to exchange the many experiences we've had out and about," says Stuart.
"We chew over the memories and encounters we've had - it's a very rewarding and enjoyable job we do."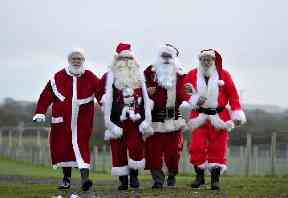 Stuart is the founder of Santa School, set up in 2008 as a training academy for helpers and "assistant Santas" who support St Nick himself in the run up to Christmas Day.
The school, which will mark its ten-year anniversary next year, trains people to make sure they are up to the required standards.
"I run an entertainment business and I was constantly getting phone calls asking if I could recommend any Father Christmases," says Stuart.
"At that time I was struggling to find the right guys so I did some research and advertised on my website for Santas - and they came."
The curriculum was designed to cover every possible aspect of Santa duties.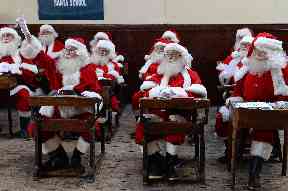 This means knowing the full detailed history of Father Christmas, keeping up to date with what toys are fashionable and learning and adhering to the strict Santa code of conduct.
"There is a very high standard of dress, too," adds Stuart.
Fulsome beards are the most obviously appreciated as are plush red velvet trousers and a big black belt.
There is also a health and safety requirement, making sure the grottos are safe with all the twinkling fairy lights.
"It's about the camaraderie as well," says Stuart. "It's sharing experiences and memories."
The Crimbo brotherhood helps, especially with perhaps the most important part of the training - dealing with challenging requests from children.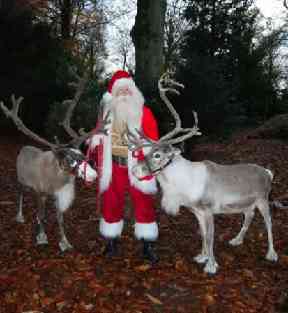 "You always get kids who ask for live animals or snakes for Christmas," says Stuart.
"Or they want mum and dad back together. All the Father Christmases have to be very sensitive to kids' needs."
Their main objective, every year, is to make sure the children leaving their grotto have had a magical experience.
"Seeing how their eyes light up, it's pretty something," says Stuart.
"And then there are those kids who won't say a peep but by the time they leave they're smiling from ear to ear."
"You always get kids who ask for live animals or snakes for Christmas. Or they want mum and dad back together.

Stuart J Thompson
Stuart regularly uses the same men who have been through the entire Santa School journey with him over the years.
"It's all about personal experience and it's absolutely magical for the Father Christmases as well," he says.
"Getting out there and meeting the kids and seeing how excited they are. It's a wonderful job to do, it really is."
Stuart says he is very proud of the duties he and his team have carried out over the years, though he is now beginning to prepare for the future.
"There is a whole band of us that aren't getting any younger, some are in their 70s, one is in his 80s, and they are fantastic," he says.
"Our objective is to keep delivering this school in the future so we'd like to get some younger guys involved next year if we can."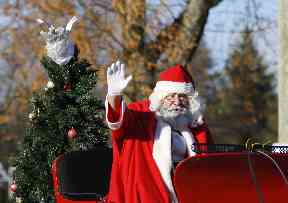 The team still have a lot to focus on for now, though, as the run-up to Christmas takes them across the country.
It won't be long though until they're able to finish their last mince pie, down the last wee dram and gather together to celebrate the end of another successful season - with the big guy himself no doubt enjoying a welcome break, too.
"We'll be looking forward to talking about everything we've experienced this time round," says Stuart.
"I'm very proud of the fact that I'm able to provide this service and that's only because these guys are so dedicated, full of expertise and committed to their duties.
"Their loyalty is incredible and it really is a special job we do. It's up to us to bring a smile to these kids. They all totally believe in the ethos of Christmas and it's our job to bring something that extra bit special."
If you are interested in assisting Santa in his role, or would like Santa to attend your event or even arrange a home visit, please contact 01461 337370 or send an email.
Download: The STV News app is Scotland's favourite and is available for iPhone from the App store and for Android from Google Play. Download it today and continue to enjoy STV News wherever you are.