World Aids Day: HIV patient given three years to live in 1981
The outlook for those diagnosed has changed dramatically through the decades.
When John Percy was diagnosed with HIV in 1981 the news was tantamount to a death sentence.
Now, 36 years later, the phrase might sound like a cliche but back then there really was no other description -the outlook was bleak.
"They gave me three years to live" he says, remembering the day he was handed the news in a Glasgow hospital.
"How wrong were they... how wrong were they?"
It's been a long journey, though. John sits in the corner of a busy clifftop restaurant, the waves crashing relentlessly against the Cornish coastline.
The stigma so often attached to his condition led him to leave Scotland.
He says abuse and discrimination has followed him ever since.
John's health has suffered hugely as well but he's still standing after all this time and has spent the years endlessly fundraising for charities and constantly fighting the corner of fellow sufferers.
"They gave me three years to live. How wrong were they . . . how wrong were they?"

John Percy
"They're human beings, they've got an illness, it could be cancer, it could be leukaemia it could be any illness," he says.
"There needs to be more campaigns done on discrimination and stigma."
In the 1980s, hospitals gave patients numbers as they diagnosed the new disease. John's was 13.
Clutching a folder filled to bursting with newspaper clips and lobbying letters he tells people proudly he's the longest surviving HIV patient in the UK - although there's no surefire way to prove it since so many remained silent about their condition and the early days of tracking the virus were sometimes disordered.
As well as disorder they were days of fear as well. Many people over the age of 40 will remember the Tombstone advert - the decades since have been about breaking down barriers.
"It's up to each individual to think: 'Do I need to go for a test?' And go for it, whether you're 16 years old or 66 years old," John says.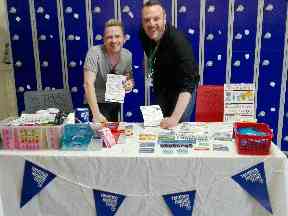 His message chimes with the one HIV charities are keen to get heard on World Aids Day, which falls on Friday.
There are 5134 people known to be living with HIV in Scotland but estimates from Health Protection Scotland - shared with STV - suggest there another 767 undiagnosed cases across the country.
The figures are calculated partly using databases of anonymous blood samples as the prevalence of HIV in the samples allows experts to track how widespread it is in the overall population.
According to Nathan Sparling from HIV Scotland, the battle against stigma is key to getting some of those people to come forward.
For those diagnosed in 2017 the outlook is much more optimistic but all too often the shock that comes with a positive diagnosis remains.
Michael Sean faced that shock last summer, while sitting on his bed in the family home in North Lanarkshire.
He discovered his positive status 18 months ago using a home testing kit. It was pot luck - he didn't have much reason to suspect he might be carrying the virus.
"I initially wanted to put it in the bin and pretend that it was wrong and then get on with my life." he says.
"But the fear of my own death and infecting other people around me... that kind of made me go to the doctors."
"I initially wanted to put it [the test] in the bin and pretend that it was wrong ... and then get on with my life."

Michael Sean
In those first hours and days Michael struggled to process the life-changing news but now he approaches the situation with boundless strength and confidence.
For Michael the turning point was educating himself on how the meaning of the virus has changed with time.
"I'm fit, I'm healthy, I take one tablet a day and I'm undetectable" he says, describing the power of modern drugs to suppress the virus until it can't even be spotted in the bloodstream.
He says learning this simple but powerful fact helped him overcome the initial terror of his diagnosis, giving him something akin to a new lease of life.
Michael is very eager to educate others about its meaning, saying: "There's no damage being done to my body and there's no way for me to pass on that virus to anybody else."
As Michael, John and others look towards World Aids Day on Friday, they know there's still progress to be made but plenty to celebrate too.
Download: The STV News app is Scotland's favourite and is available for iPhone from the App store and for Android from Google Play. Download it today and continue to enjoy STV News wherever you are.