Santa Paws: Purrfect stocking fillers for your cats and dogs
From pawsecco to doggy cologne, here are 14 luxury treats for pampered pets.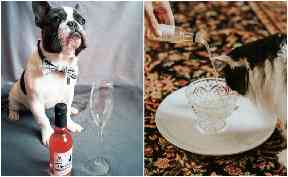 Early on Christmas morning, the house awakens to the noise of little paw prints padding towards the stockings left out for Father Christmas the night before.
Peeking inside, there is a new tennis ball, wrapped up treats and even a Christmas jumper to wear on the big day.
No matter what's inside, your pet cat or dog will be delighted that Santa Paws remembered to fill up his stocking alongside his human friends.
While simple treats are easy to come by, there are more and more luxury items on the market to stuff in your cat or dog's stocking on Christmas Eve.
So why not check out these stocking fillers and DIY ideas for your pet this Christmas? Pawsecco anyone?
Pinot Meow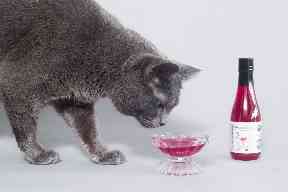 If your cat turns their nose up at their water bowl, you may want to indulge them with Apollo Peak's range of cat wines.
From Catbernet to White Kittendel, there are cat friendly wines for all tastes, whether they prefer white, red or rosé.
Each bottle is created with water, organic catnip and various organic vegetables and fruits to mimic the style of different wine varieties.
And if you're feeling extra generous, you can buy a matching pet wine glass to serve their Christmas tipple in.
Dog Macarons
Fancy chocolates and treats aren't just for humans to indulge in on Christmas, however, dogs do need their own special sweets to stop them getting sick.
To make your pooch feel extra special, stuff their stocking with these dog-friendly macarons, which look good enough to be picked from a parisian patisserie.
Made from peanut butter, strawberry and banana powder - and sugar-free canine icing - they may look good enough for human consumption but perhaps are best left for the dog to devour.
Posh Pooch Tea
After slaving over the traditional roast dinner for hours, many humans like to put their feet up with a box of chocolates and a cuppa to settle in to watch the Christmas specials on television.
Naturally your best friend will want to join in with all that relaxation, which is why Woof and Brew have dipped their paws into the luxury dog tea market.
Simply brew the reusable teabag filled with rose petals, lavender and orange flowers in water then pop their doggy bowl by the television with a nice biscuit.
DJ Cat Scratch Station
Forget scratched records, the only thing skipping this Christmas will be your pet cat at this thoroughly hipster scratch station.
The deck features a moving tone arm and the scratch mat disc spins as your kitty gets their itches out - sure to make for some amusing pictures for Facebook on Christmas day.
Dog Cologne
Perhaps your pup has a hot date for Hogmanay and wants to be smelling his best for a slobbery kiss during the bells.
Then finding a bottle of Barbour's Dog Cologne will surely make man's best friend doggone happy on Christmas Day.
The outerwear brand firmly believes all dogs should be smelling fresh, with the 'all over body spray' featuring camomile oil to soothe and refresh the skin.
Personalised Vintage Pet Food Fork
Fido and Felix would be delighted to find their very own serving utensil in their stockings after years of sharing cutlery with their human companions.
Made with vintage forks, you can have your pet's name hand stamped on to the prongs or handle so everybody in the household knows it's for dishing up the finest tuna or beef chunks.
Sadly there is no guarantee your pet will develop opposable thumbs and start eating their meals in a more civilised manner.
Cat-tanic
Lets face it - most of our pets will be delighted on Christmas Day to dig into piles of ripped wrapping paper, play with bows and nestle into empty boxes.
So why not give them exactly what they want this year?
This Cat-tanic play box features a simple ship design so that your moggies can live out their fantasy of being Cat Winslet and Leo diCatprio... Or you know, going for a snooze in a boat-shaped box.
There are plenty of other designs if your kitty isn't a fan of Titanic - Dogbusters anyone?
Designer Dog Coat
As the whole family prepare to stretch their legs on Boxing Day to walk off all that turkey, spare a thought for your pooch as the temperatures dip in December.
If their usual outdoor attire is looking a little bedraggled, why not splash out on a fancy Barbour coat to make their walkies a little more stylish?
Barbour's waxed coat is inspired by classic biker jackets from the company's motorcycle history and even features the distinctive yellow logo. All the other dogs in the park will be suitably jealous.
Cat Selfie Kit
OK, so this may be more of a gift for the family than your actual cat but since Christmas jumpers, terrible hats and cracker jokes are the norm on December 25, it's only fair that your pet gets involved in the laughs as well.
This cardboard kit comes with plenty of props for taking funny selfies with the family pet after one too many glasses of brandy.
It even comes with a "shaming board" so you can let Facebook know exactly who ravaged the smoked salmon intended for the starters.
Pawsecco
As you open something fizzy on Christmas morning as stockings are opened, you can make sure your dog or cat can feel suitably special with a glass of Pawsecco.
These non-carbonated, non-alcoholic drinks are made with a herbal infusion of elderflower, linden blossom and ginseng, and can be poured over food or served in their water bowl.
And for those on a bit more of a budget...
In the Cat House
If you're up for a real DIY project this December for your cat, then this scratch house inspired by the architecture of Palm Springs is the ultimate gift to hide under the Christmas tree.
It may take a bit of planning to construct but there will be no happier feeling than seeing your kitty stretched out in this pastel pink house scratching away to their hearts content.
Junk Food Cat Toys
These hand-sewn felt toys are perfect for pet owners to recreate in time for Christmas.
Designed to look like hamburgers, doughnuts and tacos, these junk food-inspired cat toys are full of catnip and should keep your kitty entertained for hours.
Peanut Butter and Pumpkin Dog Treats
For something simple that will go down a treat this Christmas, these bone-shaped bites for dogs are a quick and easy DIY to show your pooch you care.
Remember to keep some stashed away for your Boxing Day walk, so that your dog can enjoy a treat whilst everyone enjoys biscuits and tea from a flask in the cold.
Salt Dough Paw Print Decorations
For a memorable gift that would also double up as a great present for humans, these ornaments will treasure your pet's paw print forever.
Simply make a batch of salt dough, persude your pup to get their paws dirty then paint it when its dry.
Download: The STV News app is Scotland's favourite and is available for iPhone from the App store and for Android from Google Play. Download it today and continue to enjoy STV News wherever you are.