Puggle love: Toby helps melt away stress of medical students
The portly pooch has been an honorary mascot at Glasgow University since he was a pup.
It's a chilly morning and Toby the puggle has some serious duties to attend to.
A round barrel of tan fur, he propels himself down a back staircase en route to the Glasgow University library.
He knows the way well, he's been working there for three years but he still needs Dr Matthew Walters to open the door for him.
Since he was a puppy, Toby has been an honourary member of staff at the School of Medicine, Dentistry and Nursing at Glasgow University.
His job is a simple one - to use the power of his liquid brown eyes to melt away some of the stress of the medical students under his care.
Today he's wrapped up in a jolly knitted Christmas jumper for added effect - and he's made sure Dr Walters is dressed in one, too.
"This year he's made a special effort with his jumper," says Dr Walters with a proud smile.
Together they walk into the library and the effect is instant.
The first five students break into five wide smiles.
"I love him, he's so cute!" cries one student.
""He looks good, he looks like he's had a few pies," laughs another.
With great dignity Toby ignores all comments about his portly figure and submits to head rubs. He's already off to a fantastic start.
"He certainly enjoys being the centre of attention," says Dr Walters fondly. "He likes a fuss made of him."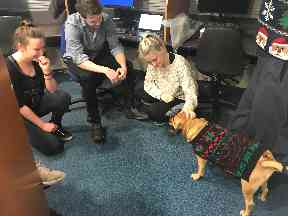 Dr Walters is the head of the School of Medicine, Dentistry and Nursing at Glasgow University, with all three of the undergraduate clinical schools under his care.
"Toby's particular role here is as an honorary mascot," he says.
"Seeing how tough it is to be a medical student, especially around the festive season, we wanted to make things a little bit easier for them and bring Toby in to diffuse some of the tension.
"He's sympathetic, warm and furry, and it works."
Toby is brought in during the run up to exam time. Usually living at home with Dr Walters- "eating cheese" - he seems to understand what is expected of him.
"He loves the attention and he lets them give him a pat on the head," says Dr Walters.
"It seems he has the ability to make them feel just that little bit better about things."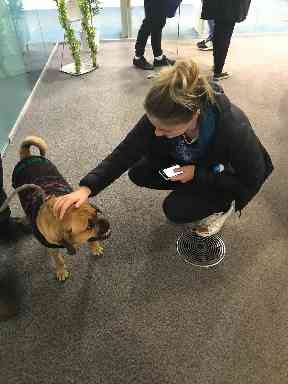 Toby is not the first dog to help combat stress in students. Universities and schools have been partnering with therapy pet services for several years with positive results.
Earlier this year, Robert Gordon University in Aberdeen teamed up with Canine Concern Scotland Trust to offer sessions to help relieve stress levels in the build-up to coursework deadlines and exams.
In 2015, Bristol University installed a "puppy room" after they proved popular in Nottingham, Aberdeen and Lancashire.
Dr Walters says: "It works. When Toby comes in you can feel the change in the room, the tension lessens."
He adds he remembers his own time as a medical student in Glasgow "vividly".
"I'd like to say it wasn't that long ago but that's not quite true," he laughs.
"I graduated in 1994 and I remember very clearly the intensity, the work of study you have to do and the rigorous nature of the assessments.
"I remember feeling quite stressed and as if the world was closing in on me a little bit."
In 2015, a survey conducted by the journal Student BMJ found one in three of the medical students who took part had experienced a mental health problem.
Based on responses from more than 1000 medics - 2% of the UK medical student population - the survey revealed widespread concerns about the pressures of study and the emotional impact of embarking on a medical career.
"There are a lot of challenges facing our medical students today and the entire medical profession in general," says Dr Walters.
"Studying medicine is a very tough thing to do and we do our very best to select students of sufficient resilience who can thrive within the programme.
"It's important that we can provide all the support that they might need as they go through five tough years. That's not only academic but pastoral as well."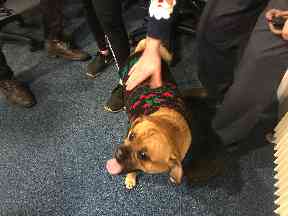 Dr Walters says the medical school recently revised its student welfare centres.
"We've put a lot of time and attention into it," he says. "I think the processes we have now are a lot better since I was a medical student all those years ago.
"We have a peer support network now, where students are trained to spot early signs of stress or distress in their peers and really sign post these students onto support services.
"We provide a lot more time for welfare and counselling, too."
Having the extra presence of Toby is merely a small added bonus.
"Toby of course plays his part as well," Dr Walters says. "I guess he's sort of the cherry on top of it all."
Medical students across the country will be breaking for the festive before many embark on their exams in early spring.
Dr Walters and Toby have a special Christmas message for all of them.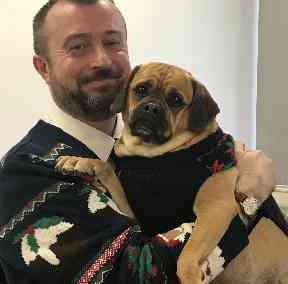 "I think Toby and I would just like to remind our students that the primary focus of this festive season is to spend time with your families and with your pets," he says.
"Don't think too hard about the exams coming up early in the year but go home and have a fantastic festive season before coming back fresh to face the challenges of 2018."
As for Toby, who the team admit perhaps doesn't project that fit, lean look you'd expect of a medical school dog, he's got just a few weeks of Christmas food left before he's put on a healthy January diet.
"Toby will be spending his Christmas probably very full of turkey," says Dr Walters.
"He doesn't like dog food, he generally eats human food, and he's unfortunately particularly fond of cheese.
"It's not the best for his waistline but he's particularly fond of a mature cheddar from time to time.
"He doesn't smoke, however, so I console myself with that thought, so his cardiovascular risk is lower than what it might otherwise be."
For support or advice on where to seek guidance on any of the issues discussed in the article check out the Think Positive about Student Mental Health website.
Download: The STV News app is Scotland's favourite and is available for iPhone from the App store and for Android from Google Play. Download it today and continue to enjoy STV News wherever you are.