UK City of Culture: Paisley takes on four rivals for title
Coventry, Stoke-on-Trent, Sunderland and Swansea are also in the running.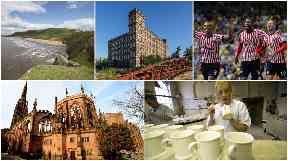 The next UK City of Culture will be named on Thursday evening as Hull's year-long celebration nears an end.
Paisley, Coventry, Stoke-on-Trent, Sunderland and Swansea are in the running for the title - which is credited with attracting major investment to former winners - in 2021.
The announcement will be made in Hull during the BBC's The One Show.
The competition is held every four years, with Derry-Londonderry the first winner in 2013.
Despite the title, the award is not restricted only to cities and Scottish representative Paisley is the first town to make the final shortlist.
Here, we profile the five candidates in the running.
PAISLEY
Population: 77,000
Famous for: As well as its weaving and textiles industry and architecture, Paisley is known for a host of famous faces including Paolo Nutini, Gerard Butler and SNP politician Mhairi Black.
You might not know: The modern law of negligence– which has sparked thousands of lawsuits – has its origins in Paisley in 1928 after a lady was served a bottle of ginger beer with a dead snail in it and sued.
COVENTRY
Population: 352,000
Famous for: Manufacturing – London's black cabs, Jaguar cars and the jet engine have all started life in Coventry.
You might not know: Coventry is twinned with 26 towns and cities – from Parkes in Australia and Jinan in China to Cork in Ireland.
STOKE-ON-TRENT
Population: 260,000
Famous for: Known as the Potteries, Stoke-on-Trent is the home of the pottery industry
You might not know: Stoke-on-Trent is actually a federation of six towns - Burslem, Fenton, Hanley, Longton, Stoke-upon-Trent and Tunstall.
SUNDERLAND
Population: 280,000
Famous for: Sunderland was once known as the greatest shipbuilding town in the world and was also the home of England's first ever stained glass window.
You might not know: It is claimed Alice in Wonderland was inspired by Sunderland – author Lewis Carroll's sisters lived in the Southwick area of the city and often visited the area.
SWANSEA
Population: 242,000
Famous for: Set on the dramatic Welsh coastline, Swansea is surrounded by the UK's first Area of Outstanding Natural Beauty. It was also the birthplace of poet and writer Dylan Thomas.
You might not know: In 2004, Swansea was given the unfortunate accolade of being Britain's wettest city.