Lennon is talk of playground after landing his own radio show
The ten-year-old pupil turned DJ is following in the footsteps of father Dave Knight.
The first time Lennon Knight walked into a radio studio, he was instantly curious.
As he watched his father Dave put on his headphones and broadcast to the listeners of East Coast FM, the ten-year-old wanted his own shot in the presenter's chair.
Having watched many a child freeze when a microphone is passed their way, Dave tested the water by giving his son some short segments to read out on his show.
"One day, he decided he wanted to come in and see how it all worked," the former Real Radio presenter says.
"Normally people coming to see the show sit quietly and look on. Before I knew it, Lennon was asking if he could read a text or email that had come in.
"When somebody has enthusiasm like that you have to just say 'yeah, you go for it'.
"It is all off the top of his head and it is funny. It is ten-year-old random. Kids say the funniest things, there is no truer thing said."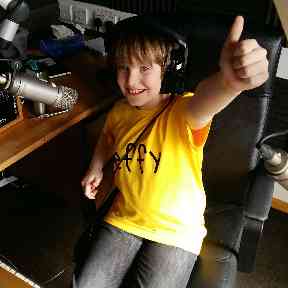 While helping his father in the studio one afternoon, a chance slot later in the day to present came up at the station.
As the producers set about filling the space, Lennon had no qualms about volunteering to step in.
He never anticipated that, just weeks later, he would be presenting his own two-hour Saturday show after impressing the boss.
It may not be the most conventional of weekend activities for a ten-year-old but it has sparked a new passion for the pupil at Carnegie Primary School in Dunfermline, Fife.
"When I saw my dad broadcasting for the first time he made it look easy and I thought I could do that one day," Lennon says.
"I was really very nervous and very scared that I might not be able to speak but my dad kept telling me to relax and smile and it would come out naturally.
"I followed what he said and I did my first link with a few stutters but it came out all right."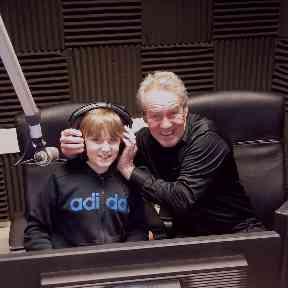 Now a month into his new job, Dave has been surprised with Lennon's music enthusiasm with everything from The Rolling Stones to AC/DC and Flo Rida on his playlists.
Always thinking ahead to his Saturday show, he has even been jotting down songs he likes while playing games on his Xbox.
The new job has also become a hot topic in the playground with his friends all keen to give their song requests during break.
"They think it's so cool that I am on the radio, they are always running up to me and I'm always getting asked if I can play them songs," Lennon says.
"I tell them to text or email the studio when I'm on and I'll play the songs they want.
"When you see them again they say 'I heard you on the radio the other day, you were great'. It makes you feel good when they say that."
Following Dave's four-hour Saturday show with his own two-hour slot, the father and son duo have already had to stave off a fit of the giggles while on air together, enjoying the extra time together their shared passion is allowing them.
"The best top tip has been to always smile when you're speaking into the microphone," Lennon says.
"My dad says that as long as you smile it comes over on the radio and the listeners can almost hear your smile and that makes them smile and enjoy the show even more.
"My favourite part about it is talking to people."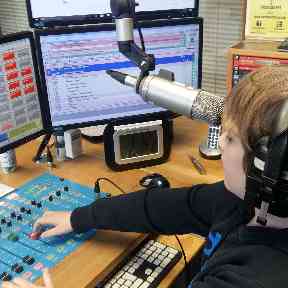 Lennon's sights are now set on landing a top spot on the airwaves when he is older and following in his father's footsteps by making radio his career.
For now, this ten-year-old is chuffed to be crafting his skills, with Dave joking his son's popularity may well soon outshine his own.
"We get lots of texts in from his school friends and the local people that listen in," Dave says.
"He gets more texts and emails than I do. He'll be taking the four-hour show and I'll get lumbered with the wee two-hour show."
Lennon adds: "My mum keeps telling me that she is really proud and excited that I have my own radio show.
"My dad has been doing radio for years and my mum doesn't really listen to him on the radio because she says she hears enough of him in the house.
"She listens to both of us now though, more for me than my dad though."
Download: The STV News app is Scotland's favourite and is available for iPhone from the App store and for Android from Google Play. Download it today and continue to enjoy STV News wherever you are.