Police patrol: On the beat as Christmas spirits run high
STV News followed officers in Glasgow on one of their busiest nights of the year.
It is a festive Friday night in Glasgow city centre and spirits are high.
It also ranks among the busiest times of the year for police as they endeavour to keep revellers safe.
As Sergeant Stephen McAllister explains to two women, STV News cameras are following his team to get a feel for what a busy night on shift is like during the Christmas period.
"Let's not show it down south," jokes one of the women in reply. "Because then they'll think all the stereotypes are real."
Party season for many Scots it most certainly is, with Christmas parties, nights out galore and - of course - quite a bit of drinking to go along with it all.
For patrol officers, however, there are serious matters of public safety to contend with and on a night like this they know they are going to have their hands full.
After a short briefing at headquarters at around 9pm, it is not long until police attend their first call of the night - a man who has taken a tumble in the street.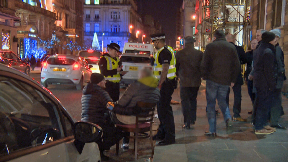 "He's got a wee drink in him, I wouldn't say he's overly drunk," Sgt McAllister tells STV News.
"But he's been on a Christmas night out tonight, he's obviously had a drink in him. He's taken a fall for whatever reason, he's obviously on his own, he's not with any friends or anything.
"When we come across that we now have a duty of care to make sure that male receives the treatment that he deserves."
Police say one of the ways they measure how busy a night out is in town is looking at how big the taxi queue is.
This particular Friday night it is definitely not small, with a long line of people stretching down Gordon Street at the taxi rank opposite Glasgow Central Station.
It is here patrol officers make one of their first arrests of the night, after an altercation in the taxi queue at around 11pm.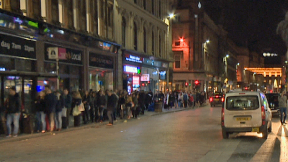 Not every intervention police make is always related to violence and crime. Sometimes it is just checking people are alright.
As the night wears on and booze gets the better of some, the volume of incidents officers are called to attend starts to mount.
"I've been listening to the radio," explains Mr McAllister as his team bundle back into the patrol van.
"We've heard about two or three assaults in the last five to ten minutes."
Over at the taxi queue on George Square, a man has become agitated and attacked one of the taxi marshals.
The attacker is detained, statements are taken and he is cuffed and escorted to the police station.
On the journey, the detained man rants to police: "You lot? Seriously? Honestly? You're meant to look after us."
As they bring the man out of the van at the police station, he swears and tries to lash out at officers. He is locked up for the night.
At another incident on Bath Street at around 3am, as the late-night bars and clubs close, a young man points STV cameras to a large bruise around his eye.
"Do you see my eye?" he says. "Are you recording that, please?"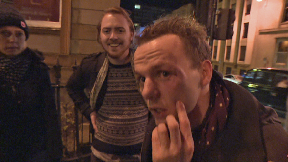 The fight seems to have been over a dispute with door staff and police refer to a nearby CCTV camera to find out what has happened.
In the end it is a nightclub bouncer who finds himself in the back of the police van.
The night draws to a close for most revellers but police keep an eye out for the stragglers - the woman who has had too much to drink and is sitting on the street at 4am, for instance, but is being looked after friends.
Mr McAllister reflects: "There are some touch-and-go moments in the city centre and it does tend to be drink-related.
"I'm not going to tar everybody because the majority of people when do they come out in Glasgow city centre are out to enjoy themselves."
He advises Glaswegians enjoying the Christmas cheer to "drink in moderation".
Download: The STV News app is Scotland's favourite and is available for iPhone from the App store and for Android from Google Play. Download it today and continue to enjoy STV News wherever you are.