Munro Bagpiper: Scotland's hills alive with the sound of music
Grant MacLeod is working his way through the Munros while playing his pipes on all of them.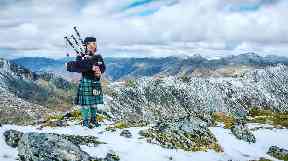 If you happen to be wandering about the magnificent hills of Scotland chances are you'll hear Grant MacLeod before you see him.
Dressed in his clan kilt and a sturdy pair of walking boots, Grant has been taking on the country's 282 Munros, playing his pipes on each and every one of them.
As he does so, he has been taking a video of himself out on their rocky peaks and posting them online on his page Munro Bagpiper - and it seems everyone else has been enjoying the adventure as much as he has.
Since he began his journey, some of Grant's top videos have received more than 2.5 million views from fans all over the world.
"I'm just a normal guy, going up the hills, playing a tune," says Grant.
"I grew up in the Highlands at the foot of one of the Munros. I was 14 when I climbed Beinn Sgritheall for the first time and I remember thinking I wish I had my pipes, it would be amazing to play up here."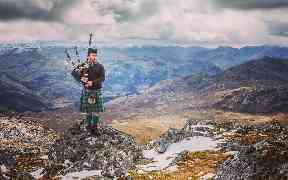 Grant's first set of bagpipes had been given to him by his grandmother, whose own father had been a talented piper.
It was, as they say, in his blood, and it was in tribute to her that the young Scot decided to tackle the mountains.
"Literally the night before my gran passed away I had this idea to do the Munros," says Grant.
"She was the one who had given me my first pipes. I did a couple of Munros, it went well, I survived, then a couple of people started hearing about it so I started posting videos online.
"Then my friend passed away and it sort of kick started everything. I started doing it to raise money for charities."
The ball was rolling and Grant's Munro adventure had begun.
Soon he was striding through the mist above the lost valley of Glencoe, piping out a haunting ballad high up in the mountains.
He's strolled through the bracken up Sgorr Dhonuill and travelled across the water to the Isle of Skye.
Sometimes he plays a few of his favourite ballads. Sometimes he dedicates them to special events and occasions.
"I did a memorial video, a tribute to those lost in the terrible tragedies around the world," says Grant.
It was viewed more than 2.5 million times.
Despite working two jobs at a gym and as a sports therapist, Grant also takes it upon himself to do personal dedications for people, scrambling up hills and mountains to record them on location.
It could be Amazing Grace played out over the waters of Loch Lomond or a ceilidh tune on the Cuillin ridge.
Some people want the video dedications played for those they've lost, or as a romantic gesture for a loved one.
"I've been sent to places where ashes have been scattered and it really is quite poignant," says Grant.
"It's nice to be sort of part of that."
For 2018, Grant has even more Munro adventures planned for his 50,000 fans.
He's hoping to post more of his journeys online so he can share the hills he loves with more people and he has some special tunes up is sleeve that he'd like to perform, possibly in hills further afield than hi8s beloved homeland.
"It would be amazing to take on some locations abroad," he says. "It's all heading towards a goal. To be able to do this full-time would be the dream.
"Keep following and enjoy the journey - there's a lot more to come."
You can follow Grant's Munro adventure here on the Munro Bagpiper website and on Facebook.