Little pony Albert brings joy to sick children over Christmas
The horse, diagnosed with dwarfism, sparkled in his elf suit for special visits.
He may be only knee-high but Albert the pony has a special kind of super power in his sturdy little frame.
For the last few weeks in the run-up to Christmas Day he has been on a very important mission visiting children in Scotland with life-threatening illnesses.
It's a job that perhaps only a little pony of his plump stature could do.
With his velvety muzzle barely reaching the waistline of the children he adores seeing, Albert is completely approachable and non-threatening - especially when faced with a small hand holding apples or offering a nice scratch behind the ears.
His owner, Nicki Scott, who has a long career in animal welfare, spotted his potential from the outset.
"Albert is a miniature Shetland pony with a form of dwarfism," she says.
"I couldn't take him to shows like my other horses but I knew he had a lot to give."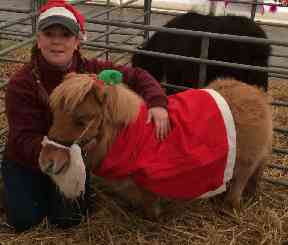 So Nicki took him along to Robin House Children's Hospice in Balloch, West Dunbartonshire, where he had his first chance to make some young friends.
He loved it. And they loved him.
They held pony parties together for the children's birthdays and he was so good and gentle with them, Nicki saw his potential as a therapet.
"He just took everything in his stride," she says.
"Which is why when Christmas came around, Nicki knew Albert had an opportunity to do a lot of good.
Even she could not have predicted how many children would want Albert to be their friend.
"I was looking for something to do where I could give back," says Nicki.
"I just felt that sometimes you can get trapped in money and bills and I didn't want that.
"We're all losing what Christmas is all about and I wanted to make a memory for these children and their families."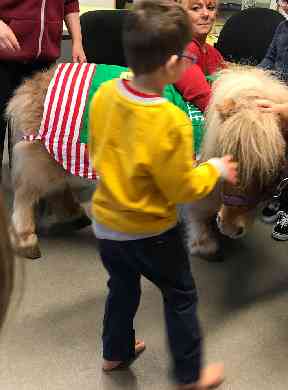 Nicki put a post online asking if any families with children going through a tough time wanted a special visit from Albert and the requests flooded in.
Albert, it turned out, was delighted to oblige.
Dressed up in his special elf coat, he has spent the last few weeks traversing the country in Nicki's special van, meeting some truly amazing children.
One boy, Aaron Hunter from Alexandria in West Dunbartonshire, was diagnosed with ROHHAD, a very rare syndrome that is potentially lethal and incurable.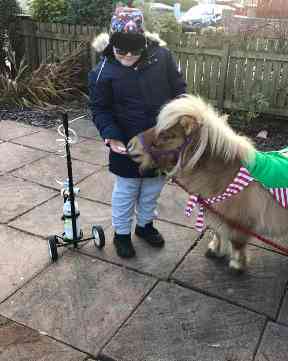 His friend, Luca Pucella, 11, had died from the same syndrome at the end of November, just weeks before Christmas.
"Aaron had a special visit from Albert the Christmas sparkle Shetland pony and he absolutely loved it," says Aaron's mother, Lisa Hunter.
"It cheered him up so much since he has been upset and struggling the past wee while, especially with his stomach and pain and the upset of losing Luca - he is really missing him now.
"We told Albert all about Luca and how he loved horses, too. Aaron would also like a pony as well as a panda for Christmas."
The pair spent some quality bonding time the day before Luca's funeral.
"Nicki Scott has actually been taking the ponies to meet lots of other kids just like Aaron this December to bring them a bit of Christmas cheer," says Lisa.
"She is a wonderful lady with a huge heart."
Albert and Lisa have also been spending time in nursing homes and the little pony has even trotted inside some of the children's houses.
"Yesterday I met young lad with cerebral palsy, we had to actually go in the house as his bed was on the ground floor," says Nicki.
"I wasn't sure how Albert would cope being in an actual house but he was so chilled, he did really well."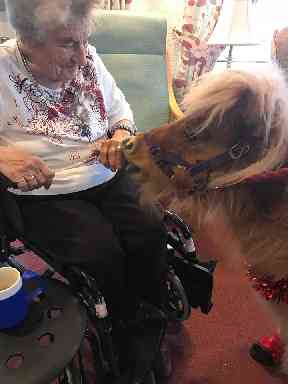 Albert was so chilled, he actually decided to take a nap in the bedroom but not before he had made sure to say hello to his new friend first.
There is still a long list of children who want to meet Albert, so much so the pony is going to go out after Christmas to make sure he spends time with all of them.
Nicki says he has a great amount of energy, a remarkable amount given that they almost lost the little guy earlier this year.
An average miniature Shetland pony stands at about 32 inches tall. Because of his condition, Albert is only 28 inches and weighs in at 65 kilos.
"Sometimes with this condition they don't live long," says Nicki.
"We almost lost him at the beginning of this year but he went for surgery and he's like a whole new pony.
"He used to be like this wee old man but now he's lovely and bouncy."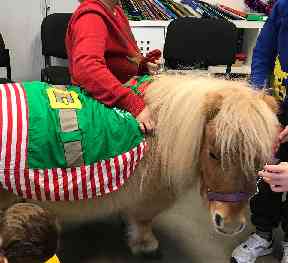 A few people have been in touch with Nicki asking if they can make donations to her and Albert but she always politely refuses.
"That would sort of miss the point of all this," she says. "This is about Christmas, not money.
"But after being at Robin House I can see all the amazing work they do. So if anyone really did want to donate something, somewhere, I know they could really use it."
On Christmas Day, Albert will be taking a small break to have a specially prepared festive dinner (carrots) and a snooze but his diary will see him back out on his visits shortly after that.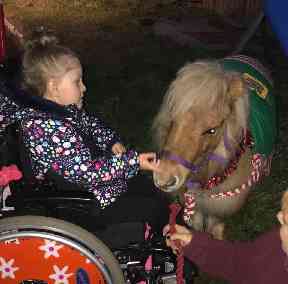 "You don't ever get used to seeing what some families are faced with," says Nicki.
"I'm in awe of all of them. You see how strong these kids are and they all have these really big smiles. It's like Albert knows. He's very gentle with them.
"At least by taking Albert to them, you feel like you're helping just that little bit and making a memory for them - and that is really humbling."
Download: The STV News app is Scotland's favourite and is available for iPhone from the App store and for Android from Google Play. Download it today and continue to enjoy STV News wherever you are.