Rohingya refugees: Humanitarian crisis 'on incredible scale'
STV News reporter Chris Harvey visits a camp in Bangladesh that houses more than 600,000 people.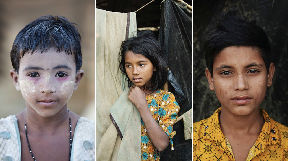 Nothing in life prepared me for the refugee camps in Bangladesh.
Stretching as far as the eye could see were tiny bamboo shacks, loosely covered in plastic tarpaulin.
They housed more than 600,000 Rohingya Muslim refugees who arrived here after fleeing violence in their homeland, Myanmar.
We set off in darkness one morning to the small harbour at Sabrang where people had been arriving by the thousand after the violence in Northern Rakhine State.
Even then Rohingya were crossing the River Naf to escape attack from Myanmar government security forces.
Many had travelled for days through the jungle to avoid detection with no food, little fresh water and often just the clothes on their backs.
After moving a few minutes inland to the United Nations High Commissioner for Refugees' reception area at Teknaf, I noticed immediately there were few men.
The groups of refugees waiting to be registered and undergo health screening were predominantly women and children.
Once the Bangladesh Army had agreed to allow me to film and interview the new arrivals it became apparent why.
Almost half the children there were orphans, they had travelled with aunts and siblings after witnessing the most unimaginable horrors.
One girl, a seven-year-old called Noorkulima, was almost numb from her experiences.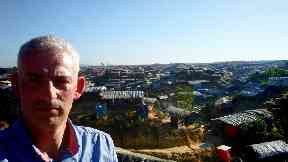 She had watched as the security forces in Myanmar killed her father, mother and brother.
She escaped by hiding in a neighbour's home before, like so many others, their village was set alight and they ran for their lives.
I heard story after story of women and young girls having their clothes cut open in front of their husbands and brothers, before being raped by the Myanmar army and Buddhist extremists.
On more than one occasion the men were then massacred.
The UN has described it as a "textbook case of ethnic cleansing" and while the Myanmar government denies the allegations and claim the villages were burned by the Rohingya themselves, one thing is undisputed - this is a humanitarian crisis on an incredible scale.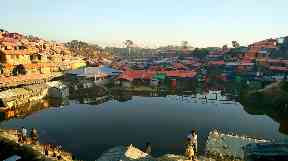 The camp at Kutupalong is a single sprawl of chaotic housing, unsanitary conditions, disease and increasing tension.
It houses more refugees than the population of Glasgow and while food aid is being provided, there is a a dearth of fresh water wells, toilets, bedding and cooking equipment.
The charity I was travelling with, the Scottish Catholic International Aid Fund, has already raised more than £160,000.
Those donations have helped provide winter blankets and mats, pots and pans and support to improve the infrastructure of the camps though better building and rainwater diversion to prevent flooding and landslips on the camps steep hillsides.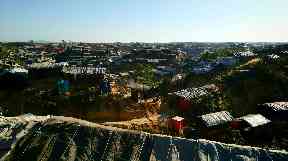 To see proud people living six or eight to a tiny bamboo hut, cooking inside with wood fires without any ventilation and sleeping on floors where human sewage was seeping in from neighbouring latrines or from the small rivers that snake between the shacks was humbling.
I asked one woman called Rabia, a 25-year-old mother of a young baby, what life was like living in the camps.
"It's paradise," she said.
I was shocked and asked her how she could think so.
She answered simply: "Here I can sleep, here I can sleep without fear of being attacked at night, of having my home set alight."
The camp at Kutupalong is anything but a paradise but compared to the horror of the violence in their homeland that drove them here it is easy to understand why she feels this way.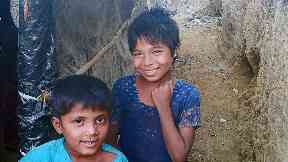 Four months since the Rohingya began arriving in Bangladesh the eyes of the world are beginning to look elsewhere but the crisis shows no sign of ending.
Until a political solution is found to give the Rohingya the guarantee of a safe return to their homeland - and there are many who say they will never return - they will remain in Bangladesh.
Download: The STV News app is Scotland's favourite and is available for iPhone from the App store and for Android from Google Play. Download it today and continue to enjoy STV News wherever you are.