Secret Santa: Generous railway worker delivers joy to children
Charlie Sproull's impromptu gifts bring festive cheer to families in need.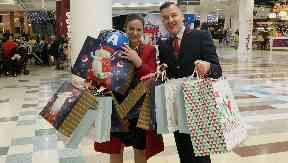 As Charlie Sproull wraps and delivers another present, he imagines the smile beaming across a child's face when they rip open the paper on Christmas Day.
After spending the last fortnight pacing the high streets for the perfect gifts, his house has been turned into a bit of a Santa's grotto with presents piling high all over the house.
Charlie will never see these moments of elation on that magical morning and that's just the way this secret Santa wants it to be.
He was first inspired to hit the shops after reading about a gift donation drive for disadvantaged children who had shared their Christmas lists under a wish tree.
Emotional at the thought of a child going without a Christmas dinner or a present to open on December 25, the Virgin Trains staff member sent out a message on his work WhatsApp group asking for some help towards buying a few presents so he could "rip loads of tags off that tree and buy these kids what they want".
Hopeful of reaching around £100, the 51-year-old was overwhelmed as the money flew in from generous colleagues and friends, with £2000 in his account by the end of the day and over £2500 by the end of the week.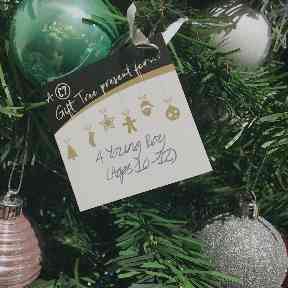 "This was just a spur of the moment thing," Charlie says. "I was thinking, 'poor kids at Christmas time waking up without a present'. It spiralled from there.
"It was important to me to try to help some of these people to give them a little bit of hope that when things are dark and bleak and to know there is kind and generous people out there trying to help.
"Some of us have been in their shoes at one point in our lives. If you can help someone who is struggling, it lifts their spirits slightly."
He adds: "I've been there but I had brilliant family around me and I've never forgotten this.
"So that's why I wanted to do this - to bring some love and happiness even for a few hours to those little kids."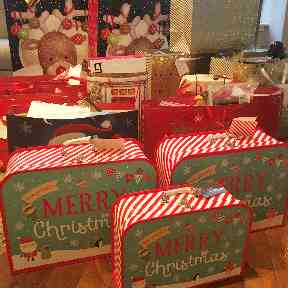 Colleagues have praised Charlie for capturing their imagination as they all rallied behind his enthusiasm to spread some Christmas cheer.
Dedicating a week of his annual leave to the cause, Charlie set about contacting charities and projects in his home city of Glasgow to find out how he could best help those in need.
With the help of his friends and colleagues, he has been dashing from shop to shop to fulfil the Christmas wish lists, wrapping a total of 72 gifts and buying £700 worth of shopping vouchers.
As well as picking 12 tags from the Christmas Giving Tree at intu Braehead, Charlie donated presents and vouchers to the Partick Social Work Office, the New Gorbals Housing Association and a local foodbank.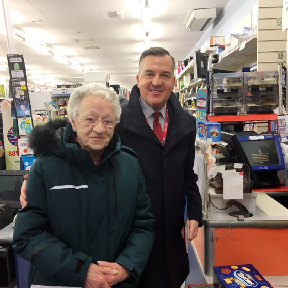 Spurred on to help more, he then surprised seven pensioners at the tills of some of his local shops in Shawlands and used the remaining donations to buy their shopping.
Alongside his colleagues Sadie McKelvey and Donna McCracken, the trio also paid for a haircut and handed out some Christmas cards with £20 inside to elderly shoppers, wishing all those they helped a merry Christmas.
"They would say 'I can't believe this' and 'Are you sure?' Some of them thought we were kidding on," he says.
"It was really nice, just to see their faces. People would say 'Oh you have just made my day, son'.
"People were stopping and looking and saying 'these guys are like secret Santas'."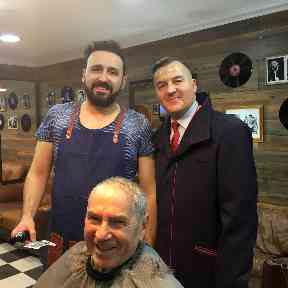 Building on the momentum of his initial idea, Charlie says the response has been "quite emotional" and credits his colleagues and friends for the team effort.
"I've had people running about for me," he says. "Everybody has been fantastic and everybody has been helping out.
"We still have good people in this world."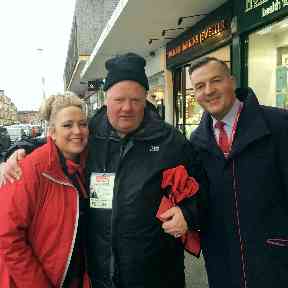 Despite pulling off this impromptu campaign in just a week, Charlie has still found time to organise and wrap presents for his own family and is looking forward to spending the day with his partner and friends.
He has even started to think about whether 2018 might bring another opportunity to work together with other Virgin Train colleagues further afield and run a bigger campaign.
"It has given me a wee lift just to know we are helping people," he says.
"I felt amazing knowing that some small child, teenager or family would have a bit of happiness on Christmas Day with our help, it's the best feeling ever."
"This is what Christmas is all about," he adds. "I get very emotional thinking about it.
"It's nice to be nice and to try to help someone."
Download: The STV News app is Scotland's favourite and is available for iPhone from the App store and for Android from Google Play. Download it today and continue to enjoy STV News wherever you are.