Homeless people describe agony of Christmas on the streets
STV News speaks to Gordon and Dave, who beg in Aberdeen to get by.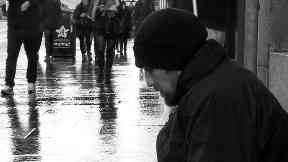 Gordon has been begging on the streets for half his life.
He depends on the charity of strangers to get by during the day and sofa surfs at night to get out of the cold.
One in three Scots believe they or someone they know is at risk of homelessness, according to new survey released days before Christmas, and nearly half say they are only two pay cheques away.
"I'm just trying to get on the best I can, this is my only form of income," Gordon, 40, says.
"It's very hard. People see beggars and assume they're addicts when most of the time it's not the case."
Gordon, who says he was abused as a child and grew up in a series of homes, believes he has no choice but to beg. He makes about £45 a day on the streets of Aberdeen.
"I don't have any other option, there's no chance I'd be doing this if I did," he says.
"It's cold, you get people who are drunk and like to abuse you, I've been punched, kicked. I'm a human being, not an animal. This is not a life choice.
"I'd rather be working and getting my life on the go rather than doing this.
"Christmas means nothing to me. I've never had a Christmas dinner, never been given a present."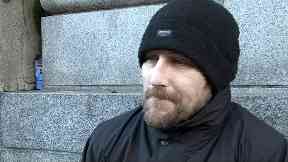 Street Soccer Scotland has surveyed 1083 Scots about homelessness, with 31% saying they or an acquaintance could lose their home.
A further 41% said they were only two pay cheques away from facing homelessness.
Younger people were most likely to be afraid of becoming homeless, with 39% of survey participants aged 16 to 24 saying they or somebody they knew could be at risk.
This compared to 37% of those aged 25 to 34 and 36% of 35 to 44-year-olds.
A total of 52% said they would not know what to do if they became homeless.
There were more than 34,000 homeless applications in Scotland last year, according to the latest government figures.
Dave, from Essex, has spent time homeless in Glasgow, Edinburgh and Aberdeen since losing his job due to alcoholism.
He has struggled to find a permanent home and says he begs in Aberdeen to pay for a bed.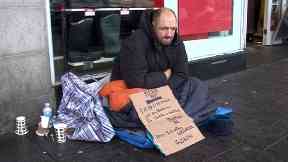 "I come out here and beg during the day to try to make a few extra pennies," he says.
"A lot of people walk past and give me a few bits and pieces. I'm an alcoholic, I drink. The thing that winds me up about the street is that people will say 'oh, he's a drug addict'.
"It's rubbish that everyone on the street is on drugs - it's wrong that everybody classes everyone the same."
Dave, who says he served in the army before becoming homeless, said he had no reason to look forward to Christmas.
"I'm lonely," he says. "Most Christmas Days I sit here and cry because I've got no one."
Street Soccer Scotland chief executive David Duke, who was homeless for three years and slept rough, says the stigma around homelessness "needs to end".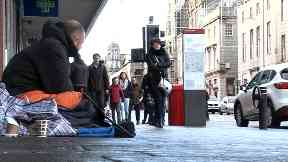 "It does not discriminate, he says. "We often think of it as something that happens to other people, to certain people in society.
"Our research shows that far from being an isolated problem, the risk of homelessness is too high for too many people in Scotland.
"It can take just one small change in circumstances."
He adds: "For me, it was bereavement when my dad died but it can equally be illness or having your hours reduced at work, that sends people into a spiral towards homelessness.
"It doesn't just apply to people on the fringes of society, we're talking about people who have jobs and mortgages who are also at risk, as well as people renting their homes.
"People who think it could never happen to them."
Download: The STV News app is Scotland's favourite and is available for iPhone from the App store and for Android from Google Play. Download it today and continue to enjoy STV News wherever you are.