Northern Lights: Snapper's fascination with dazzling display
A chance encounter with the Aurora Borealis took Mo Thomson's life in a new direction.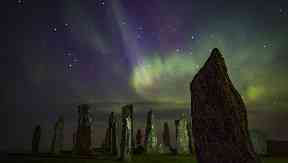 The first time Mo Thomson witnessed a wintry Harris scene through his camera lens, he was dazzled by its beauty.
With its long deserted beaches and the white ponies adorning them, Mo thought no scene could top this majestic sight.
As he sat in front of the log fire one evening looking north, he saw a dull glow in the distance.
Intrigued by the unusual light, he grabbed his camera and was soon faced by a dancing light display in the sky as he looked up in awe at his first experience of the Northern Lights.
Having recently taken redundancy from his 25-year IT job in the banking industry and bought his first SLR camera, Mo's Harris trip further motivated him to realise his dream and make his living from photography.
"I fell in love with the Hebrides and photography at the same time," Mo says.
Speaking of that first sighting, he adds: "I got the camera out and I didn't know how to use it then but I managed to grab some shots.
"I thought my eyes were wonky but then it got stronger. It was my first introduction to Northern Lights. Then I was hooked."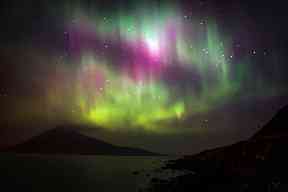 The Northern Lights, also known as Aurora Borealis, are the result of collisions between gaseous particles in the Earth's atmosphere with charged particles released from the sun's atmosphere.
Variations in colour are due to the type of gas particles colliding.
Based near Edinburgh, Mo began tracking the weather for signs of a solar storm and would pack up when things looked promising and head off to seek out this natural phenomenon.
Nicknamed Midnight Mo by his fiancee, Mo has spent many an early morning wrapped up in his winter wear in some of the most remote parts of Scotland, flask by his side and camera in hand, waiting for that perfect shot.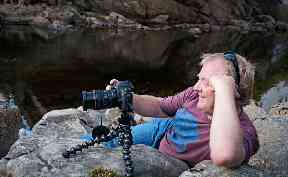 "I went down the beach and it was really cold, about -7 °C," he says, recalling a trip to Durness.
"I knew there was a storm coming. The hairs were up on the back of my neck. The vertical beams, the blue, stuff wriggling around. I couldn't believe what I was seeing."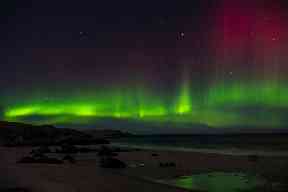 "I also went to the Callanish Standing Stones," he adds, speaking about another trip. "Looking up at it was just mesmerising.
"All of a sudden there were these huge beams in the sky straight above us."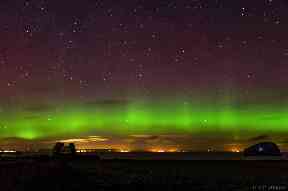 Now five years into fulfilling his passion for photography, the 53-year-old has established his favourite Northern Lights viewing spots with Lewis and Harris among his top choices.
The main thing, he says, is to accept the waiting game and hope for a little bit of luck.
It was this formula which led him to capture the a meteor, the sunrise glow and the Northern Lights glow in one shot one early morning in Durness.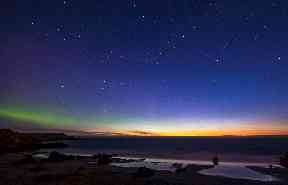 He has also managed to capture the dancing lights closer to home one Hogmanay in Longniddry.
As the crowds were all turned towards the fireworks, he spotted the Aurora Borealis in the opposite direction and swiftly turned towards it, his trusted camera at the ready.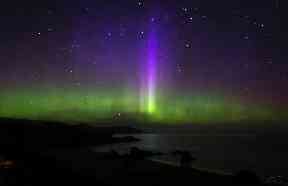 Mo has already got a 2018 trip to Harris in the diary, this time for a very special occasion as he returns to one of his favourite places in Scotland to get married.
Promising to avoid aurora spotting on this one occasion, the day would of course be topped off if the dancing lights decided to join in the party.
"If you get a solar storm, you get arks, you get beams, you get stuff wriggling around and you get different colours - red, green and blues," he says.
"But you have got to be patient. At night-time, your eyes see in black and white in your night vision.
"You might be disappointed at first but if you wait around, it will kick off."
Download: The STV News app is Scotland's favourite and is available for iPhone from the App store and for Android from Google Play. Download it today and continue to enjoy STV News wherever you are.