Christmas gunge: How sewage workers deal with our blockages
Scots are being urged to avoid pouring cooking fats down the drain after festive dinner.
Spare a thought this Christmas for the sewage workers who have to deal with the accumulated gunk we flush down our toilets and sinks.
From baby wipes to pacifiers, towels, food, oils and fat, these people rake through it all - at which point it has all hardened and congealed into a horrid gunge.
They sift through tonnes of it every day, with Scottish Water saying it deals with 35,000 blockages across the country every year.
The water network understandably takes even further strain during the festive period - with an even greater workload for those tasked with maintaining it.
"A lot of grease and oils comes in here," explains Christopher Fletcher, a worker at the wastewater plant in Paisley, Renfrewshire.
"It comes in in bigger clumps so it can cause more blockages. It's heavy as well."
"Sometimes we see money, jewellery," he adds. "Weird and wonderful things."
The conveyor belt at the plant shifts and compacts the stinking debris into huge grey cubes of gunge before dropping them into skips, which then go to landfill.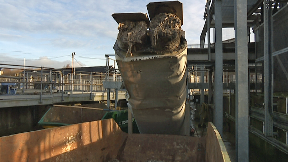 Mr Fletcher says he and his colleagues' jobs are made a great deal more difficult by people's carelessness in what they flush down their toilets and sinks.
"It's easy enough for people to do, why can't they just avoid doing it?" he asks.
Despite national awareness campaigns, of those 35,000 blockages Scottish Water deals with every year around 80% are the result of this sludge.
Officials say simple steps, such as not pouring cooking fats down the drain after Christmas dinner, could make a big difference.
"Particularly as you come into this time of year, where people are cooking for their own families, they might be tempted to put fats and oils down the sink into the sewage system," says Scottish Water's waste water operations manager Mike Will.
Combined with the other items such as baby wipes that are regularly flushed down the drain, this can cause "real problems" for the network, Mr Will explains.
Scotland's largest wastewater plant, at Seafield in Edinburgh, can pull around 1350 tonnes of this congealed gunk from the water system every year.
Scottish Water's simple message to the country this festive season is: "Bin it, don't flush it."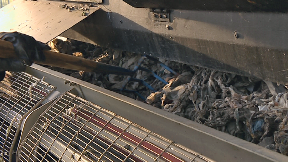 Download: The STV News app is Scotland's favourite and is available for iPhone from the App store and for Android from Google Play. Download it today and continue to enjoy STV News wherever you are.