Unusual fitness trends to help you bounce into the new year
We look at the alternative exercises to help you get fit after weeks of excess.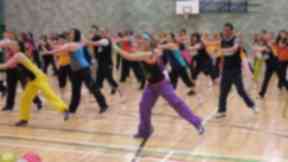 There is something so very bouncer-like about the imposing month that is January.
December is the wild child, bright and glittery and full of glorious excess, partying all night with a sherry in one hand and a turkey leg in the other.
Then comes January like a glass of cold water to the face, the party doors slam shut and it's bye-bye brie and hello slimming shakes.
When you ask someone about their New Year resolutions, chances are they will say they want to exercise more.
While we all start with a gym membership and good intentions, what we tend to end up with is a contract we feel we can't get out of and evenings spent trying to attach our Fitbits to the dog.
The trick to sticking it out, we hear, is to make fitness fun.
So, we had a little rummage about to find a few options that could make this whole get fit thing a little bit more exciting.
Kangaroo Shoes
Ever seen a fat kangaroo? Didn't think so. So we could maybe see how exercising like one might make a bit of sense.
A year ago, Abertay University became the first place in Scotland to offer the certified Kangoo Jump classes - an aerobics -based group workout session wearing rebound boots.
Rebound boots are fitted with a springy attachment that developers say reduces the impact on joints. It aids, in particular, the knees, hips and ankles during exercise by 80%.
The Kangoo Jump boots just slip on your feet like boots with clips that you snap into place and then you're off.
It's a bit like having a tiny pogo stick on each foot, and the workout you get is pretty challenging.
Planet Fitness in Fife currently runs Kangoo classes if anyone wants to have a wee bounce.
Boogie Bounce
Carrying on with the bouncing theme, if you feel as though you were "born to bounce" then the boogie bounce classes could be worth a try.
Put simply - you get to jump on a mini trampoline in a series of small, controlled movements that is at least twice as challenging as normal aerobics class.
Boogie Bounce is dancing with intervals of jumping, bouncing, frogging and stomping, performed to music and a set programme - a bit like a night out but on springs.
There are classes across the country now so its popularity is certainly growing.
Reverse Running
Running backwards (stick with us here) is actually a tried and tested form of exercise.
Reverse (or retro) running can be traced back to early 20th-century athletes including boxer Gene Tunney and wrestling champions William Muldoon and Ed Schultz, who both used backwards running in their training.
It wasn't until the 1980s, however, that the technique grew in popularity.
Studies have shown that exercising this way can help you maintain a more upright posture and also lessens the impact on your knees.
Developing a way to do it in a local park without totally wiping out or taking down a passing Labrador with you is the hard part.
First, you need to find the proper training ground such as a park, beach or track.
Next, you're advised to keep your shoulders over your feet, hold your arms close and low to the body and remember to frequently look over your shoulder.
Push off from the balls of your feet and avoiding lifting them too far off the ground.
Questioning whether you can actually get very far? Well you don't have to lose out on speed - the world record for the fastest half marathon backwards was a German chap named Achim Aretz who smashed it in 1:40:29.
Piloxing
Piloxing is a non-stop cardio fusion of standing pilates, boxing and dance.
Think pilates but with a bit more punch and moves that make for a calorie blasting, muscle toning, core-centric interval workout.
It's currently on offer and several council leisure centres across the country.
Pilates aims to strengthen the body in an even way, with particular emphasis on core strength to improve general fitness and well-being.
A physical fitness system developed in the early 20th century by Joseph Pilates, after whom it was named, it is now practised worldwide.
According to an article in the New York Times, as of 2005 there were 11 million people dedicated to the discipline regularly.
Extreme Hula Hooping
Hula hooping has moved on from the playground somewhat in the last few years.
It's beefed up a bit, too, with the exercise version of the hoop now carrying a bit of extra weight to give you more of a workout.
Powerhooping is a fun and effective workout using a weighted, padded hula hoop that will strengthen and slim your core.
Research has shown users can lose up to three inches from the waist in only six weeks by practising for just 15 minutes a day, five days a week.
A study by Waterloo University in Canada asked a group of overweight women to undergo the regime for six weeks.
They lost one-and-a-half to three inches from their waists without dieting.
Also, it can be done in your living room while watching Netflix - bonus.
Kilted Yoga
These guys made headlines across the world last year after a BBC video of them doing yoga in kilts became a viral sensation.
The star of the clip, Finlay Wilson, only got into yoga when he was 19 following painful surgery on both his legs. But after the video success he has gone on to promote the entire kilted yoga movement.
He has even published an instructional book, Kilted Yoga: Yoga Laid Bare, if you fancy giving it a go.
Supposedly, the free-flowing nature of Scotland's national dress makes it easier to relax and perform complex moves - with the added benefit of extra ventilation where you need it most.
Some have referred to Finlay's movement as broga (as in "bro" and "yoga") because it has proven to have mass appeal among men.
As he told the Evening Standard: "It's setting a really good tone. I should have got my bum out sooner."
Clubbercise
Basically a night out but without the alcohol, Clubbercise is fast growing trend among the fitness folk.
Taught in a darkened room with disco lights and LED glow sticks, you move around to a set to a soundtrack of old and new club hits.
It's a fusion of dance, toning and combat moves with high/low impact options for all fitness levels.
One class can apparently burn around 600 calories. Here is a list you can search if you're looking for a class near you.
Konga
For the indecisive, Konga is a little bit of everything thrown together and set to music.
It's a total mash-up of boxing, kick-boxing, cardio, afro, pop, rock, pilates, disco and everything in-between.
What began a few years ago in Australia is now a popular high-energy class across the world.
Dubbed "The Jungle Body" you can allegedly burn 700 calories a class if you give it your all.
Classes are now in council leisure centres across Scotland if you want to try it out.
Download: The STV News app is Scotland's favourite and is available for iPhone from the App store and for Android from Google Play. Download it today and continue to enjoy STV News wherever you are.