Scotland's most beautiful doors revealed in stunning images
From grand palace doors adorned with golden unicorns to weathered wonders, our country has them all.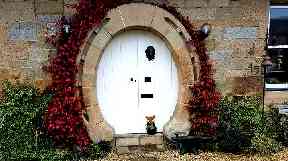 There is something so wonderfully calming about doors.
Perhaps it's their perfect linear symmetry. Those neat rectangles we draw as children, flanked by square windows and a green Crayola bush.
Or maybe it's because even though they're there to keep the world out, everything about a closed door just does the opposite and invites us in.
Perhaps it's the curiosity element. Doors are secretive - the nosy among us want to know what is happening behind them.
In cities they line the streets like a collection of urban portals while out in the country, doorways can lead out to vast mountain vistas, still lochs or serene pebble beaches.
As door fan Soraya Ben Hadj, who runs the Instagram account @doorseverywhere told the New York Times in 2016: "A door is a path to somewhere else."
It's the Narnia factor, the idea that wonderful and magical things could happen on the other side of that wardrobe or door-knocker.
From grand palace entrance ways adorned with golden unicorns to weathered, rustically beautiful cottage doors our country has them all.
We asked you to share your favourite doorway finds and you did not disappoint.
Here, we take a look at some of Scotland's most beautiful doorways.
Christmas in the city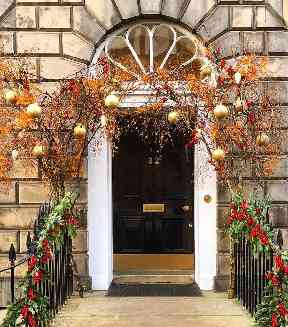 Edinburgh doorways can be so wonderfully grand but in a delightfully subtle way, particularly those from Edwardian and Victorian times.
Allison Lund, a self-confessed "old soul" and doorway fan has a particular love of their symmetry.
"I grew up with a very boring door in Canada, which was basically some uninspired plywood," she says.
"Living in the UK now, I see all these beautiful doors gracing buildings across the country and I love it.
"I remember watching the movie Love Actually with Hugh Grant and fixating on the beautiful door behind him."
Like many door fans, Allison says part of the pleasure in viewing them is their connection to a past lifetime.
"Doors pull you back to a different time," she says. "There's a symmetry and a beauty and an elegance to them.
"They have this incredible presence - there is a very distinctive paint used on these doors, this incredibly thick, glossy paint. I'm not sure if it's the paint or the door that draws you in?"
Doorway in Luss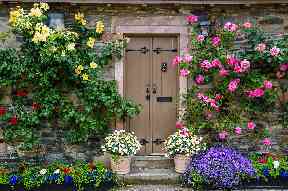 Nothing quite says "come in for a cuppa" quite like a quaint cottage door framed with flowers.
This beautiful doorway was captured by New Zealand photographer Dominic Scott during his adventures around Scotland.
"It was taken in the very pretty and delightful village of Luss," he says.
"This village was not in our itinerary as we motored around the UK but we were in need of a comfort stop and Luss was the closest village which is how we found ourselves here. And we were very pleased we did.
"I was particularly drawn to this little doorway scene, obviously because of the flower colour and style of the cottage, but also the fact the scene had a very inviting feeling about it and I could only imagine how nice the interior of the cottage and indeed the scene outside may have been."
Gallery of Modern Art (GOMA) in Glasgow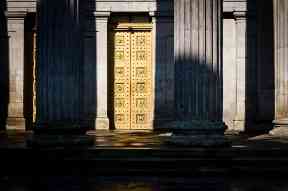 While there are many fantastic things to see inside the Gallery of Modern Art in Glasgow, you might want to take a moment to appreciated the way in.
Built in 1778 as the townhouse of William Cunninghame of Lainshaw, a wealthy Glasgow tobacco lord who made his fortune through the triangular slave trade, the building has undergone a series of different uses.
A neoclassical building in Royal Exchange Square in the heart of Glasgow, the door is a beautiful golden colour that many believe deserves to be appreciated in its own right.
Photographer Leanne Boulton fell in love with it, too.
"Having arrived in the city earlier than usual my eye was drawn to the gorgeous golden door of the Gallery of Modern Art in Glasgow as it was bathed in the early morning sunlight," says Leanne.
"Despite passing the GOMA many times I had never consciously realised that the door was painted in gold as it was always propped open when I had gone by.
"The rich gold and reflected light on the freshly washed paving stopped me in my tracks for the shot."
Dean Village in Edinburgh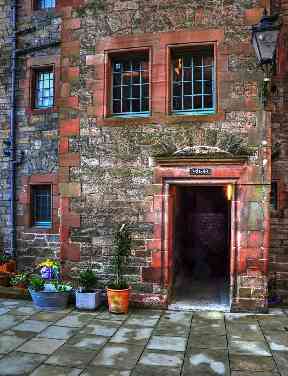 Dean Village is a former village in Edinburgh formerly known as the Water of Leith Village.
It was the centre of a successful grain milling area for more than 800 years and contains a warren of beautiful entrance ways to entice door fans.
Bedlam Theatre in Edinburgh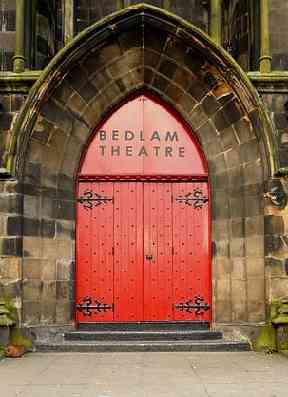 Staying in Edinburgh, another door worthy of appreciation is this striking crimson wonder, which is the entrance to the popular Bedlam Theatre.
A former Neogothic church at the foot of George IV Bridge, the building was constructed in the 1840s and was designed by Thomas Hamilton.
It is on the site of the old city poorhouse and the name Bedlam is a reference to the nearby site of the city's first mental health hospital, where the poet Robert Fergusson died.
Bedlam's longest running show is the acclaimed improvised comedy troupe The Improverts and the door itself is perhaps one of the most recognised doors in the city by Edinburgh students.
The Horseshoe in Falkirk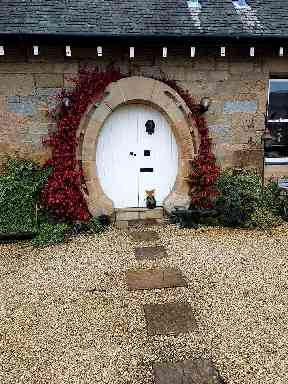 Perhaps one of our more unusual but equally wonderful entries is this horseshoe shaped entrance way in Dunmore, Falkirk.
A former smithy, it is a popular feature in the area though it is now a private residence.
This particular find was made by Kay Mcinally's husband who is a farrier at John McInally Farrier Services.
"I have been shoeing horses for over 30 years," says John. "When I was young, my dad (who was also a farrier) and I shod the horses on the Dunmore estate near where the old smiddy is situated.
"That is when I first saw the doorway. It is special to me as when Kay and I first started dating, I took her there to show her this amazing doorway and it has held a special place in our hearts.
"I promised myself one day I would go back and take a photograph, which I did just a couple of days ago."
St Magnus Cathedral in Orkney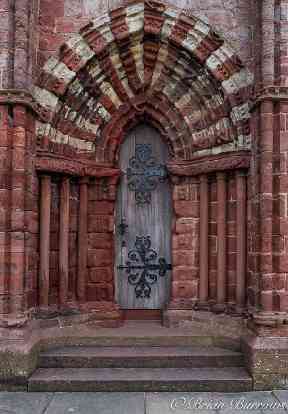 "We visited Orkney in early May last year and had a wonderful week exploring the mainland and had a visit to Hoy," says Brian.
"The wonderful St Magnus Cathedral is an imposing and beautiful sandstone building that we wanted to visit and the ancient doorways at the west end of the cathedral are beautifully ornate.
"I love photographing land and seascapes but there is something fascinating about doorways, especially the older ones as they are very often so much more than just a way into a building."
Doorway at Crail in Fife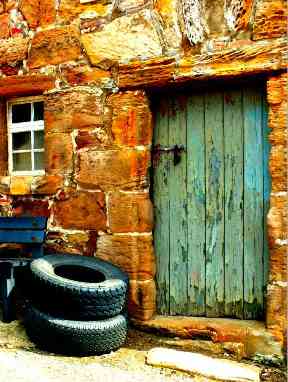 Crail is believed to date from at least as far back as the Pictish period and as a beautiful harbour village contains many wonderfully weathered doors.
"I have a fascination for doors and windows, especially ones with this kind of appeal," says Linda, who regularly shares pictures such as this on her online page.
"The texture and character of each one speaks volumes about its history and what it has seen over the years and I constantly find myself being drawn into them."
Palace of Holyroodhouse in Edinburgh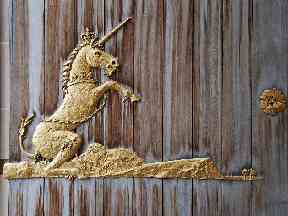 The door to the Queen's Gallery at the Palace of Holyroodhouse truly has royal flair.
It is Her Majesty The Queen's official residence in Scotland and this entrance certainly reflects that.
The door is adorned with a magnificently golden unicorn and lion, the symbols of the United Kingdom.
Appearing in the full royal coat of arms, the lion stands for England and the unicorn for Scotland.
The combination dates back to the 1603 accession of James I of England, who was already James VI of Scotland.
Brodick Castle on Arran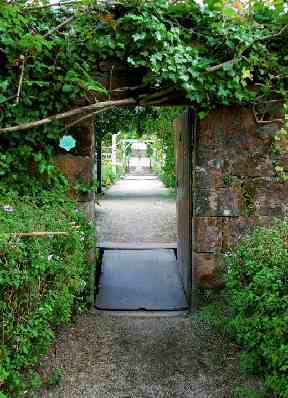 Brodick Castle is located just outside the port of Brodick on Arran and its grounds are like something out of the Secret Garden.
Nestled among them is this small doorway, made of simple wood with a specially carved peep-hole to lure you inside to the many scented roses beyond.
Ackergill Tower in Wick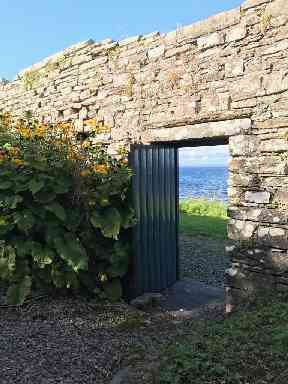 While we're wandering through garden doors, take a look at this beauty from Wick.
Sometimes the magic of a door is how beautifully unobtrusive it can look from the outside when closed, and how incredibly magnificent the views can be beyond it.
It's like a secret that you can instantly solve once you put the key in the lock.
This simple wooden gate at the site of Ackergill Tower hides incredible sea views of the shoreline of Sinclair Bay. Breathtaking.
Scotway House in Glasgow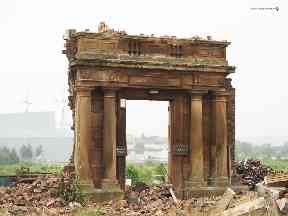 Sometimes, after years on this Earth, a beautiful entrance way can be the last thing standing against the world.
Scotway House took pride of place during the Clyde's shipbuilding heyday - more than 30 Anchor Line ships were built in the yard between 1876 and 1911, as well as racing yachts for the Prince of Wales back in 1893.
In 2016, it was decimated by a fire and, deemed too unsafe to remain standing, its ruins were demolished.
Aberdour Castle in Fife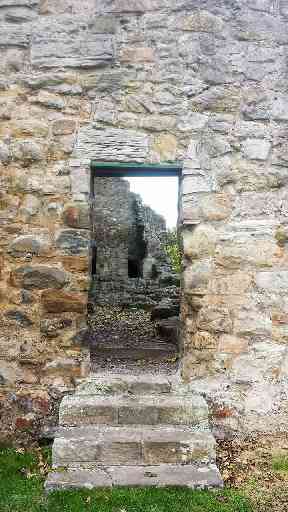 Sometimes it is our doorways that remain long after their builders are gone.
Parts of Aberdour castle date from around 1200, making it one of the two oldest datable standing castles in Scotland.
While the original wood of this entrance may have long since gone, the frame -photographed here by Kirsty Wilkins - serves as memory of what once was there.
Cruickshank Botanic Garden in Old Aberdeen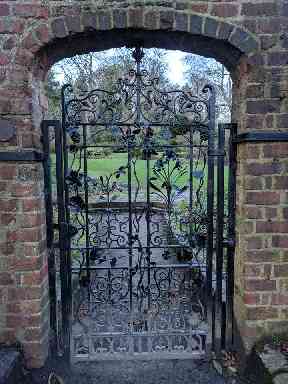 Sometimes the beauty of an entrance way is in how influenced it can be by its surroundings, like this garden work of art inspired by nature.
Tiny wrought iron leaves entwine with solid vines to create an elegant doorway for those enjoying these city gardens.
The Cruickshank Botanic Garden is situated in Old Aberdeen and has shrub borders, a rock and water garden, sunken garden, rose garden, herbaceous border and an arboretum.
Newmilns Keep in Ayrshire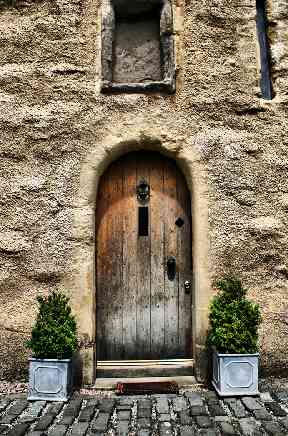 This lovely door is from the Newmilns Keep in Ayrshire. The Keep is a fortified tower and the oldest building in the town - built in the 16th century c1530.
It was in the possession of John Campbell of Newmilns, who was summoned to appear before King James IV as one of the Lollards of Kyle. In 1685 it was being used as a barracks for dragoons and a prison for Covenanters when it was attacked by local men who succeeded in freeing eight prisoners. It has been used as a grain store, a doocot, a band hall and a beer cellar and is now a private residence.
"I was brought up in Newmilns and passed it by loads of times," says photographer Angela Freeman.
"But only when I moved away did I realise how lovely the old building was and how photogenic."
Download: The STV News app is Scotland's favourite and is available for iPhone from the App store and for Android from Google Play. Download it today and continue to enjoy STV News wherever you are.