Off the grid: Waterfall baths and calm at Ecoyoga retreat
The Argyll lodge has a bath by a waterfall and is run entirely on renewable energy.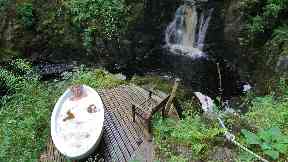 Nick Loening is a man who has a special place in his heart for the perfect bathtub.
At the moment, he has one perched at the base of Loch Awe in the Highlands. It's a sleek almond shape, resting in a lower gorge that overlooks a gushing waterfall.
On the right day, a breeze could carry the spray straight over you as you relax among the steaming hot bubbles and ferns.
You know those people who give up their jobs to move to the countryside to follow their dream? Nick is one of them.
Just over a decade ago, he and his wife Rachel packed up their life and moved from the cobbled streets of Edinburgh to live in a yurt in Argyll.
Despite having two children, the youngest a newborn, they were determined to make the life-changing move.
Nick, who had been a yoga teacher for 25 years, felt inspired after venturing out to yoga retreats around the world.
By the time he had returned, he knew exactly what he wanted in life.
Nick wanted his children to benefit from living in a rural environment.
He also longed to open his own yoga retreat, not just any retreat, but one which would be entirely ecological and could run completely off the grid.
It was the sort of project that Kevin McCloud from Grand Designs probably would have leaped at.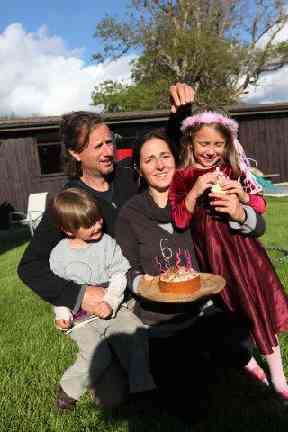 It wasn't long before Nick, Rachel and their two children Nettah and Lorenz embarked on their eco journey.
"We moved to the west coast," he says. "Looking back now, that first winter living in a yurt with two young kids does seem like a bit of a challenge."
The family had taken on the conversion of an old outdoor centre in Argyll.
Over the next few years, they built EcoYoga, a large glazed studio overlooking the gorge of the River Liever, a shala (yoga room) with underfloor heating and a glass roofed hot tub dome.
They built 13 bedrooms and several bathing areas amongst forests and river banks, with everything powered by a 550 kilowatt hydro turbine and a large bank of solar panels.
Nick says their blood, sweat and tears went into every wall, and their ethos of being entirely "off grid" is a source of pride.
"One of the key fundamentals of the centre is that it is run entirely on renewable energy," he says.
"We do very much like to show people how good it is to live off renewable energy and how comfortable it is.
"I think that takes a lot of people by surprise. It's quite luxurious actually."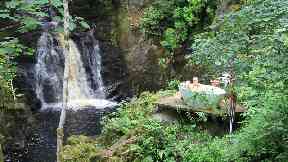 One reviewer writing for The Guardian describes the retreat as "a cross between an Alpine and an Asian spa, with a dash of Middle Earth".
Every now and then, Nick says a visitor to the retreat will come to him with the same dream of opening a similar facility.
"It's seen as a young person's idea of fun - I try and dissuade them," he jokes.
"We did do it the hard way, making it up as you go along," he said. "But, I think in a way, actually, that's what makes it quite special."
There are now several retreat centres like Nick's across Scotland, including the Dhanakosa Buddhist Retreat Centre in Lochearnhead and Lendrick Lodge in Callander.
At the heart of them all is yoga, a modern practice rooted in over 5000 years of ancient Indian texts and traditions, that has continued to gain popularity.
According to The Telegraph, in 2016 Britons were spending an average of £790 million a year on yoga classes.
Yogi Nick and his team offer daily yoga sessions with guests starting the day the Highland way with good old fashioned Scottish porridge oats.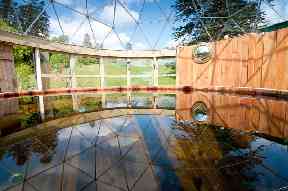 "There is a slight nervousness about trying yoga," he says. "I think there are a lot of people who want to try it but aren't quite sure. I think this particularly applies to men.
"The popular comment is 'I'm too stiff to try yoga', but the answer is everyone can do yoga.
"I would like to encourage more men to try it."
Open from the middle of March until early November each year, the business has continued to grow smoothly since 2012 to the point where it is now comfortably busy.
Describing the daily running of the retreat as similar to "steering a large ship with crew", Nick is modestly proud of what they've been able to achieve.
"I think the thing that people like is that it's our home and that we live there too," he says.
"Although we have a lot of visitors, you still get that feeling of being welcomed into a home - it's quite a homely place."
And, of course, there's always the bathtubs.
"Our underlying ethos though has always been to never try and persuade someone into yoga," Nick adds.
"It's something people must really want to do on their own."
Download: The STV News app is Scotland's favourite and is available for iPhone from the App store and for Android from Google Play. Download it today and continue to enjoy STV News wherever you are.