How stealth drinking could help people give up alcohol
Following Dry January, the trend aims to help those giving up booze avoid peer pressure.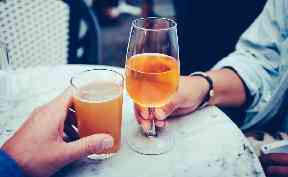 As January comes to an end, certain Scots across the country will be looking forward to that first sip of alcohol after 31 days of abstinence.
Popularised by the term Dry January, trademarked by Alcohol Concern and Alcohol Research UK who started the challenge in 2013, millions of Britons pledge to abstain from alcohol during the first month of the year.
With more than five million Britons taking part in Dry January and £21m raised for Cancer Research through its Dryathlon campaign, giving up booze has become a popular challenge after the excesses of the festive period.
Yet once pay packets fatten after the expense of Christmas and bars become a more tempting place to hang out, do people really stay on the wagon?
While Alcohol Concern say that more than 70% of Dry January participants continue to drink less six months later, one organisation hopes to go one further - by encouraging people to quit alcohol for 28, 90 or even 365 days by 'stealth drinking'.
One Year No Beer began three years ago, when London-based city brokers Ruari Fairbairns and Andy Ramage were advised by friends not to quit alcohol as it would be social suicide for their careers.
"We both believed that if we stopped drinking we'd lose business, lose all our friends, become socially inept because they were like 'why won't you drink, I don't want to go out with somebody who doesn't drink'," Ruari recalls.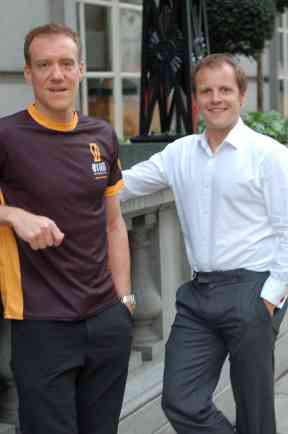 Yet Ruari, who hails from the Isle of Mull, was determined to give up alcohol, initially giving up for 90 days, then for two years while Andy went three months without a drink.
"We were absolutely blown away by what changed," Ruari says.
"Andy lost three stone, I just got so much done, my productivity increased, relationships improved and they were all these benefits that nobody was talking about.
"So we said let's come up with a challenge, something that people should be proud of when they are in the pub, saying 'I'm doing this challenge' and stand up against that peer pressure."
That peer pressure Ruari says, is one of the more difficult aspects of giving up drinking.
While taking part in Dry January is seen as a socially acceptable way to give up alcohol for a short period of time, the pair found the year-long challenge has been more difficult for people to accept.
Ruari and Andy decided to champion the idea of stealth drinking or mindful drinking, consuming non-alcoholic drinks in social situations without feeling left out.
"What you're trying to do is go out on the p*** without anyone knowing you're not drinking and you're trying to get rid of that peer pressure," Ruari says frankly.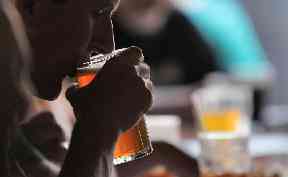 The pair encourage participants to seek out bar menus ahead of time to find their drink of choice, to pour non-alcoholic beer into pint glasses topped with lemonade and even tip bartenders to bring you alcohol-free drinks even during rounds.
With most non-alcoholic soft drinks full of sugar, there has been a significant increase in alternative tipples for people to enjoy which are more adult than "childlike" sugary drinks.
Numerous companies now offer alcohol-free beers, wines and even the first non-alcoholic spirit from Seedlip, which uses the botanicals found in gin.
Gillian Venning, director of The Temperance Spirit Company, says their Teetotal G & T bottles have had a "phenomenal" response from the public looking for the taste of a classic gin and tonic without the alcohol.
"We have got fantastic loyal customers who buy online. Pregnant ladies, nursing mums, we even have people who buy for their elderly parents who are on a lot of medication who cannot drink but who really miss having a gin and tonic.
"I think it's definitely driven by a customer need and it's definitely this mindful drinking thought that is actually driving it at the moment."
"Many people find that alcohol-free and low-alcohol alternatives are a great way of cutting back or even going alcohol-free," explains Andrew Misell, director at Alcohol Concern.
"That might be because they want to reduce their drinking but like the taste; or because it helps them to replace their habit with something similar; or maybe because they're not ready to share their decision not to drink or to cut back with the wider world.
"Whatever the reason, the good news is that alcohol-free alternatives have got far better and more accessible in the last few years, with major supermarkets, pubs and restaurants all stocking them."
One Year No Beer now has almost 30,000 members across 120 countries, with the company aiming to reach one million people in 2018 through its support programme and accompanying book.
While the challenge has helped people give up alcohol, it has also been beneficial in unexpected ways.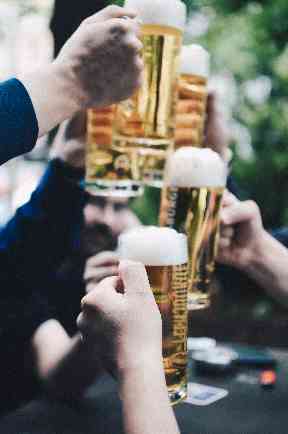 Participants say that giving up alcohol has helped clear up their psoriasis, invest in their well being, lose weight, improve their sleep and save money.
"The life transformations have been unbelievable," Ruari adds.
"We've got Mark in Dubai, five years of IVF, told [he and his partner] would never get pregnant naturally, 100 days into our challenge they fell pregnant and they now have their baby which they called Amber after the colours in our logo.
"We have a One Year No Beer baby," he says excitedly.
Ruari explains that his passion for the One Year No Beer challenge is worth it when he hears of the success stories of participants and those keen to kick their alcohol habit for good.
"You're doing all these things, so that at the end of it you think 'oh my god, I'm going to carry on with it' and that's what we want for people to do is have that mindset shift around alcohol so they go 'actually you know what I see all the disadvantages of alcohol and not the advantages'."
Download: The STV News app is Scotland's favourite and is available for iPhone from the App store and for Android from Google Play. Download it today and continue to enjoy STV News wherever you are.