Supermoon 2018: Skywatchers set for rare celestial moment
Have a look at the conditions across Scotland for viewing the Super Blue Blood Moon.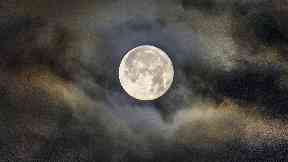 Three special celestial events will grace the skies at the end of January as it takes on the rather grand title of a Super Blue Blood Moon.
Skywatchers enjoyed a supermoon in December and this was quickly followed by another at the start of this year.
Now, Nasa says a supermoon will occur on January 31 and this will be special for three reasons - it is a supermoon, a blue moon and a total lunar eclipse.
What is a supermoon?
Nasa says a supermoon occurs when the moon is closer to Earth in its orbit. It earns the name because it appears bigger and brighter than a normal full moon.
"The moon was closest to the Earth at New Year when it was around 220,000 miles away and it appeared big during the moonrise on January 2 - a supermoon that a lot of people would have spotted," STV weather presenter Sean Batty says.
"Wednesday night's supermoon will appear big again, but not quite as big, as it will be 3000 miles further than the last full moon."
What is a blue moon?
A blue moon is a technical term given when a second full moon falls in the same calendar month and it is this timing which makes it "significant" as Sean explains.
"It's quite rare to get two full moons in a calendar month, hence the phrase 'once in a blue moon'," Sean says.
"Even though it's a rare occurrence, this year is very special. In March there will be two full moons, which means there will be another blue moon. Because of this timing there will be no full moon in February."
He adds: "Don't be looking for a blue coloured moon on Wednesday night, it's just a term that's used on months with two full moons."
What will you be able to see in Scotland?
In Scotland, you will be able to see the supermoon, so enthusiasts can expect the full moon to appear bigger and brighter.
Sadly, we won't be treated to the total lunar eclipse or see the red tint that Earth's shadow casts on the moon, named the 'blood moon'.
This will be reserved to those in North America where it will be visible before sunrise on January 31 or those in the Middle East, Asia, eastern Russia, Australia and New Zealand where it will be seen during moonrise in the evening of January 31.
What about the weather?
If you are planning to head out and see the supermoon, the advice is to dress for wintry weather.
"The weather is looking showery with broken cloud so hopefully most places should be able to catch a glimpse of it at some point in the evening," Sean says.
"You'll need to wrap up warm as it will be a cold evening and some of the showers will be wintry."
Where is the best spots in Scotland to see the supermoon?
The moonrise will take place about 5pm on January 31 which means the moon will appear at its biggest when it is low on the horizon during the early evening.
Sean says the best breaks during moonrise in Scotland are likely to be across the central belt, Lewis, Harris and parts of the north west Highlands.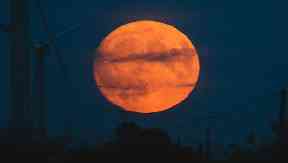 Why is it exciting?
Scottish Dark Sky Observatory's resident astronomer David Warrington says this is a prime opportunity for more people to develop a passion for astronomy.
"What makes a supermoon exciting as an astronomical event is because it will hopefully get people outside looking up at the night sky," he says.
"The more that people of all ages and abilities get out and do some basic stargazing makes them far more familiar with what's going on in the sky above them at night time.
"Note that the difference in the size of a supermoon to a normal full moon is roughly equivalent to the difference in size of a 1p coin and 5p coin held at arm's length."
Top tips for viewing the supermoon in Scotland
The moon will be big and bright which makes it easy to observe, explains David, and can be seen with the naked eye if you don't have any equipment.
"Head outside and look up," he says. "When fully phased, you can see some surface detail with the naked eye.
"Look out for darker regions on the moon - these are the lunar mare or 'seas', including the Sea of Tranquillity where Apollo 11 landed in 1969."
He adds: "If you have a pair of simple binoculars, try looking at the moon through those as well - you should notice the moon appears even more exceptionally bright.
"The great thing about the moon is that you don't need a special viewing location, nor do you need a location with dark skies."
Robin Rice from the Galloway Forest Astronomical Society agrees the best way to view the moon is with your eyes or a pair of binoculars but says you could also use a telescope if you want a more detailed view.
"You should use a moon filter to dim the view otherwise you will get a cone of light coming out of the eyepiece," Robin advises.
"Don't be surprised if the moon shimmers through a scope - this is due to the atmosphere."
Download: The STV News app is Scotland's favourite and is available for iPhone from the App store and for Android from Google Play. Download it today and continue to enjoy STV News wherever you are.