Giant St Bernard Jackson still desperate for new home
Dogs Trust Glasgow is looking for potential owners for the big-hearted pooch.
A gentle giant with a love of Michael Jackson music is desperately looking for a new home after spending 18 months in a Glasgow rescue centre.
Eight-year-old St Bernard, Jackson, who loves snuggling in big duvets, is currently in the care of the Dogs Trust.
Weighing in at 50kg and eating just under 300kg of dog food a year, he's a pretty big boy but with such a big heart to match, staff were sure he would have found a home by now.
STV News ran a story last year when they first heard of Jackson's plight, and although a lot of kind people stepped forward, the special person the big guy needs could not be found.
Staff at the centre are still hoping he will capture the heart of an experienced dog owner who has space in their home for a big-boned bundle of joy.
Clare Cairney, assistant manager of administration at the Dog's Trust says Jackson is the most "beautiful big goofball" going.
"He has been with us a while unfortunately," says Claire. "He loves going for a walk and ambles along at a lovely pace until he sees someone he knows then he's off like a shot - he's got some strength to him so he needs someone with a strong arm!"
His more subtle personality traits have also been noticed by staff, particularly one staff member, David, who has taken to singing Michael Jackson tracks to the dog.
"He loves it if you sing to him," says Claire with a laugh. "He loves Billy Jean. He just lies there staring up at you with big brown eyes and a massive smile on his face."
According to The Kennel club, the St Bernard breed was named after a monk who, in the 10th Century, founded a hospice to care for travellers on the perilous routes through the Swiss Alps.
The first dogs were Alpine Mastiffs, initially used to guard property, but with the discovery of their rescue abilities their role changed.
The most famous St Bernard to save people at the pass was Barry, who reportedly saved somewhere between 40 and 100 lives.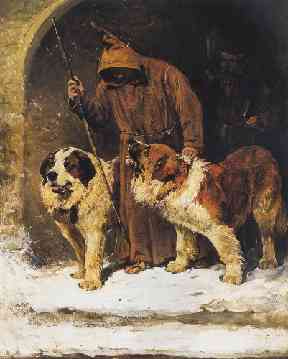 Jackson's ancestry is therefore highly honourable, and given he is now in his later years, he is in need of a very particular owner.
"The home we're looking for has to be a special one," says Claire. "It needs to be quiet with quiet areas to walk in, as he's a little nervous with lots of people he doesn't know.
"He finds new people a little overwhelming. An adult only home without children would be perfect."
As Jackson also has to go gentle on his knees these days, somewhere without lots of stairs is also required.
"We did get a lot of interest last year, which was fantastic, but we've not quite found the right environment for him yet," says Claire.
"We're sure the right person is out there for him, we just have to keep our fingers crossed."
And if that right person knows how to hum a few good Michael Jackson tunes, all the better.
Are you willing to give Jackson is happy-ever-after? Get in touch with the team at Dogs Trust Glasgow for more information or call 03030030000.