Scotland's heroic 4x4 responders who helped during Arctic blast
Volunteers drove health professionals to those in need as a Siberian chill swept the country.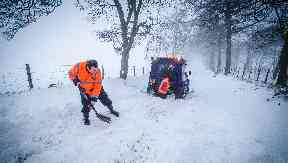 As news emerged that an Arctic blast was set to hit Scotland, pockets of volunteers prepared to launch into action.
While the "beast from the east" hit Scotland, response groups across the country worked to support health boards, local authorities and government agencies.
From driving medical staff to hospitals to helping carers reach vulnerable patients in the community, the volunteers have been battling the elements over the past few days to get those in essential roles where they were most needed.
The committed responders take on these tasks voluntarily, and train all year round in preparation for such extreme conditions.
In the past week, Lothian 4x4 Response has had 29 specially equipped four-wheel drive vehicles out on the roads, with a team of seven also on point to act as a contact between services and the responders.
During this time, they have covered 5000 miles to carry out 65 requests to help drive more than 250 essential medical and carer staff.
After spending four nights in a row braving the weather, volunteer Grant More says the team has been overwhelmed by the kind words and thanks received from the workers they were able to help.
"Thanks to Andy and Martin getting us (doctors in the maternity dept at Forth Valley) to work during the snow. Amazing work!"

Carla Ann Summerhill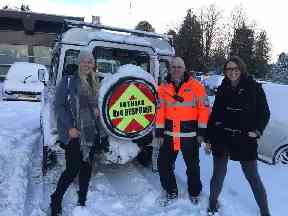 "We have been driving door to door through the cities and the countryside getting the critical staff to these people," Grant says.
"The big challenge this time around was that the snow was so light it was blowing in the wind and roads were closed.
"So getting around places, particularly around West Lothian and the Borders, has been a challenge.
"We had trucks off the road and various people in ditches and we have been out to help those guys and to get our carers and NHS staff through. We are trained on how to do that sort of stuff too.
"It's vulnerable people's lives at risk so we want to be able to support."
All of the volunteers at Lothian 4x4 Response use their own vehicles and are regularly trained in a number of areas such as first aid, off-road and snow driving, map reading and defibrillator use.
They are also trained on using a radio system so that if the cellular network goes down during extreme weather, communication can still continue.
"The actual service we provide is relatively simple but the equipment we need and the training is quite involved," Grant says.
"We have to be very careful about safety. Safety is our number one thing.
"We are going out there with specialist equipment and specialist training on how to drive in those conditions but we find people all the time that are driving with summer tyres in two feet of snow and are blocking roads."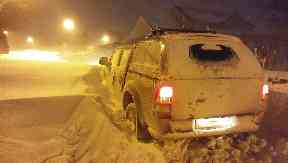 The Met Office issued a red alert for snow on March 1 and it remained in place until 10am on March 2. It was the first time the forecaster had issued a red snow alert in Scotland and the first anywhere in the UK since 2013.
The alert stretched across the central belt, covering Edinburgh, Glasgow and Dunfermline with amber and yellow warnings elsewhere in the country.
Putting his training into use during these difficult conditions, Grant was able to help a nurse in charge of an intensive care department get safely to hospital and drive home carers who had tried to walk through treacherous weather earlier in the day.
"They had walked in a blizzard and were commenting on how difficult it would have been for them to do their job without us being there," Grant says.
"They were really thankful."
A similar picture played out across the country with other charities such as the Strathclyde 4x4 Response also working during this time.
Since February 28, 22 of their responders have covered over 5700 miles in difficult driving conditions, working alongside two controllers to assist hospitals across the region and services such as Meals on Wheels in Glasgow and Cottage Care Services in Inverclyde.
"We worked seamlessly with colleagues in the West of Scotland Regional Resilience Partnership, and I am pleased that the competencies, including winter driving, navigation, map reading and communications, which were gained during our monthly training evenings, were put to good us," Ron Cowan, chair of Strathclyde 4x4 Response, says.
"Consequently our responders' vehicles were well kitted out with items for the safety of both the members and their passengers. "
The Tayside 4x4 Response covered 1700 miles during the cold snap with five responders and one controller handling requests to help transport NHS staff and care workers as well as delivering meals.
"Delivering Meals on Wheels was particularly rewarding," Diana Baines from the charity says.
"Without the responders and the care staff, some of the vulnerable service users would probably not have had a hot meal that day.
"We are always on the lookout for volunteers who have the right skills and who are prepared to demonstrate commitment to training."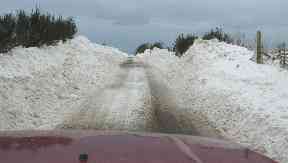 Across the northern Grampian region, the COTAG 4x4 Response team has also been helping to transport healthcare professionals, with a team of 20 active vehicles deployed.
Peter McDonald is one of the volunteers who trained for a year and invested in both the equipment and upkeep of his four-wheel drive to allow him to take on this role.
"People, in general, are very surprised that we put in the effort for this," he told STV last week.
"It gives you a sense of purpose as well to go out and actually do something good, doing something for the community but combining it with a hobby, an interest."
Even last night, as the snow began to thaw, the team's work continued as they attended to a request to help a patient who couldn't get home because of flooding.
Unusually, the Highland 4x4 Response weren't as affected by the treacherous weather conditions but they did still have one responder helping in areas such as Caithness and a team of ten on standby, with the chair Warren Dukes saying that helping the NHS and getting home carers out to their patients is often their biggest priority in situations like this.
"We have certainly been involved in the preservation of life," Warren, who has been a responder for 20 years, says.
The response to the responders
Aiming to raise awareness about the continual work taking place across Scotland, all of the volunteers are hopeful that the recent Siberian chill will encourage more Scots who own a four-wheel drive to take on the training and become a responder.
"We get calls at this time of year when everyone with a 4x4 calls up and says 'Oh, can we come and help' and we say we would love them to but it's nine months of training to become a responder," Grant says.
"We want to encourage people to come and join us or at least come and talk to us.
"There is a path to becoming a responder. We need to ensure a consistency of service we provide and that takes time.
"We do have some amazing people on the team but we always look for opportunities to get out about what we do and try and attract new members."
Download: The STV News app is Scotland's favourite and is available for iPhone from the App store and for Android from Google Play. Download it today and continue to enjoy STV News wherever you are.