Hedgehog hospital: Tiny creatures need your help after flood
The charity in Rosyth was forced to evacuate its residents after the heavy snowfall melted.
A hedgehog hospital in Rosyth has issued an urgent plea for help after it was hit by flooding this week.
Forth Hedgehog Hospital is facing an "emergency situation" after the heavy snowfall of the past few days melted and left storm drains unable to cope.
The small charity, which houses its hedgehog patients in a purpose built shed, was forced to evacuate its small residents on Tuesday.
Founder Nadia Al-dujaili, 33, says the little creatures were in deep hibernation when the water levels rose.
"I woke up yesterday morning and one of the storm drains in the area had flooded," says Nadia.
"I ran into the garden to see everybody, and most were still hibernating. The water was already about ankle height and I was so anxious, my friend came down and helped me wade in to get them.
"We got them all into the house with as much equipment as we could."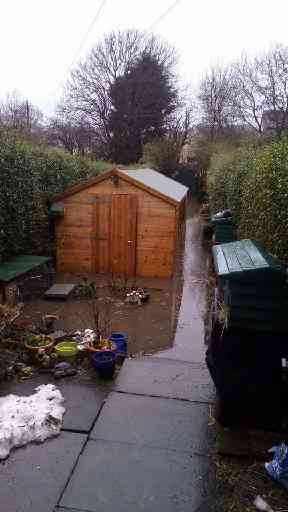 Nadia says the water rose to about knee deep, damaging a lot of the food supplies and soaking the newly-built hospital shed.
"Everybody's out though, thankfully," she says. "They're all in my living room in temporary plastic storage boxes."
Nadia now has 30 little hedgehogs bedded down throughout her house.
"They're all awake now I'm afraid, their instinct to wake up has been triggered," says Nadia.
"They can't go back out now because the shed is still water logged and it's going to take a lot of work to get everything dried out."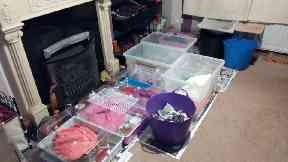 A local vet has taken in a few of the hedgehogs to help out, and a local company named Gap has offered up a dehumidifier and heaters to help dry out the shed.
However, the hedgehogs did lose all their dried biscuits to the water.
"I've got regular volunteers who have been popping in to help me clean and feed them," says Nadia.
"Any food donations for them would be most welcome or hay would be great, because all the nests they made are soaked.
"They all have fleecy blankets so they're fine inside."
If anyone is able to donate any hedgehog biscuits, the charity has set up an Amazon wish list for the items.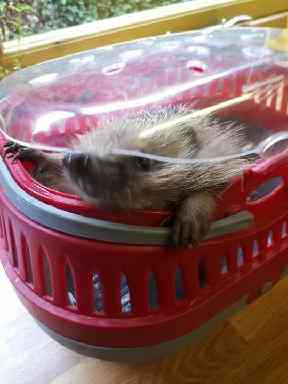 Nadia first set up the little hedgehog hospital four years ago, after a career spent working around animals, including time at the Scottish SPCA.
When she started her hospital, she received 53 in her first year. The following year that grew to 105, then to 180.
All of them are treated by vets and carefully cared for by Nadia and her small team of volunteers until they can be released into the wild.
"I can't help it, I name every one of them," she says. "Though they're all a bit muddled now since we had to quickly bring them in.
"I know some of them by the shapes of their faces. They're all little characters. Miracle has been with me since October. She was barely 96 grams and the size of a plug socket. She's now 700 grams, a wee chunky monkey.
"She's still small, a wee stout lady."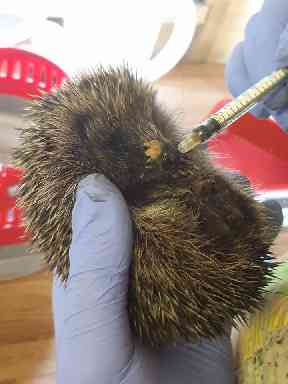 A lot of Nadia's hedgehogs have been brought into her quite poorly, often with wounds.
Many are caused by hedge strimmers, with gardeners not noticing the little creatures where they hide in the long grass verges.
"I've had a few take quite a while to heal, as long as six months," says Nadia. "One little guy had a laceration from the back of his eye right to his waist. A 10cm laceration down his side."
In the last few weeks, the bad weather has meant more little hedgehogs coming in to her, desperately suffering from frost bite.
"Three came into me last week found in the snow," says Nadia. "One with such bad frostbite his wee earlobes had frozen off. He can still hear though and he has no infection."
Earlier this year, the Scottish SPCA also experienced an influx of hogs and released a public appeal in January for food donations.
Nadia is in a similar situation,with her little hedgehogs now wide awake, they are very hungry indeed.
"People have been amazing, already offering to donate," she says. "Any help would be greatly appreciated."
For more information on Nadia and her hedgehogs you can visit the Forth Hedgehog Facebook page.
Anyone who discovers an injured or distressed wild animal can call the Scottish SPCA animal helpline on 03000 999 999.
Download: The STV News app is Scotland's favourite and is available for iPhone from the App store and for Android from Google Play. Download it today and continue to enjoy STV News wherever you are.