Soapbox derby: Student engineers put racers to the test
Cars built on a shoestring budget were raced at an event at Robert Gordon University.
Student engineers have gone head-to-head in a fiercely competitive soapbox race at Robert Gordon University (RGU) in Aberdeen.
The third-year students put their vehicles, built on a shoestring budget, to the test on a downhill route on the university's campus on Friday.
They have been working since February to design and construct their cars as part of a student project aimed at encouraging mathematical, analytical and team-working skills.
The soapbox racers are comprised of a two-metre go-kart style body with brakes, steering and a safety roll cage.
Nineteen teams had three attempts to complete the carefully planned route, weaving through obstacles to test their manoeuvrability, brakes, steering and the pilot's handling skills with gold, silver and bronze trophies to be presented to the three fastest teams.
Certificates and trophies will be presented to the best three teams following assessment of build quality, functionality, safety features, performance timings and structural integrity of the yachts after the race.
The students spent time researching and designing their racers before setting to work on the fabrication process with a budget of £200 per team.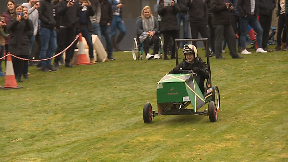 Some did better than others - chain, wheel and bodywork malfunctions afflicted a few teams - and a number of vehicles needed the odd shove to help keep going down the track.
Dr Morgan Adams, module coordinator from RGU's School of Engineering, told STV News the students were being assessed on eight different elements.
He said: "The assessment process was fairly rigorous: to look at their mechanical design, their calculations, the theoretical stuff, and then the end-game of actually getting here and putting everything to the test.
"Ideally it's the fastest (who gets the best grade) but we have to make allowances for how well they do, how much pushing they need, so there might be a little bit of flexibility on what the actual overall result is."
Among the soapbox prototypes brought to compete were an ill-fated all-American design whose wheel completely buckled around a bend.
However, a more successful Jamaican bobsled-style car made it both down the hill and all the way back up, with one of the engineers behind it expressing surprise at how "perfectly" the brakes worked.
"It's an eclectic mix of some great design, some wishful thinking, but it's all good fun and I think the students enjoy it," said Dr Adams.
Download: The STV News app is Scotland's favourite and is available for iPhone from the App store and for Android from Google Play. Download it today and continue to enjoy STV News wherever you are.