Little girl with autism and the puppy that will change her life
Pet dog Bailie will be by Hannah Borthwick's side helping her to keep calm and safe.
Best friends come in all shapes and sizes and in nine-year-old Hannah Borthwick's case, that means a small tubby barrel with big paws.
"All puppies are special, but Bailie is going to be mine," she says proudly.
"I will be looking after him and he will look after me."
Bailie is a chocolate brown Labrador puppy with a very big future ahead of him.
Not only will he have the most important role in the world as best friend to Hannah - he will also be her assistance dog.
That means being by her side when the world seems overwhelming and knowing exactly how to calm his little mistress when things get too much.
Hannah has been diagnosed with autism, a lifelong, developmental disability that affects how a person communicates with and relates to other people, and how they experience the world around them.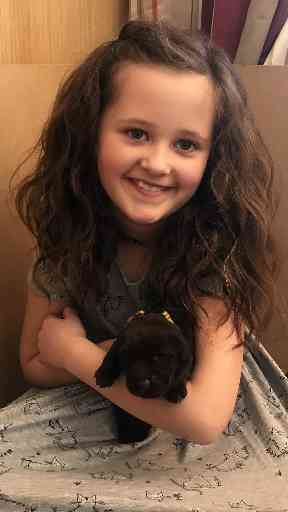 "Autism is when your brain is wired differently, like all the senses come in differently to others," explains Hannah.
"They come in quicker sometimes and that can cause a melt down like hitting or kicking."
"Usually it's at night when I get upset," she adds thoughtfully. "But now I'll have Bailie to come in and be with me."
It was Hannah who chose Bailie out of his three littermates, when they had their first meeting when he was just four days old.
Bailie was the first puppy Hannah tentatively touched and she has been visiting him almost every day since then after school.
Bailie's breeder, Sarah Nisbet, had hoped that he would be the one she would bond with.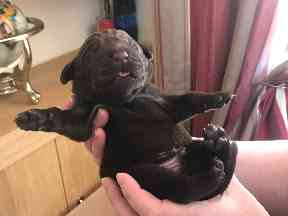 A well respected Labrador breeder, Sarah regularly donates puppies who go on to be autism therapy and assistance dogs as part of the Waggy Dog Project.
Set up in West Lothian just over a year ago by mother-of-four Laura Docherty, whose five-year-old son Logan has autism, the group run entirely on donations and aim to help children with autism become more sociable by engaging with autistic children on their terms.
"We knew from day one that he was different," says Laura.
"He got his diagnosis when he was three but we found that what was available for him was quite limited, especially activities that involve the whole family."
Laura started small, renting out community centres to hold autistic friendly events where common triggers such as bright lights, loud noises, and social interactions are reduced.
At these events, therapy animals and quiet activities act as social ice-breakers, helping these children to engage with adults and other children.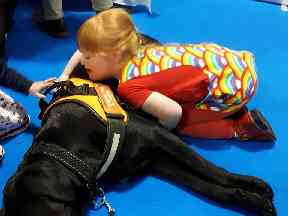 "The clubs give parents and the children a chance to make friendships with families just like theirs," says Sarah.
"Seeing their children thrive, coming out of their wee shells, I think it means a lot to parents.
"It's been amazing to see this project grow, it's been so quick and fast but seeing how much it means to every single family well, that's just worth more than gold."
It was Hannah's mother, Sarah Borthwick, who made the decision to get Bailey for Hannah.
Shortly after her daughter was diagnosed, her friend had recommended the Waggy Dog Project.
"She suggested we go along to one of their fun days and it just took off from there," says Sarah.
"It was my idea to get Bailie after seeing the other service dogs and their children.
"He will hopefully be her best friend, someone she can talk to. He'll listen, give her cuddles, keep her safe while we're out walking. He'll chill her out."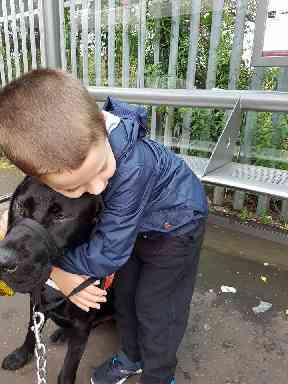 Hannah already knows exactly what Bailie will mean to her.
"It means the world to me to have him. He's already my best friend," she says.
"I'm the only one in my class at school who has been diagnosed with autism."
In two weeks time, Bailie will go home with Hannah and then he'll be by her side for the rest of his life.
He will be there to help with doctors appointments, the dentist, even with simply trying to go to the shops.
"We've never been able to go to any out of school activities like swimming or dancing, that's all been too much for her," says her mother.
"But we do now go to these Waggy Dog kids clubs and she loves them."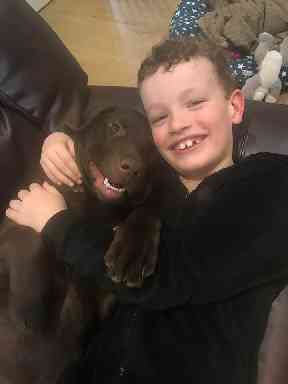 Until now, autism assistance dogs have had to go to England for a month or more for training, but thanks to the Waggy Dog Project, all training and exams can now be held in Scotland for puppies like Bailie.
"Before these dogs come along, you might have a child who refuses to go shopping, or leave the house," says Sarah.
"When the dog comes, it takes the focus off the fear of that overwhelming world and onto the dog beside them."
The project is very small, but it's growing and they plan on going for charity status soon to help with funding.
The project team have also created the only, much needed, additional needs dog club in the country.
"It's a long journey but it's one we're willing to take," says Sarah. "If we had all the money we wanted, we would immediately open a unit providing respite for families with autism because there currently isn't anything.
"It would give families a bit of freedom, more support and a place for the children to be safe and flourish."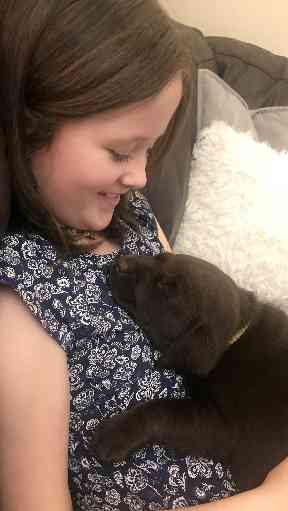 Bailie will even be able to go to school with Hannah, where possible, when she needs extra support.
"When Hannah comes home from school, she will often go straight to her room and hide her head under a blanket," says Sarah, Hannah's mother.
"The day and everything in it has just been too much, too overwhelming for her and she needs to escape.
"But since Bailie was born, we've been over almost every day to visit with him and Hannah is completely different. Textures, noise - it all used to be too much for her.
"Now, you can see her smiling and stroking him and sitting calmly while he sleeps on her."
"It's so strange to see, but even at just a few weeks old, Bailie goes straight up to her and knows how to calm her," adds Sarah.
"When she's with Bailie, I get my little girl back."
More information on the Waggy Dog Project is available here online and if you would like to support the group you can donate on their fundraising page.