How a record deal is helping dementia-suffering grandfather
Alex Weir who suffers from Lewy body dementia recorded his first album at 76.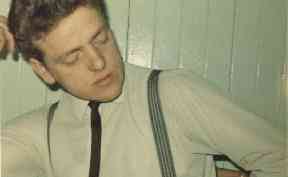 Alexander Weir always had music running through his veins.
When he was young, other men his age would be going to dances or enjoying a drink while he enjoyed nothing more than playing away on his beloved guitar.
"He saved up all his pocket money as a 13-year-old to buy his first guitar," his daughter Sharon recalls.
"Since then he's been writing songs all his life but never really doing anything about it."
Music has played a massive part in Alex's life. He met his wife Frances at a dance at which bands were playing and the two married young in their late teens.
Next came a family, sons Raymond and Graham and daughter Sharon, whom he supported with two or three jobs, working as a delivery driver for Grey Dunn who produced Blue Ribands in Glasgow then at the Chrysler car part factory in Linwood.
"He had a very young family to feed and managed to play the guitar in the evenings at parties for family and things like that but was constantly writing his own material," his daughter adds.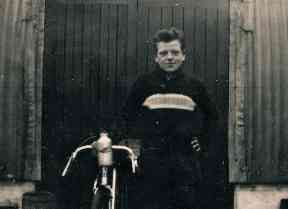 "He grew up with Alex Harvey [of The Sensational Alex Harvey Band] and they used to have jamming sessions when they were young.
"Alex then moved to London and went on to greater and better things but my dad had two young kids to support, he couldn't follow his dreams so he stayed back in Glasgow."
As a child, Sharon can recall how the family home in Barrhead was always filled with music, a recording studio built in the house with collections of banjos, mandolins, drums and keyboards ready for her father to tinker with, a deft hand at any instrument.
He recorded his own songs on a reel to reel tape recorder, secretly harbouring a dream that one day his songs would be discovered and performed by one of the greats, perhaps his idol Bob Dylan.
Yet Alex's dream would take some time to come true. His songs, a mix of folk tunes, humorous Glaswegian ditties and lyrics with an anti-war theme would eventually be recorded at the age of 76, performing alongside his sons Raymond and Graham.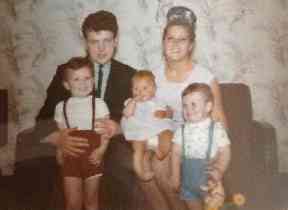 It wouldn't be until Alex developed Lewy body dementia following the death of his beloved wife in 2017 that his music would be sent to an independent record company who wanted to release the album.
"When my mum died in June, my dad's behaviour became quite worrying and troublesome for us," Sharon explains.
"He was becoming quite forgetful and doing strange things and getting quite upset at times and forgetting my mum had died and still cooking for her."
Sharon and her brother Graham, who lives nearby, kept an eye on their father until he was admitted to hospital due to his behaviour.
It was there he was diagnosed with dementia and doctors explained he had suffered a few mini strokes following the death of Frances.
"They had been together every day and with her not being around sent him into some sort of downward spiral with his health," Sharon says.
Lewy body dementia is the second most common form of age-related neurodegenerative dementia after Alzheimers, comprising approximately 15 to 20% of all dementia diagnoses according to the Lewy Body Society.
Unlike Alzheimer's, the cognitive symptoms typically involve executive function such as spacial awareness and problem solving rather than memory.
It also differs cognitively from Alzheimer's in that hallucinations and dramatic fluctuations in consciousness are defining characteristics of the disease.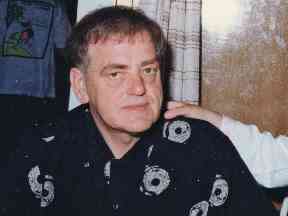 A distressing time for the family, the condition left Alex unable to walk or speak.
Wondering if he could achieve his father's dream for him as he became more and more unwell. Sharon's brother sent those precious recordings of Alex singing with his sons just months prior to falling ill to independent record companies in the hopes someone would be interested.
The copies were sent on the Friday and by Monday, Greentrax Recordings had got in touch to say they loved it.
"The record company just thought his stuff was incredible, it's so different, it's so original and for someone of that age and the ability my dad had with lyrics.
"They said we want this, we want to represent your dad, we want to sign him up."
Alex had improved thanks to physiotherapy and was able to walk and talk again, and asked by his children if he would like his music to be released, he happily agreed which was relayed back to the company as a verbal agreement through his powers of attorney.
With a little remastering of the tracks but Alex's voice left clear as the day he originally sang the songs, the album 'This Has Been Me Since Yesterday' was released and went into independent music shops on May 1.
"We've said to him it's a pity you didn't do this earlier and he said well it wasn't meant to be earlier," Sharon explains.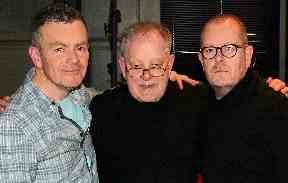 "It's given him a real boost, we've noticed he's come on leaps and bounds in the last few weeks because he's had this on his mind and it's been a distraction from other things for him. It's given him something to be excited about and to look forward to."
While Alex has turned a corner, his children have been told his condition will likely deteriorate and he won't be able to return home.
He can become confused about his surroundings and tell stories about things which haven't happened.
Sharon admits it's been tough on the family, who were thrown into the deep end with her father's illness so close to losing her mother.
Yet the music Alex created throughout his life has been bringing him happiness even while he is in hospital.
"When my dad is having really bad days and his behaviour is giving staff cause for concern, the thing that seems to calm him down is to take him into a nice quiet area to put on his CD and it relaxes him and it brings his mood right back down and he doesn't seem to get agitated or distressed when he's listening to his own music," Sharon says.
"My dad always thought one day someone would pick up one of his songs, he was always hoping that would be his dream that someone somewhere would hear one of these songs and maybe not him singing it, but having someone else sing one of his songs one day.
"Lo and behold it's him singing his own songs at the ripe old age of 76 when he recorded it."
Music has been used as therapy for those with dementia for a number of years, and while there is no scientific evidence regarding the effects of music in patients, it is thought to be soothing influence.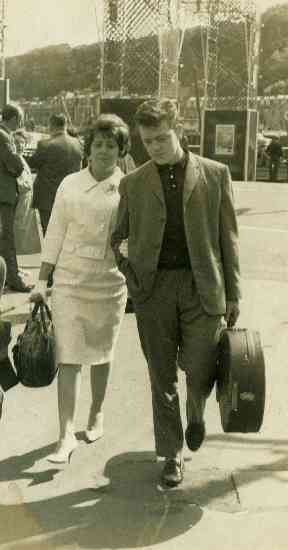 "Besides the universal magic of music, Alex hearing himself brings him back to a younger time, doing what he loved to do," explains Ashley Bayston from the Lewy Body Society.
"Provoking safe and happy memories is an important tool in making life comfortable for people living with dementia and this is a wonderful way of doing this."
For the Weir family, their dreams have come true, seeing their father's joy as his music is played back to him despite his ill health.
For Sharon, hearing himself on the radio would be her father's ultimate goal.
"I think his dream is to put the radio on one day like a local radio station and hear his song being played, that would be it for my dad, that would really do something for him."
Download: The STV News app is Scotland's favourite and is available for iPhone from the App store and for Android from Google Play. Download it today and continue to enjoy STV News wherever you are.