Top 20 beautiful bluebell walks in Scotland as flowers bloom
The 'beast from the east' delayed the popular little flowers but now they're blooming.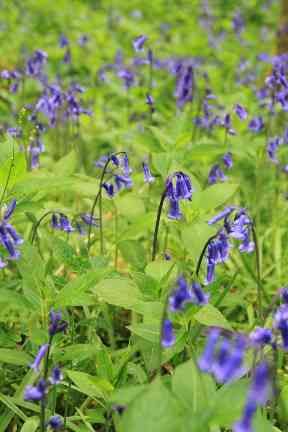 The 'beast from the east' has come and gone but it seems it has left a bit of an impact on the nation's flowers.
According to the Woodland Trust, Scotland's bluebells are making a bit of a late arrival this year thanks to the wintry winds from Russia.
While the country's woodlands are usually in peak bluebell season by now, the little bobbing blue heads are only just getting into their stride.
The first record of bluebells flowering came 39 days later than it did last year in Britain according to data submitted to the Woodland Trust's Nature's Calendar.
By April 20 2017, there had been 716 records of bluebells flowering submitted to the Nature's Calendar scheme, in which members of the public help record the changing seasons, but by the same time this year there had only been 73.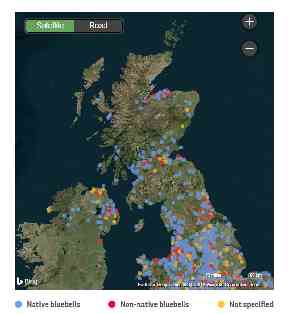 Carpets of bluebells are one of Scotland's natural seasonal spectacles.
The blue-purple flowers traditionally begin blooming in the warmer south and the shimmering carpets spread further north as the season progresses.
They are a deep violet-blue in colour with a strong, sweet scent and the flower stems droop or nod distinctly to one side.
Around half of all bluebells in the world are found in the UK and our native species is protected.
It is also strongly associated with ancient woodland so if you are looking at bluebells in a wood, they have likely been there for a long time.
The Woodland Trust are also hoping that keen bluebell spotters will take part in their bluebell survey to help monitor and protect the flowers.
Records will help to monitor the status of the UK's bluebells over time and will help them to secure the future of native bluebells and their woodland home.
From beautiful ancient woods to even in your back garden, look out for bluebells and log your sightings here on The Big Bluebell Watch map.
Top 20 bluebell woods
1. Glen Finglas (Brig 'o' Turk) Loch Lomond & the Trossachs National Park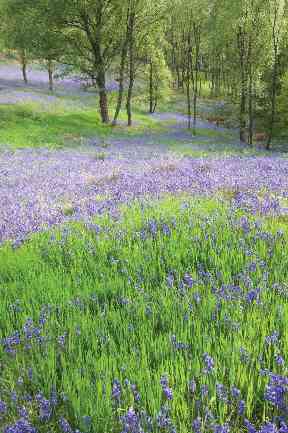 With everything from cool lochs and heather-covered uplands to hidden glens and ancient woodlands, Glen Finglas epitomises the Scottish Highlands.
The Woodland Trust's largest site, Glen Finglas lies at the heart of Loch Lomond and The Trossachs.
2. Fairy Glen, Rosemarkie, Highland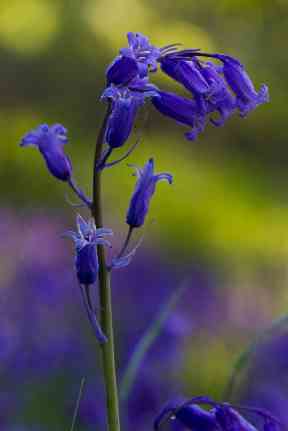 An attractive wooded Highland glen with beautiful waterfalls, legend has it that the Fairy Glen was once the scene of a well-dressing ceremony, where the children of the village decorated a pool next to a spring with flowers.
This was said to ensure that the fairies kept the water supply clean.
Today, it's a spectacular walk for nature enthusiasts and young fairie hunters.
3. Urquhart Bay, Loch Ness, Highland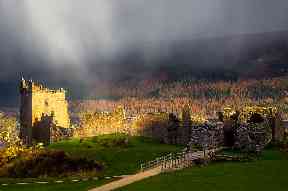 On the banks of Loch Ness, Urquhart Bay along from the famous Urquhart Castle is one of the best examples of surviving ancient wet woodland in Europe.
Tree species include alder, ash, bird cherry and white willow and the Woodland Trust speaks highly of the footpaths that form a rough figure of eight through the centre of the woods, perfect for meandering through the bluebells.
4. Balmacaan Wood, near Drumnadrochit, Highlands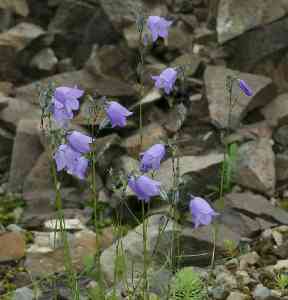 Balmacaan is part of a major concentration of ancient woodlands along the shores of Loch Ness.
It boasts some of the largest specimens of Wellingtonia, Lawson's cypress and Douglas fir in Britain and in 2003 a series of marked walks were created, making it a great place for flower spotting.
5. Glasdrum Wood, Argyll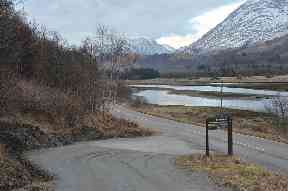 Glasdrum Wood is a superb example of one of Scotland's Celtic forests.
Clinging to the lower slopes of Beinn Churlain it rises up from the shores of Loch Creran.
The mild, wet Atlantic climate provides the perfect conditions for ferns, mosses and lichens to flourish - and for dense patches of bluebells.
6. Carron Glen, Denny, Stirlingshire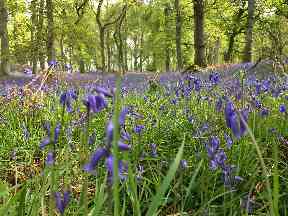 Carron Glen is a beautiful native oak and ash woodland along a steep-sided gorge carved by the River Carron.
The canopy is animated with woodland birds and the river provides prime fishing for dippers and kingfishers.
The reserve lies along the banks of the River Carron, just north of the road at Fankerton village.
7. Dalkeith Estate, Midlothian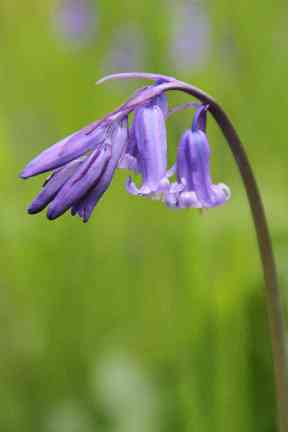 This wonderful estate is home to centuries old trees with beautiful patches of bluebells and ferns.
Only six miles from Edinburgh city centre, it's an easy place to reach for city families looking to venture not too far from home.
8. Binn Wood, Perth and Kinross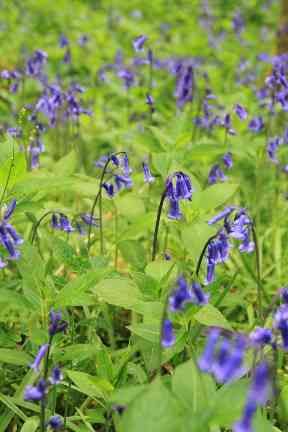 Carpets of bluebells are one of Scotland's natural seasonal spectacles.
This privately owned wood has some spectacular bluebells but the paths are a bit rough in places so good footwear is essential.
9. Loch of the Lowes, Dunkeld, Perth and Kinross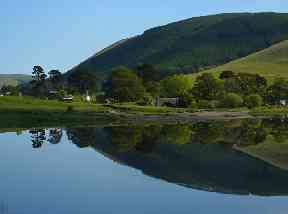 Loch of the Lowes Visitor Centre and Wildlife Reserve covers 98 hectares near Dunkeld.
From early April to late August, the star attraction is a pair of breeding ospreys, though if you keep your eyes to the ground there are other spectacular sights.
It is peak bluebell season here at the moment and the picture opportunities are superb.
10. House of Dun, Brechin, Angus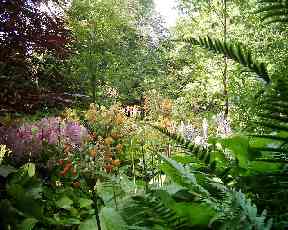 Designed with Georgian pride and baroque extravagance by renowned architect William Adam, House of Dun is every bit the perfect 18th-century laird's home.
Step outside and the wildlife around it is even more picturesque.
11. North Wood, Ballathie, Perth and Kinross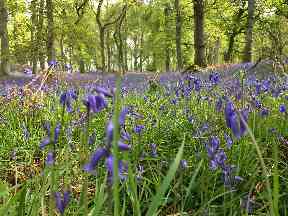 The bluebell woods near to Ballathie House in Perthshire are a popular place to see the bright blue flowers.
North Wood, behind Ballathie House Hotel, has a great circular path through it for keen walkers, with some wonderfully gnarled beech trees for added impact.
12. Keil's Den, Kirkton of Largo, Fife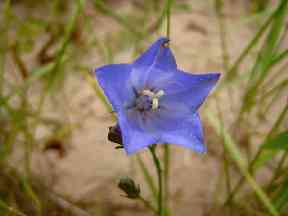 An ancient gorge woodland blanketed with bluebells, woodrush, dog's mercury and wild garlic, this long and narrow wood provides a good network of paths to explore.
A surfaced multi-use path leads from the small parking area in the south to a rest area with benches by the Keil Burn.
13. Carstramon Wood, Gatehouse of Fleet, Dumfries and Galloway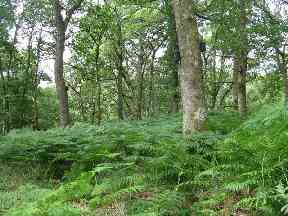 Carstramon Wood is one of the largest semi-natural broadleaf woodlands in the area.
The oak trees were once used for making charcoal and supplying the local mill with bobbins.
Today, the trees provide lush conditions for ferns and lichens and breathtaking bluebells in spring.
14. Aldouran Glen, Leswalt, Dumfries & Galloway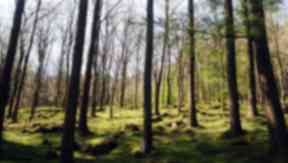 This ancient woodland with a magical feel to it has a bubbling stream and the remains of an Iron Age hill fort at its heart, plus carpets of bluebell and ransom in May.
The rich variety of other woodland plants and abundant wildlife pulls in visitors, especially those on the lookout for toadstools like these.
15. Brodick, Isle of Arran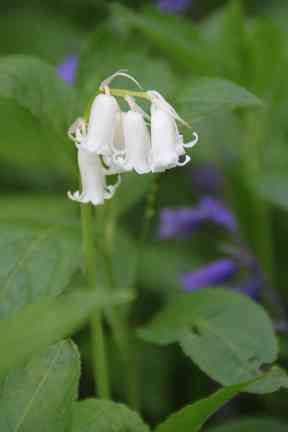 Springtime on the Isle of Arran means bluebells aplenty, especially along the extensive woodland walks at Brodick.
Brodick is the main village on the Isle of Arran, the largest island in the Firth of Clyde.
16. Pepper Wood, Kirkliston, Edinburgh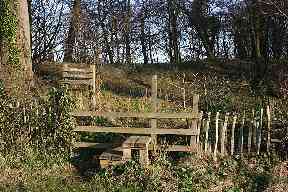 Pepper Wood, situated north east of Kirkliston, is a small area of broadleaf woodland containing ash, oak and wych elm with a varied ground flora that includes some species introduced by a previous owner in the 19th Century.
Visit in May to see the bluebells at their best.
17. Cathkin Braes Country Park, Glasgow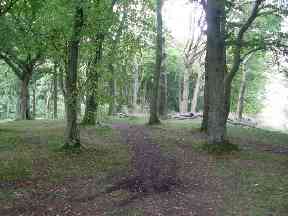 Cathkin Braes County Park is claim to impressive views across Glasgow and some lovely patches of bluebells when conditions are right.
Large expanses of grassland complimented by marsh, heath, scrub, and hedgerows. The woods include some mature woodland areas with lovely oak stands.
18. Baron's Haugh, Motherwell, North Lanarkshire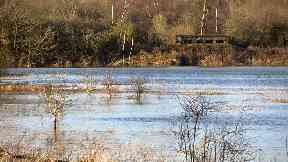 Baron's Haugh is a perfect spot for wildflowers and also offers a chance to spot winter whooper swans feed on the flooded meadows. If you're lucky you may even see a kingfisher or an otter on the river.
Most paths are suitable for wheelchairs and pushchairs, but may be muddy in bad weather and are steep in places.
19. Corsehillmuir Wood, North Ayrshire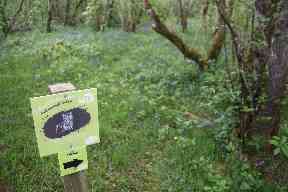 Corsehillmuir Wood is a natural woodland in the pastoral countryside beside Kilwinning.
It has a dense canopy of birch, ash, alder and willow that is alive with birdsong and a carpet of bluebells in the spring when you can also enjoy the fresh new ferns.
Mushrooms and toadstools pop up along the woodland floor in autumn.
20. Cumbernauld Glen, North Lanarkshire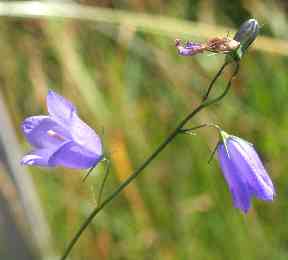 The ancient woodland of Cumbernauld Glen is a haven for wildlife and the gorgeous bobbing heads of the bluebells.
The meadows there are buzzing in the spring with stunning bluebell carpets and an accompanying soundtrack of returning summer birds, including pied flycatcher, redstart and wood warbler.
There are good walking paths and a mountain bike trail, too.
Download: The STV News app is Scotland's favourite and is available for iPhone from the App store and for Android from Google Play. Download it today and continue to enjoy STV News wherever you are.