Best paws forward: Cavalier King Charles Spaniels join for mass walk
Around 150 dogs and their devoted owners will join for a celebration walk in May.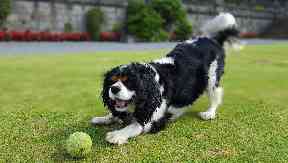 When Sheldon the dog came into Ian Dawson's life five years ago, he fell in love with the affectionate and loving nature of his Cavalier King Charles Spaniel.
Always happiest by his side, Sheldon can often be found bounding along beside his owner with his trusted ball gripped by his teeth, a comfort blanket of sorts which Ian says has very much become his trademark look.
Enjoying outings together, the pair went to a couple of cavalier events together across Scotland but when he began to look for something more local, he couldn't find anything which fitted the bill.
This planted an idea to set up something closer to home. Starting with the launch of Facebook group Glasgow Cavalier King Charles Spaniels, Ian and Sheldon welcomed over 45 cavaliers and their owners to their first meet up in Glasgow last year.
Enjoying the common interests shared through their dogs, the owners organised a further five walks in the same year and found the numbers to increase each time as word spread about the meet ups.
It also sparked the creation of International King Charles Spaniel Day, with the Glasgow group inspiring meet up walks in 21 places around the world, from Australia and America to Sweden and Serbia.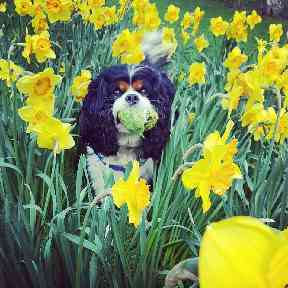 "I was thinking about which day would be best and because King Charles II gave his name to Cavalier King Charles Spaniels and his birthday was the 29th of May, I picked that day," Ian explained.
One year on, the Facebook page now has close to 700 members and the owners are again preparing to meet up and celebrate their dogs alongside other cavalier-loving owners around the world.
Organising a walk and picnic at Pollock Park Glasgow on May 27, the closest Sunday to the awareness day, Ian says they are expecting around 150 cavaliers and 115 people to join them at the celebration day.
He expects this will be about one of 30 events happening in honour of the dogs, with new events confirmed in places including London.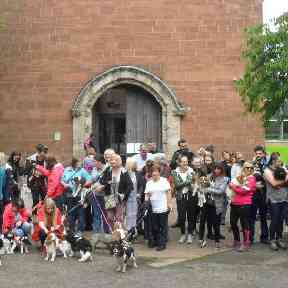 "The group is really good because people have questions whether they are new owners or people who have had cavaliers for a while," Ian says.
"Cavaliers have quite a few health issues. So it is quite good for people to have that link where they can ask for advice or help.
"And it is a lot easier when you know the people you are talking to."
He adds: "I do think it is a breed that once you have one, you never really want another breed of dog.
"They are super sweet, super loving and they follow you everywhere. They really are a lovely breed. People that get one tend to get two, three or four."
To mark International King Charles Spaniel Day, one of the members is making bandanas for all the dogs and Ian is planning some relaxed events at the end of the walk for people to enjoy.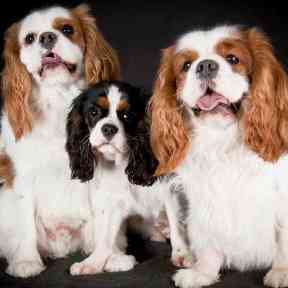 Karen Nicholls is looking forward to the meet-up, saying her three Cavalier King Charles Spaniels Bailey, Alfie and Lucy all enjoyed the last walk.
"It is a great afternoon," Karen says. "Everybody gets together, we have a walk around the park and then meet for a picnic, weather permitting, and the dogs have a wee play together.
"They love nothing more than cuddling up on your knee and like to be with people."
"When I see one coming, I just melt because they are just lovely wee dogs."
The International King Charles Spaniel Day walk takes place at Pollock Park Glasgow on May 27 at 12. For more information, visit the Facebook page.
Download: The STV News app is Scotland's favourite and is available for iPhone from the App store and for Android from Google Play. Download it today and continue to enjoy STV News wherever you are.