Stitching change: Modern Fair Isle knits keep tradition alive
A modern Fair Isle knitter on the international demand for the colourfully patterned jumpers.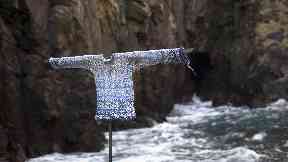 When Mati Ventrillon and her family moved from London to the UK's most geographically remote island, it wasn't just the obvious changes of pace, space and population size they had to adjust to.
Knitting is a lifeline stitched into the fabric of the Fair Isle and has, for many generations, been serving as a parallel economy for women in this small Shetland Island.
In times of difficulties when the fishing industry failed or the crops did not grow on this island off the north-eastern coast of Scotland between Shetland and Orkney, all that was left was the knitting.
Mati was struck by the history of these island women and the survival skills shown, dating back to the 19th century, through the knitwear that carries the island's name.
Often working the croft during the day while the men were out at sea fishing, the Fair Isle women would craft under candlelight to make the famous colourfully patterned sweaters, and use them to barter and exchange goods with passing ships.
Their niche designs, renowned for practicality and warmth, could only be found by travelling to the island, which brought a prestige to the product. The garments were so inherently 'Fair Isle'.
Today, there may only be a population of around 55 living on the island, which is just three miles long and one and a half miles wide, but the international esteem for the knit made there has not diminished.
Worn by early twentieth-century explorers to 1920s royalty, the traditional designs can today be found in some of the top catwalks, with Princess Charlotte even wearing a Fair Isle pattern in the official photograph recently released by Kensington Palace.
Wanting to embrace island life and be like the other islanders who have multiple jobs, Mati settled into the community by turning to the experienced knitters for help while also learning how to croft and training to be a reserve firefighter.
She joined a co-operative set up to pass the art of Fair Isle knitting from one generation to another and sell garments to passing cruise ships and island visitors.
She spent four years understanding the complex patterns and learning from the very best in the business in the only way possible, by living on the island.
In 2011, the co-operative dissolved but Mati had by this point ignited so much love for the knits that she decided to continue on her own, launching her own business the following year.
"Once I started working and asking questions and finding out about the history, that's when I really fell in love with it," Mati explains.
"It had to do a lot with the role of women in Shetland in general and how it was a sort of parallel economy that was keeping people alive.
"It's incredible how they managed to survive through hard times just by bartering and exchanging goods."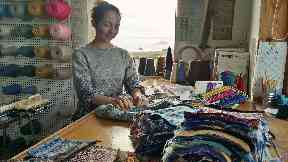 Her business started off with her online bespoke service, which is tailored to an individual's taste with specific measurements taken and customer input into the overall finish.
Using traditional patterns from the 19th and 20th centuries, each garment is knitted to shape using an original 1960s hand-frame knitting machine and using 100% Shetland wool, some of which is from her own flock of sheep, and the knits are then hand finished.
The whole process can take anything from two weeks to a month to complete and this is reflected in the prices, which average around £800.
"It is actually designing garments from every single detail from the shape, the details of the garment, the patterns, the colours," Mati says.
"It is a completely individual and personalised process. I wanted to change the shape of the garment and designs and make it more modern. I wanted to reach a different audience."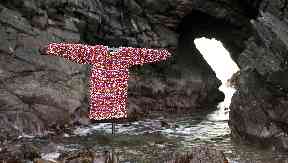 Mati has witnessed just how much demand outstrips supply and has had to close her waiting list for the bespoke service while she catches up with the work, with around a year of orders still to be created.
This imbalance has been a motivator in expanding her work with a further two product lines being added to Mati's business in the past six years.
One of these is the Fair Isle Artisan, a collection launched in response to her belief that the centuries-old skills are under pressure and need to be passed on to help create sustainable business on the island in the future.
This line follows the same traditional hand crafted process as her bespoke service - the only difference is that the garments are not created based on individual measurements and are instead standard sizes.
Taking around 18 to 20 hours to complete and costing on average around £360, these can be ordered online, a symbolic move as is it is the first time a range of handcrafted knitwear made on the island has ever been available this way.
As well as hoping to reach new audiences, Mati is using this part of her business to offer education, apprenticeships and internships to pass on the skills she has learned.
"It is encouraging people to come to the island because we have an ageing population and a shortage of people and resources," Mati says.
"It is important for us to attract young people and I think the knitting industry can do that so that's why Fair Isle Artisan exists."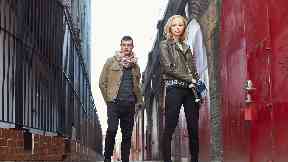 The final strand to Mati's business is called the MV Collection, which was set up to offer a more economical option for people wishing to wear Fair Isle with her own designs for this collection manufactured on an industrial level. This brings the cost down further with prices averaging around £160.
The decision to add this line was of course controversial, given the reputation attached to the notion of Fair Isle knitwear being an artisan craft.
However, the bold move is a part of the bigger picture for Mati with some of the profits from this collection as well as her Bespoke lines invested back into her Fair Isle Artisan range and allowing her to have interns or apprentices and provide fair wages.
"It is slightly more modern garments," Mati explains. "We outsource the manufacture and it is more accessible to the public and to younger audiences, so it is also a more economical garment.
"The MV collection is a massive step. I suppose people were a bit hesitant at the beginning of me calling the collection Fair Isle.
"Gradually, I think people are accepting. I think there is always such an aversion to change, especially in small community.
"It always takes time for people to process and to not feel threatened by the changes."
Mati adds: "I think we need to adapt in order to survive, in the same way the hand-framed knitting machines were introduced in the 1980s, they caused a massive stir among the hand knitters in the island.
"But it was needed. The women needed to produce garments faster in order to be able to make an income."
For Mati, Fair Isle has become her home, and her calling is rooted in making the historic knitting trade a sustainable and enticing career option for other creatives hoping to set up their own life on the island.
"I'm part of a community so I need to provide health and service to my community; that is why I am part of the fire service and why I do the crofting, it is keeping that tradition alive," she says.
"I could have come to Fair Isle and just set up a business, but what is the point of doing that, what would I be bringing to the island?
"I think it is more important that I stay there, I am part of it and I live the life. It is a very rewarding lifestyle."
Download: The STV News app is Scotland's favourite and is available for iPhone from the App store and for Android from Google Play. Download it today and continue to enjoy STV News wherever you are.