Zoo babies: Check out new arrivals in Scotland's zoos
From tiny endangered penguin chicks to our favourite little polar bear Hamish.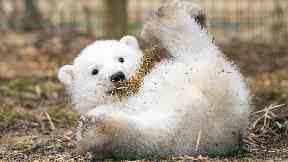 Spring has most certainly sprung in Scotland's zoos and as we head forward into the summer months all the little arrivals are coming out to play.
Everyone must have seen all the adorable updates or our own little polar bear Hamish by now, but did you know we have a whole host of zoo babies out exploring in the sunshine?
Established in 1909 by an Edinburgh lawyer Thomas Gillespie, the Royal Zoological Society of Scotland has been working to promote the awareness and conservation of rare and endangered animals for more than 100 years.
Edinburgh Zoo was the first zoo in the world to house and to breed penguins. It is also the only zoo in Britain to house koalas and giant pandas.
The Highland Wildlife Park has also won awards for its wolf enclosure.
Other zoos across the country include Five Sisters in West Calder, Auchingarrich Wildlife Centre in Comrie, Blair Drummond Safari Park in Stirling and several aquariums.
Take a look at some of the zoo babies starting out life in Scotland.
Penguin chicks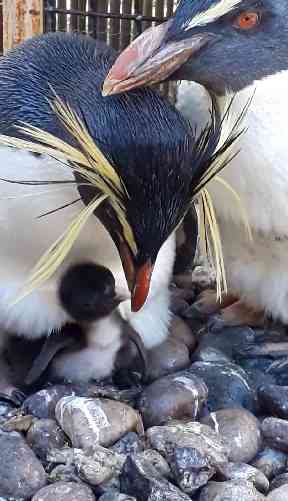 Check out this fluffy little guy! Edinburgh Zoo have been celebrating the hatching of three endangered northern rockhopper penguin chicks.
The chicks mark the most successful northern rockhopper penguin breeding season at the zoo in over 27 years. The chicks remain in their nests with their parents until they are around three months old.
Dawn Nicoll, senior penguin keeper, said:"We are very excited to welcome three new chicks to our rockhopper colony.
"It has been amazing to watch the new parents caring for their young and being very attentive, though we aren't out of the woods yet as the first 30 days are crucial for a newborn chick's development."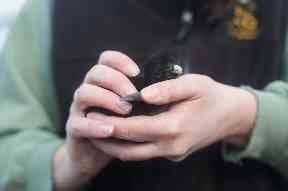 Last year the team welcomed Maui, the first northern rockhopper to hatch at the zoo in eight years.
"We are very proud that this has been the best rockhopper breeding season at the zoo in more than a quarter of a century," said Dawn.
"The northern rockhopper is an endangered species so we hope that our newest arrivals will go on to play their role in helping to safeguard the future of their species."
The new chicks join the zoo's colony at Penguins Rock, which is also home to gentoo and king penguins.
Kangaroo joey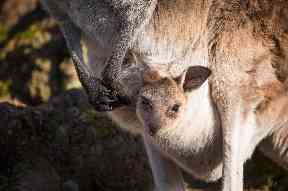 Edinburgh Zoo also has Scotland's only western grey kangaroo joey just ahead of Mother's Day earlier this year.
The first ever joey to be born at the zoo arrived in early December and has been living in mum Mia's pouch until fairly recently, but is now out bouncing about with dad Hemsworth.
Lorna Hughes, Team Leader at RZSS Edinburgh Zoo said: "This is the first kangaroo birth we've had at the Zoo so we are delighted.
"Kangaroos are marsupials, which means their young spend time developing in their mother's pouch before becoming more independent."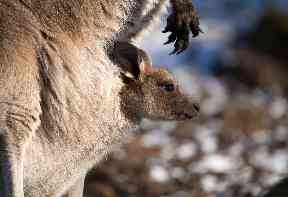 "It won't be long before the joey fully emerges and starts bouncing around the enclosure, which is when we will find out if we have a little boy or girl and decide on a name," added Lorna.
The joey joins other important species from Australia at the zoo such as the UK's only koalas, a mob of wallabies and a pair of cassowaries.
Pamba the pancake tortoise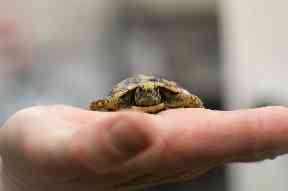 This little half shell hero was born just in time for Pancake Day at Edinburgh Zoo.
Pamba is known as a 'pancake tortoise' and is classed as vulnerable on the IUCN Red List of Threatened Species.
Pancake tortoises are also under threat by continued destruction of their natural habitat of Kenya and Tanzania for agricultural developments and overgrazing of domestic cattle and goats.
Gareth Bennett, Senior Presentation Keeper at RZSS Edinburgh Zoo, said: "The wild population is under threat due to young pancake tortoises being captured to be sold as pets.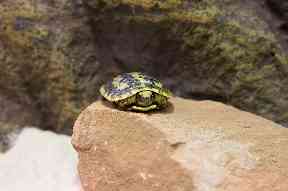 "Pamba's parents are an example of this as they joined us after being seized by UK customs having been illegally imported.
"We welcomed them into our care and are very pleased to say they have thrived here."
Pamba's birth is very important as it adds important genetic diversity to the European Endangered Species Breeding Programme, which is helping to safeguard the species from the decline in the wild.
Pamba won't be on show until the young tortoise is a little older but visitors to the Zoo can see Pamba's parents in the Wee Beasties exhibit.
Baboon babies
These little gelada baboon babies have been up to plenty of monkey business.
The gelada, sometimes called the bleeding-heart monkey or the gelada baboon, is a species of Old World monkey found only in the Ethiopian Highlands.
Most births occur at night and newborn infants have red faces and closed eyes.
Adult geladas use an incredible range of vocal noises with a level of complexity thought to near that of humans.
They will happily sit around and chatter at each other, though for babies it's very much about playtime!
Binturong twins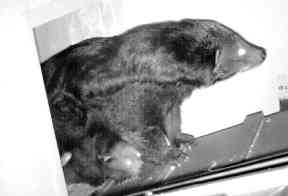 Edinburgh Zoo welcomed these little twins at the beginning of the year.
It is incredibly difficult to breed these quirky animals.
They smell like popcorn and have the appearance of a small cat-like bear.
Native to rainforests in Southeast Asia, binturongs are a member of the civet family, with their distinctive, popcorn scent coming from a chemical compound in their urine.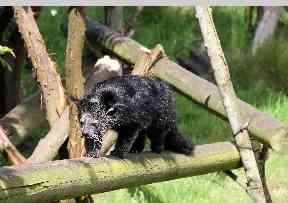 Alison MacLean, head carnivore keeper at RZSS Edinburgh Zoo, said: "We are very excited about the arrival of our cubs.
"These are the first binturong to be born in Scotland, so this is a real achievement."
Their mum Poppy has her paws full.
Binturongs are classified as vulnerable in the wild, with their population having declined by around a third over the past 18 years.
Przewalski foal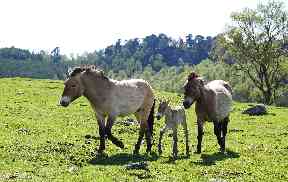 The Highland Wildlife Park has a small herd of Przewalski's wild horses including this little star.
Born last summer, this addition to the family is young and adventurous and a lovely sight to see.
The Przewalski's horse was previously extinct in the wild but thanks to ongoing reintroduction programmes the species has returned to its natural environment.
Przewalski's wild horse, or takhi, are the only true living wild horse. They were discovered and identified in the 1870's by the Russian explorer, Nicolai Przewalski.
They have a stocky body with strong, short legs, a short neck and a powerful jaw.
The last authenticated wild sighting was in 1969 and they thereafter were believed to have become extinct in the wild.
Baby Rays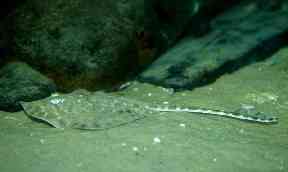 Babies are on the way at Deep Sea World too!
Keep your eyes peeled in the Underwater Safari for small rectangle eggs from the Thornback Rays.
As part of the team's conservation work, you'll see the young rays in the rock pool as you first enter the aquarium.
The Thornback Ray is usually found on sedimentary seabeds such as mud, sand or gravel.
Adult fish can grow to one metre in length.
Cute Japanese macaque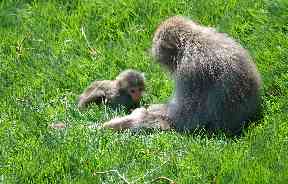 This little snow baby is a Japanese macaque playing the grass at the Highland Wildlife Park.
Their thick coats help them to survive winter temperatures of -15C.
However, they are probably most well-known, although it is just one group, for the habit of sitting in natural hot springs in order to escape the winter extremes.
In Japan they are the subject of many Buddhist stories and they are the monkeys behind the saying "see no evil, hear no evil, speak no evil".
They are not considered to be globally threatened, but they still face a number of threats including deforestation.
Hamish the polar bear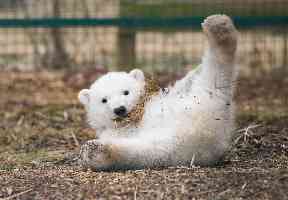 Little Hamish is the first polar bear cub to be born in the UK in 25 years.
Now five months old, the mischievous little guy has been playing and exploring his home with mum Victoria at the Highland Wildlife Park in Kincraig.
Previously, the birth had only been confirmed by high-pitched noises heard from the maternity den.
The cub's first venture into the outside world was caught on cameras installed by STV Productions during a two-year exclusive project to document the breeding and birth of the cub.
The cub was born in the week before Christmas and his dad Arktos is one of two male polar bears at the park.
Chief Executive Barbara Smith said: "The birth of the first polar bear in the UK for a quarter of a century is a huge achievement for the Royal Zoological Society of Scotland and the team at our Highland Wildlife Park.
"We are hopeful our cub will help to raise awareness of the dangers to polar bears in the wild.
"Collectively, we must do all we can to protect this magnificent species."
Download: The STV News app is Scotland's favourite and is available for iPhone from the App store and for Android from Google Play. Download it today and continue to enjoy STV News wherever you are.