See Me: The student tackling Scotland's mental health problem
Rebecca Johnston was initially dismissed by a GP when she sought help as a teenager.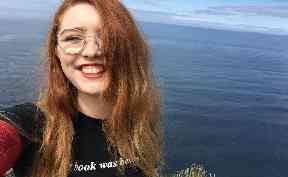 "We all have mental health exactly the same as we all have physical health," explains Rebecca Johnston.
"When you're in school you're told to eat your five-a-day and to exercise twice a week, but nobody tells you to take time for yourself and to talk to people, and really look after your mental health."
The 22-year-old psychology student at the University of Strathclyde, in Glasgow, is passionate about reducing the stigma surrounding mental health, especially for young people in Scotland.
As a teenager, Rebecca began to have problems with her mental health and felt she had not been given the tools to look out for herself while at school.
"When I was young, I was very much dealing with very stressful periods as my family is in the military so I was dealing with a lot of heavy stress and drama which was impacting my mental health," Rebecca explains.
"Nobody told me how to recognise the signs of having your mental health impacted."
Supported by peers and family, Rebecca sought help but was left "dejected" at the response from her GP.
"I went to the doctor and she was awful, she was really unhelpful, she didn't really care about how I was, what was happening, didn't give me any advice or any support," she says.
"It was more like 'you're young, this is what everybody goes through, just exercise more, smile and you'll be fine'.
"I left the doctors almost feeling quite dejected, it was really hard to understand why I felt this way but nobody cared."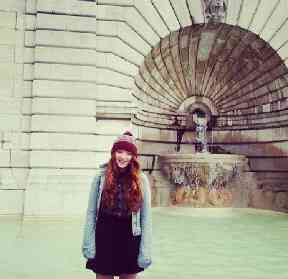 After leaving school, she enrolled at the University of Strathclyde to study psychology, with the aim of ensuring future generations would have a voice after she felt she did not have one.
While at university, Rebecca's mental health began to fail again and soon she discovered she had developed an anxiety disorder.
"When I was in second year of university I was diagnosed with panic and anxiety disorder which pretty much almost stopped my entire life.
"I was experiencing about three or four panic attacks daily," she explains.
"My life really fell apart because I truly didn't know if I was going to get out of it, I didn't see an option other than to give up because I couldn't keep going."

Rebecca Johnson
Recalling her experience as a teenager, Rebecca felt like she could not reach out and was not aware of what help was available to her.
"My life really fell apart because I truly didn't know if I was going to get out of it, I didn't see an option other than to give up because I couldn't keep going," she recalls.
After going "through hell", Rebecca finally found a GP who was supportive and helped her find the right medication and therapy for her condition.
"When you have a doctor who is open and supportive and is actually going take you seriously as a young person, it makes every single ounce of difference in recovery."
Dealing with her mental health in a positive way, she says she has been medication-free for the past year and began volunteering with Scottish charity See Me six months ago.
She now wants to inspire young people to speak out about their health without fear of stigma or discrimination.
Marking Mental Health Awareness Week, See Me Scotland wants to create the biggest conversation that young people in Scotland have ever had on mental health, stigma and discrimination.
The project includes an online survey, where young people aged 12 to 26 can speak up about their experiences.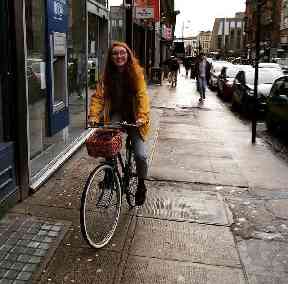 Rebecca hopes this will lead to tackling the stigma a lot of people believe when it comes to their own mental health.
"When I was younger, and I know a lot of people at See Me feel the same, [talking about mental health] was taboo.
"It was not spoken about, it was not on the table, it was not part of the conversation whereas now, especially with this new campaign, we're trying to encourage young people to speak about themselves, speak about their mental health, tell people they are not okay.
"If you can do that from a young age, it equips you better to deal with your problems later in life."
Calum Irving, See Me director, explains: "Young people have already told us that it is okay not to be okay.
"We want to go further than that now, and find out why young people aren't always okay.
"We want to understand what gets in the way of seeking help so that we can end the stigma.
Only then will all young people feel confident to speak about how they feel, without the fear of being judged or dismissed."
Looking back, Rebecca wishes she had someone like herself now to help guide her to find help quicker and to know it is okay to speak out.
"I thought what I was going through was not that bad, you always compare yourself and you think 'I don't have depression or I don't have these panic disorders, I must be fine' which is completely untrue."
She has high hopes for the future of mental health awareness especially for young people.
"My biggest aspiration for the survey and for the project is for young people to speak about mental health and not receive discrimination or stigma.
"I know it's a long way off and it's very ambitious, but it's a start."
Download: The STV News app is Scotland's favourite and is available for iPhone from the App store and for Android from Google Play. Download it today and continue to enjoy STV News wherever you are.