Good for the sole: Why Scots love their fish and chips
A fish-frying family with four decades experience share tips on National Fish and Chip Day.
If ever a food was deserving of its own national day of appreciation, fish and chips is surely vying for a top spot.
Some 382 million portions of fish and chips are served up every year across Britain and £1.2 billion is spent indulging in the fast food treat.
This winning combination was first paired in the 1860s and it soon became a takeaway favourite as developments at sea and on land made it easier to catch white fish in the North Sea and have it transported it by rail to the heavily populated areas of the country.
Acknowledging the popular draw, Sir Winston Churchill took the decision during the Second World War to give fish and chips a special status and make it one of few foods that would not be subject to rationing.
Referring to them as 'good companions', it is thought the government at the time feared the dish was so embedded in the nation's culture that any limit would damage morale.
Rather unusually, this was not the only link fish and chips had on the war effort, with soldiers during the D-Day Landings identifying each other by crying out 'fish' and waiting for the response 'chips'.
Time has not wavered this affection with the humble fried food, with National Fish and Chips Day returning on Friday, June 1 to encourage people to celebrate their love of the dish.
One family sure to be frying up a treat are the Crolla family, owners of Edinburgh family business L'Alba D'Oro.
The family-run business has been serving fish and chips since 1975 after newly-weds Filippo and Maria‐Celeste Crolla opened the doors to 5 Henderson Row.
The business has remained in the family, with son Gino and his wife Emanuela now also involved.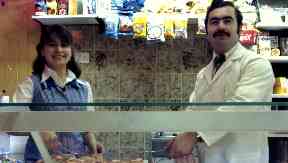 Did you know...
Brown sauce on your chippy is more popular in Scotland than in any other part of the UK.
Although mushy peas are still the most popular accompaniment, a bread roll with your fish and chips is also a popular option in Scotland.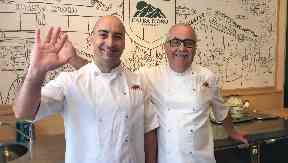 For the Crolla family, keeping the focus of L'Alba D'Oro on fish and chips has been their main priority and something they stayed true to even when others began to offer a wide variety of takeaway options within one unit.
"I thought it was really important to keep L'Alba D'Oro specialising and focusing on what it has been doing," L'Alba D'Oro director Gino says. "I think that was a bold but very rewarding move.
"I think it is what sets us apart to this day."
The taste test...
Emma Eliot and Celia Innes-Kerr entered into the spirit of National Fish and Chips Day and tried out L'Alba D'Oro's most popular dish - haddock and chips.
"The batter is really nice actually," Emma says.
"I'm Swedish so I have never really had it until I moved to the UK."
"They are nice by the seaside," Celia Innes-Kerr adds. "We used to always have them on our way home from our grandparents house - it was one of those highlights."
Haddock is L'Alba D'Oro's number one seller but they have also made a name with their daily specials which feature the likes of squid, scampi and prawns.
Sourcing North Sea caught fish from a local fishmonger and potatoes from a merchant in North Berwick, local and fresh produce has always been at the heart of their business and it is this focus Gino thinks has kept their business thriving for over four decades.
"We get the fish delivered every single day," he says. "And we use real potatoes so they are not frozen and they are not processed.
"For generations, fish and chips has been a simple staple of the Scottish family diet.
"The traditional fish and chips consisting of haddock and fresh potatoes is a hearty meal.
"I think you should always improve on something but should never fix something if it is not broken.
"We predominantly sell fish and chips and I think we do it very well."
Download: The STV News app is Scotland's favourite and is available for iPhone from the App store and for Android from Google Play. Download it today and continue to enjoy STV News wherever you are.