Super mum: Labrador delivers incredible 17 puppies
Zara's owners in West Lothian had no idea she was carrying such a large litter.
A Scottish Labrador may have stepped into the record books after she managed to deliver an incredible 17 puppies.
First-time mum Zara gave birth naturally last weekend and every single one of the little furry pups survived.
Both mum and puppies are doing well and Zara's owners say they are still completely overwhelmed.
"We had no idea she was carrying such a large litter," says Ian Millar from West Lothian.
"We were surprised enough at ten, but then more just kept coming!"
Ian's son, David, was there to help at the birth too and he and the rest of the family are now taking it in shifts to help Zara feed the many hungry mouths.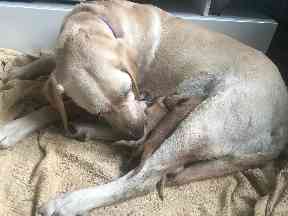 Only one little pup was born not breathing but quick action from Ian and David saved him and he's now feeding happily with his brothers and sisters.
The family have written to Guinness World Records to try and find out if it is a record litter for the breed.
Many Labradors will have six to eight puppies and some may even have as many as 12-17, however it is certainly extraordinary.
According to Guinness World Records, the largest litter of puppies is 24, all of whom were born in 2004 to Tia, a Neopolitan mastiff in the UK.
They were born by caesarean section, one was stillborn and three died in the first week.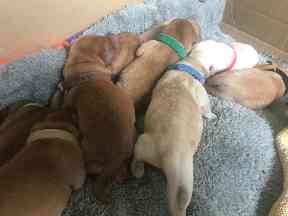 A few of Zara's puppies have already been promised to the Waggy Dog project, a group which trains up support dogs for children with autism.
The rest, Ian and David say, will go to loving family homes.
In the meantime, Zara has help not just from her owners, but from the family's other pet dog Toby.
"He's very protective, he thinks they're his," laughs Ian.
"We don't have the heart to tell him he's not the father."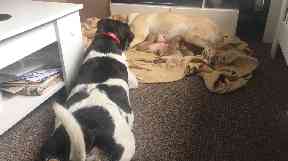 Download: The STV News app is Scotland's favourite and is available for iPhone from the App store and for Android from Google Play. Download it today and continue to enjoy STV News wherever you are.