Desperate mother's last hope as son's cancer treatment fails
Garvie was diagnosed with leukaemia last year and three rounds of chemo have failed.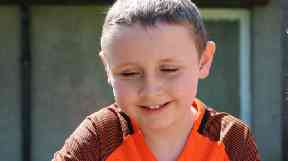 It began with a phone call from the school. Haley Winter remembers answering it.
It's your son Garvie, they told her, he's not feeling very well.
Her seven-year-old little boy had a sore head and was feeling poorly. Haley took him back to their home in Dundee and let him rest.
Garvie had been sleeping a lot more than usual and had been feeling a little unwell.
He perked up a bit and returned to school the next day. It was his gran who picked him up to take him for lunch.
She phoned Haley too. Garvie, she said, just didn't seem right.
Again, Haley tucked her son into bed. Anxiously she watched as the colour drained from his face.
"He looked grey," she says. "It was the colour of him that scared me."
She dialled NHS 24 and they told her to go straight to hospital. Blood tests told her and the doctors the answer no-one wanted.
Her son, her little boy who was so kind to everyone and who loved his superman pyjamas, had leukaemia.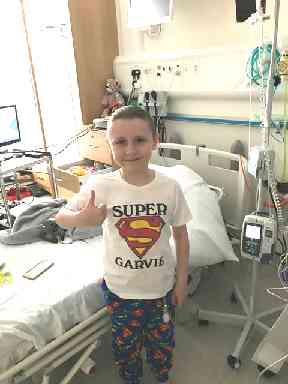 Abnormal blood cells that are produced in the bone marrow, leukaemia is the most common cancer in children and teens.
Overall, however, childhood leukaemia is a rare disease. Garvie's, though, would prove to be even rarer.
Doctors have said his tissue is so rare they haven't be able to find a breakthrough.
He's had three gruelling rounds of chemotherapy, but all have failed to put the monster in his cells into remission.
Haley, however, has pledged to "never give up" on her son. Unable to fight the disease for him, she has instead focused on trying to arm him with the weapons he needs.
Garvie needs a bone marrow donor, a perfect match to help him battle the cancer that has taken over his body.
Before he can have that, his body needs to get to a stage where it is ready to receive healthy donor cells.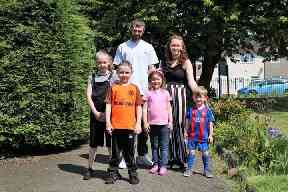 "He can't get the transplant now because if he got it now, he would just relapse and it wouldn't work," says Haley.
Chemotherapy would usually be the answer. Like a front line of soldiers in battle, it would be first in to stabilise the hostile environment in Garvie's body before the bone marrow is transplanted.
In Garvie's case, though, the chemotherapy isn't working. So Haley has looked beyond Scotland's borders for answers.
A treatment in Italy, she has been told, could provide hope.
She has been told that Garvie is eligible, but is now waiting to hear the costings and what the next step for her son will be.
"I asked if this doesn't work, then what?" says Haley. "The bottom line is, this is his last chance."
Garvie's teachers and friends have rallied around the little boy to help raise funds for any treatment he may need, and they've spread word far and wide in a bid to find a donor match for the young warrior.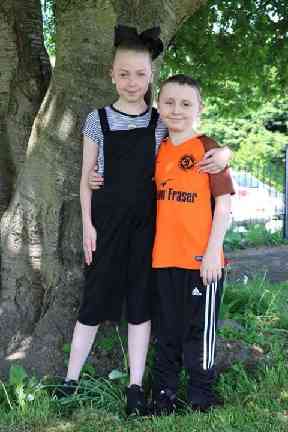 People aged 16 to 30 can sign up on the Anthony Nolan page, and for those between 17 to 55 can register via DKMS.
The process involves a non-evasive swab in the mouth that is sent off for testing.
As Garvie's tissue is so rare, it will be a difficult challenge, but they are hopeful someone can be found, ready for when Garvie is strong enough to receive it.
Garvie's doctors are already looking on the umbilical cord register in England to see if they can find a match for Garvie there.
"It is just amazing how much people are pulling together and how nice everybody can be when stuff like this does happen," says Haley.
"I'll go for any therapy, anything to save him. You can't just give up like that.
"It is a scary thing but he is a wee fighter and I know he is going to do this."
For more information on Garvie's battle and how to help you can visit his online page.
Download: The STV News app is Scotland's favourite and is available for iPhone from the App store and for Android from Google Play. Download it today and continue to enjoy STV News wherever you are.