Adverts show how Scots 'masters' chased runaway slaves
18th-century newspaper cuttings reveal how 'fugitive slaves' were purused.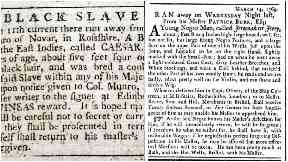 Academics at Glasgow University have launched a new digital database of fugitive slave adverts from 18th-century UK newspapers.
The advertisements provide a rich source of information about the large number of men, women and children who were enslaved in mainland Britain.
The database is a result of the Runaway Slaves in Britain project and reveals hundreds of stories of enslaved and bound people who had escaped their captivity.
More than 800 advertisements from 18th-century newspapers were placed by masters and owners offering rewards to anyone who captured and returned the runaways.
In one of the ads, a reward of two Guineas was offered for the apprehension of a collared teenage girl named Ann.
The slave, who ran away from Dr Gustavus Brown's lodgings in Glasgow, is described as being about 18-years-old with a green gown and a brass collar around her neck.

Most runaways were of African descent, though a small number were from the Indian sub-continent and a very few were Indigenous Americans.
The written notices described the mannerisms, clothes, hairstyles, skin markings, and skills of people who otherwise would have been completely absent from the official historical records of the time.
The advertisements also include information about the work of the enslaved, their homes and situations, and the lives, businesses and homes of their masters and mistresses.
In one notice, printed on March 14, 1769, a Master Patrick Burk esq enquired about the whereabouts of a young runaway named Jeremiah.
A thorough description of the slave, also known as Jerry, is in the ad including his violin playing skills.
It man is described as "large boned and well set, but not fat, with strong negro features".
The notice also says the 5ft 8 man had a large scar on the upper part of his right wrist. When he went missing he had on a light-coloured green coat, dirty leather breeches and white stockings.
The advert continued: "He reads and writes badly, plays pretty well on the violin, and can shave and dress a wig."
Anyone who returned the runaway slave would have been rewarded with 20 Guineas or five Guineas for any information that led to his capture.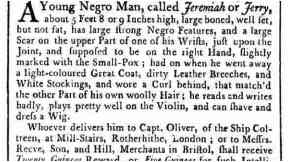 Another advert, posted in the Edinburgh Evening Courant on June 22, 1771, said an East Indies slave named Caesar had run away from a house in Ross-shire.
Five Guineas were offered as a reward and legal action threatened towards any ship masters that "carry off" the slave who was bred as a cook.
In the notice the slave master claims that the "offence shall be forgiven" if the man, described as around 25-years-old with long black hair, would return of his own choice.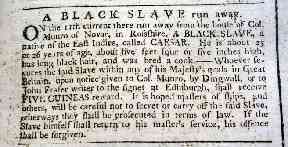 History professor Simon Newman, from the university's College of Arts, said: "We do not have the words or sometimes even the names of bound or enslaved people who were brought to 18th-century Britain.
"In many cases all that remains are the short newspaper advertisements written by masters who were eager to reclaim their valuable human property.
"These advertisements are important because they remind us that slavery was routine and unremarkable in Britain during the first three-quarters of the 18th century.
"This is made very clear by the placement of these newspaper notices offering enslaved people for sale or seeking the recapture and return of enslaved runaways.
"These advertisements appeared next to the mundane and every day news items and announcements that filled the pages of the burgeoning newspaper press."
Download: The STV News app is Scotland's favourite and is available for iPhone from the App store and for Android from Google Play. Download it today and continue to enjoy STV News wherever you are.