Family fighting rare 'hidden illness' which causes tumours
Linzie Offord and her three children have been diagnosed with Von Hippel-Lindau (VHL) syndrome.
Family members living with the same rare genetic condition are trying to raise awareness for what they call a hidden illness.
In 2007, Linzie Offord was diagnosed with Von Hippel-Lindau syndrome (VHL), which causes tumours to grow continuously on multiple organs.
People with the condition are also at an increased risk of developing a type of kidney cancer and a type of pancreatic cancer.
One in 36,000 people in the world have VHL while the average age of diagnosis is 32 years old .
There is no known cure and Ms Offord, from Darvel in Ayrshire, unknowingly passed the condition onto all three of her children.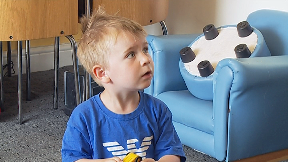 She spoke to STV about how the condition has affected her and her children's lives.
"I was 25, my son Jack was five and my daughter Cerys was three so I wanted to get them tested straight away," she recalled.
"Arran was seven weeks old when he was diagnosed.
"I was shocked that they had it, because it was so rare.
"I was kind of hoping that it wasn't going to the case but it was, and it was terrifying, devastating, to know that it had passed onto them."
The mum-of-three has undergone eye surgery, kidney surgery and brain surgery since her diagnosis in 2007.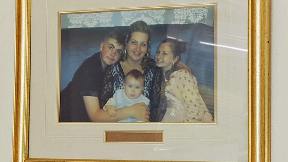 Just before the operation to remove a brain tumour in 2016, Ms Offord was told by doctors they had discovered a further ten tumours.
Her son Jack, now 15, has lost sight in one eye.
Ms Offord said: "At the moment there's no cure for VHL it's just constant screening, MRIs, ultrasounds, blood tests, 24-hour urine collections."
"We have a great lot of doctors that always look after us."
She has created a Facebook page to raise awareness of her campaign, where she shares information on her latest fundraising ventures.
Together with her friends and family, she holds events like car meets and charity football matches.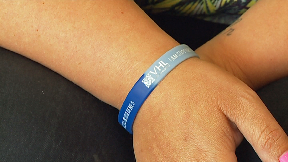 "A lot of people always say 'oh you don't look ill, you look great' and stuff, and I just always think, well you can't see inside because it's inside that it's a mess," she told STV.
"It's quite a deceiving illness."
VHL affects around 2000 people in the UK and early symptoms can often include headaches, affected vision and back pain.
Diagnosis in children is unusual but identifying the condition early means medical staff can better monitor the patient's health.
Download: The STV News app is Scotland's favourite and is available for iPhone from the App store and for Android from Google Play. Download it today and continue to enjoy STV News wherever you are.