Scot 'humbled' to donate Hebridean voice to MND patients
Coinneach MacLeòid's voice will be used in technology to help patients keep their Scottish accent.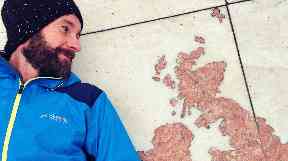 A man from the Outer Hebrides says he has been left "truly humbled" after he was given the chance to donate his voice to Scottish patients who have lost the ability to speak.
Coinneach MacLeòid, 43, took part in an innovative project named Speak Unique which aims to create personalised digital voices for stroke patients or those battling motor neuron disease.
The team have been actively recruiting volunteers across Scotland to become "voice donors" to help them gather in as many different Scottish accents as they can.
They still need voices from males in Orkney, the Highlands, the Western Isles, the Grampian region as well as Dumfries and Galloway.
Female voices are also still needed from the Borders.
Their goal is to make communication aids for those who lose their voice through illness - but instead of a 'robotic' Stephen Hawking sound, they want to get as close to the patient's own voice as possible.
"It's actually amazing what they're doing," says Coinneach, who is originally from the Isle of Lewis. "When a person is in that situation, it's not just their voice they're losing, it's their identity as well.
"Especially in Scotland where our accents are very strong - and where we have so many regional accents."
The ultimate ambition of the research project is for people to be able to use communication aids that speak for them in their own voice.
The project is a team effort, with clinical researchers from the Euan MacDonald Centre for Motor Neurone Disease Research working with speech scientists at the University of Edinburgh's Centre for Speech Technology Research.
Coinneach heard about the project through a friend and spent the day with the team at the end of May.
"You're asked to come in and record 400 - 600 sentences," says Coinneach. "From that, you end up covering each sound in the English language.
"The phrases were from the Herald Newspaper section, there was one weird one - the monkey has one hairy arm - that stuck with me, but you don't have time to think because you're going so fast."
Ideally, for a person with motor neuron disease, a person's voice is recorded before their speech has become affected.
Sometimes though, if they can't manage them all, then a voice donation like Coinneach's steps in.
The team's voice bank can be used to pull together donor voices with the same age, sex and regional accent as the patient which are then pooled together to form an "average voice model", which acts as a base on which to build the synthetic voice.
"It's inspiring," says Coinneach. "It will help get away from the classical Stephen Hawking situation with the computerised voice."
And it would seem more people than just Coinneach found the idea behind the project inspiring.
The proud Hebridean put up a post on Twitter about his experience and nearly 7000 people showed their support.
"I just posted it and never expected it to cause such a big reaction, it's been wonderful in such a humbling way," says Coinneach.
"A lady in Germany who has MND and has lost her voice contacted me to say her box is this very American impersonal accent and she loved the idea of the project.
"A mum also got in touch to tell me about her young boy who has lost his voice too - it's just humbling to hear from them."
Coinneach's Tweet had such a reaction, the Speak Unique team later told him that they had a surge of volunteers apply to help them.
"The whole process has been fantastic," says Coinneach. "Because of that one Tweet they've had more people apply in 24 hours than over previous months, it's incredible."
The day of his voice donation had extra meaning for Coinneach on a personal level too.
"When my own mother passed away, a few weeks before she passed she was also unable to speak.
"That's why when I saw the appeal for voice donors I just really wanted to be part of it.
"The day I went in to do it, it just so happened that it fell on what would have been my mother's birthday.
"It was a very poignant and humbling day to be able to help in some way."
Download: The STV News app is Scotland's favourite and is available for iPhone from the App store and for Android from Google Play. Download it today and continue to enjoy STV News wherever you are.