Saying goodbye: Scot walks 397 miles to shed former self
Ruth Webster is leaving roses on the road to London after her mental health battle.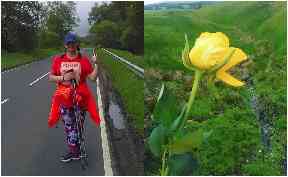 Pounding pavements and roads hundreds of miles from home, Ruth Webster is on a life-changing journey to say goodbye to her former self.
Leaving a yellow rose by the roadside in Northallerton, she said farewell to the girl who struggled with her relationship with food.
Days later on the steps of York Minster Cathedral, another primrose-hued bloom was left in memory of the woman who often doubted herself.
The 47-year-old from Methil, Fife, is walking 397 miles from Edinburgh to London for mental health charity Mind, having lived with mental health problems since her early twenties.
"For over 25 years I've suffered with severe depression which actually took me to the point of attempted suicide many many years ago," Ruth explains.
"I was very lucky I had very close friends and family who stood by me and guided me over the years, but I know there are many people out there who have nobody.
"I thought if I tried to raise this money for Mind who are an amazing charity, then I at least know that there is somebody out there who will reach out to them and they maybe won't go through the dark times I went through."
Ruth's journey began ten years ago following the death of her beloved father Archie.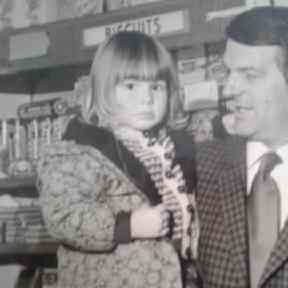 "My dad was really supportive, he didn't know about depression but he went to the library and got books and things and read up about it," Ruth emotionally recalls.
"The last thing I said to him was I was going to take control of my life and completely sort things out.
"The walk is in memory."
A decade ago, Ruth took control of her health and made the decision to stop seeing counsellors and stopped taking medication, adding "I felt within myself I had the strength to get myself back on track".
At the time, Ruth also struggled with a binge-eating disorder and at her heaviest, weighed 28 stone.
"I had tried every diet under the sun over the years as many people have, where I would lose a few stone then I would fall off the wagon and I would end up putting the weight back on, plus more," she explains.
In 2015, Ruth stumbled across fitness coach Joe Wicks, also known as The Body Coach, on Instagram and was taken with his easy recipes and workout routines.
Signing up one of his fitness plans, Ruth soon found joy in exercising and eating healthily, losing 11 stone over two years.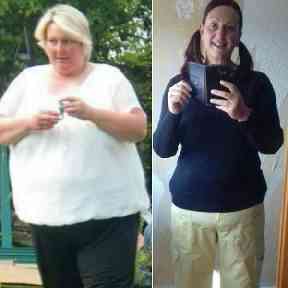 "I can't describe how different mentally and physically I feel," she explains.
"How I'm feeling now is the way I've wanted to be, I can't believe I'm feeling so mentally strong and physically I feel incredible."
Going through such a transformation both mentally and physically, Ruth was determined to do something big to celebrate.
She began walking ten minutes around the block with her faithful dog Max each day and soon began to build up to walking one mile, then three then five.
Setting herself the goal of walking from Edinburgh to London to give something back to the mental health community, she left the Meadows in Edinburgh on Saturday June 2 at 10am.
Since then, she has walked an average of 28 miles each day accompanied by friends and family.
With a goal of raising £10,000, she has already raised 91% of her target.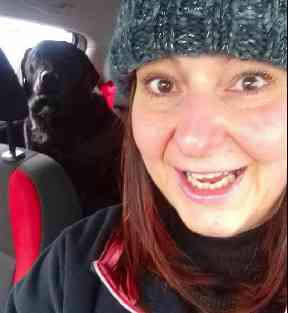 "This is my journey to say goodbye to the person I used to be, because I've tried for years to sort myself out and I could never get there," she says.
"Now I'm getting the chance to say goodbye to the old Ruth because the new Ruth has a great life ahead of her."
Through Instagram, Ruth has kept in touch with Joe Wicks and he will join her along with around 70 other walkers on her final day, from family and friends to her walking companions who have dedicated their time to support her on her journey.
From elder brother David, who has driven ahead of each stage of the walk to make sure roads are clear, to young neighbour Craig Thomson, who supported Ruth throughout her training and best friend Louise Van Rensberg whom Ruth cites as 'her rock', she is thankful for everyone who has helped change her life with her memorable charity walk.
"People need to realise that the journey they go on will never be an easy one, it will never be straightforward, there will be ups and downs," Ruth says.
"You have to keep going, you have to forget about your past, you have to forget about the mistakes you've made and you have to treat today as day one and you have to believe in yourself.
"This challenge has proven that I am never ever going back to the person I used to be."
You can follow Ruth's journey on Instagram and her Justgiving page.
Download: The STV News app is Scotland's favourite and is available for iPhone from the App store and for Android from Google Play. Download it today and continue to enjoy STV News wherever you are.