How women fought for the right to celebrate Father's Day
The holiday was established when Grace Golden Clayton wanted to honour her father.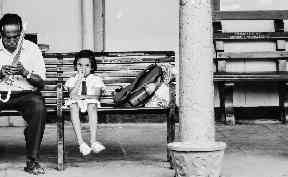 With chocolates swapped for cufflinks and beautiful bouquets traded in for novelty mugs, the sentiments of Father's Day appear to be much less rooted in tradition than it's Mother's Day counterpart.
Yet when tracing the holiday, celebrated each year on the third Sunday of June, Father's Day endured a much harder fight to be recognised as a celebration for fatherhood.
Much like Mother's Day, Father's Day's origins lie in the church and dates back as far as the Middle Ages.
In Catholic Europe, the feast day of St Joseph was seen as a celebration of fatherhood and was held on March 19.
As the Spanish and Portuguese travelled to the Americas, they brought with them the celebration of fatherhood, with Latin America still celebrating Father's Day on this date.
The modern version of Father's Day which we celebrate today originated in the United States, however, it would take decades before it was officially recognised as a celebration.
The holiday was not celebrated outwith Catholicism until the 20th century, when one woman mourning the loss of her father first attempted to honour men in the way Anna Jarvis had successfully championed for Mother's Day some years prior.
Grace Golden Clayton was mourning the loss of her father when a mining disaster in Monongah, West Virginia, during 1907 killed 361 men, leaving around a thousand children fatherless.
Suggesting to her Pastor Robert Thomas Webb that they honour the victims, the first observance of a "Father's Day" was held on July 5, 1908, in Fairmont, West Virginia.
Yet Clayton's idea of an event to honour fathers each year was soon overwhelmed - the town suffered numerous tragedies and without promotion the celebration was forgotten.
Over the years, proposals for Father's Day celebrations were lodged but were never implemented.
Jane Addams, a pioneering social worker who helped America address issues surrounding mothers and families, suggested a citywide celebration of Father's Day in Chicago in 1911 but was turned down.
A year later, a Methodist pastor J. J. Berringer held a Father's Day celebration in Vancouver, Washington and a man named Harry C. Meek claimed he had thought of the idea first in 1915.
However it is thought the holiday as it is now known was established in 1910 and was held at the YMCA in Spokane, Washington by Sonora Smart Dodd
Dodd's father, a civil war veteran, was a single parent who raised his six children there.
After hearing a sermon about Anna Jarvis' successful campaign for Mother's Day, she approached her pastor about a similar holiday for fathers.
Initially suggesting her father's birthday of June 5, pastors deferred the event to the third Sunday in June to allow them enough time to prepare.
On June 19 1910, the first Father's Day sermons were held throughout the city.
For a decade the celebration was popular, but after Dodd went to university to study, Father's Day faded in popularity.
It would take until the 1930s, when Dodd returned to Spokane, for the celebration to reach a national level in the US with the help of trade groups who manufactured gifts popular for men at the time, such as pipes and ties.
However, it would take as long as 40 years for Father's Day to become a permanent national holiday.
In 1916, President Woodrow Wilson went to Spokane where Sonora Smart Dodd had originally held one of the first recognised Father's Day events.
He wanted to make Father's Day a recognised holiday but his plans were resisted, with Congress fearing it would become commercialised.
In 1957, Maine Senator Margaret Chase Smith wrote a Father's Day proposal accusing Congress of ignoring fathers for 40 years while honouring mothers, thus "[singling] out just one of our two parents".
President Lyndon B. Johnson issued the first presidential proclamation honouring fathers, designating the third Sunday in June as Father's Day in 1966.
Finally, six years later President Richard Nixon would make the day a permanent national holiday when he signed it into law in 1972.
Similar to the case of Mother's Day, the United Kingdom followed in the footsteps of it's American cousins when implementing Father's Day.
It became popular in the UK following WWII and while it was met with some opposition, has remained a firm holiday to this day to honour fathers, brothers, grandparents, uncles and even single mothers by their children.
Download: The STV News app is Scotland's favourite and is available for iPhone from the App store and for Android from Google Play. Download it today and continue to enjoy STV News wherever you are.