Oh baby! Midwives share memories as NHS marks 70 years
Scotland's real Call the Midwife staff say 'when you hear that baby cry there is nothing like it'.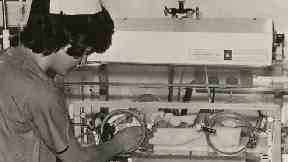 There are two sounds midwives say they love to hear more than any other.
One is that first tiny fluttering heartbeat, the moment a mother hears an echo of life in the womb for the first time.
The second is that first startling cry of a newborn.
As long as babies have been born, mothers have had help with birthing. For centuries the Scottish midwife was called 'skilly', 'handy-woman', 'neighbour-woman', 'helping-woman' or even a 'howdie'.
Today, they are still the ones holding anxious hands, a calm voice guiding mothers and new life into the world.
As the NHS marks its 70 year anniversary, a few of those inspiring women share their stories of working at one of the most significant, and emotional, parts of life's journey for all of us.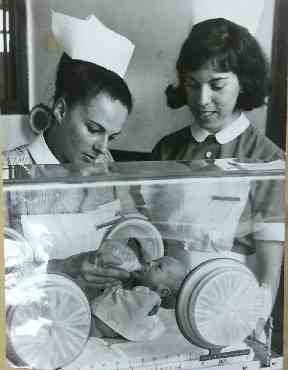 Lynne Reid, 43, is a community midwifery team leader in West Lothian.
"I still remember my first birth," says Lynne. "I was at St John's Hospital in Livingston, I was so young and naive and it was completely overwhelming.
"I held it together in the room but when I got outside I just cried. I had held the mother's hand, found out about her family and then saw her little daughter being born.
"I'm still in touch with her, her daughter has now just got her degree at university! But it was that moment, from that first birth, that I knew this is what I wanted to do for the rest of my life."
Lynne is a manager now, but she says even today when she meets an expectant mother and sees her excitement about her pregnancy, it all becomes real again."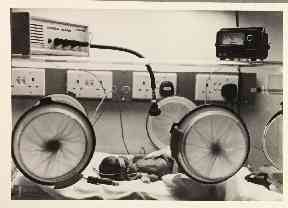 "Watching her hear that heartbeat for the first time, it's wonderful," says Lynne.
"Those are my two favourite sounds in the world. That heartbeat and that first cry of a newborn.
"You still have that intake of breath until you hear that cry - even if you're not religious, you say that little prayer that they're okay."
"On the flipside, when you don't hear that heartbeat and things aren't okay, that's so hard," Lynne adds.
"You used to have to be so stoic, but I'm so glad that has changed. You can now show your emotion.
"I'm a heart on my sleeve kind of girl anyway. If they're crying, I'm crying with them."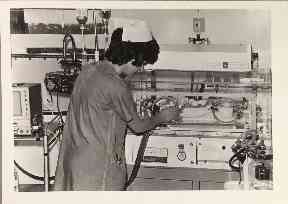 Midwifery in Scotland became official in 1916 when the Central Midwives Board for Scotland took control of the profession.
During the first two years midwives were eligible if they had been in genuine practice since 1914 and were "trustworthy, sober and of good character".
They had official uniforms, unique to where they trained. Glasgow Corporation midwives were known as 'Green Ladies' because of theirs.
In 1948 the Central Midwives Board for Scotland issued a booklet and application form detailing the approved uniform which included an overcoat, lightweight overcoat, raincoat, jacket, skirt, blouse, tie, cloak, headwear, dress, indoor cap, buttons, badges, gloves, shoes and stockings.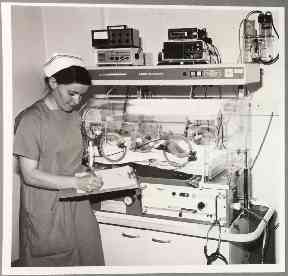 In the book Midwifery in Scotland: A History by Lindsay Reid, midwife Margaret Dearnley recalls her training in Glasgow during the 1940s.
"Now the poverty was dreadful. Very, very bad. I remember going in a house which was all dark, but a great big roaring fire. And there were two or three kids running about... with wee vests on and nothing else and a packed earth floor. And the new mother... was lying on what they call ticking on a bed, an iron bedstead in the corner."
In the early 1950s, all midwives hoped for was hot water and a fire. But by the 1970s, birth had moved into hospitals.
Midwives went from being employed by local authorities to being employed by the NHS.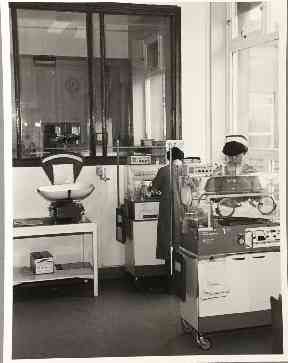 Joanne Watt, who trained as a midwife in Glasgow, recalls her experience.
"I trained in 1980 at the Queen Mother's Hospital in Glasgow. In those days you had to be a general nurse first before you did midwifery," says Joanne.
"I got put onto admissions and the flying squad. It was invariably up to Drumchapel, we would fly up there to help the mothers in labour.
"It was quite a rough area at the time and it was all split into gangs. There would be some really tough guys hanging around when we arrived, they would escort you up the road across their patch to where the next gang was, and another group would take you to where you needed to be.
"The neighbours would direct you to the mother and give you cups of tea."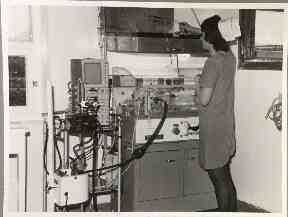 Joanne remembers her uniform well. It was more modern in the 1980s, white cloth, with white shoes and a neat hat.
The biggest thing she learned, she says, was a senior midwife training her on how important it was to not let the mother lose control of the labour.
"Once that happens, it is so hard to get it back," says Joanne. "There were usually two midwifes, one coordinating the birth and the other doing the delivery.
"It was important that the mother hone in to your voice, or her husband's voice, but keep that control throughout the labour.
"Some didn't want their husband, they wanted their nurse, but either way that really helped it to go smoothly."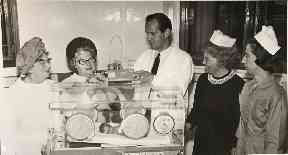 "The majority of patients were fit and healthy, the babies were too so it was a very happy time," adds Joanne.
"There were some heartbreaking times too. And you have to deal with it at quite a young age. But even as a young person you can feel empathy and want to help comfort women through loss.
"I did really enjoy my work though, it was a wonderful job to have."
Today, there are just over59,400 full-time equivalent nurses and midwives working in NHS Scotland, continuing the 70 year legacy of those who have gone before them.
STV News will be celebrating the 70th birthday of the NHS on TV and online throughout the week. We'd love to hear your memories and thank-you message to medics who have looked after you and your family.
Share them with us on social media using the hashtag #STVNHS70 or email us your story at stvnews@stv.tv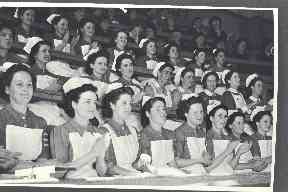 NHS at 70
Download: The STV News app is Scotland's favourite and is available for iPhone from the App store and for Android from Google Play. Download it today and continue to enjoy STV News wherever you are.