St Andrews beach shack is hotspot for grilled cheese experiments
A couple's shared love for grilled cheese inspires growing empire based on the humble toastie.
If couple Kate Carter and Sam Larg are ever having a bad day, the answer to lifting their mood can almost always be found in that first glorious bite of a cheese toastie.
The moreish combination of melted stringy cheese sandwiched perfectly between some fresh bread cannot be beaten as far as Kate and Sam are concerned.
It is their ultimate comfort food and a love they have always shared. It did not come as too much of a surprise for their friends then when they announced they were going to build a business on this tried and tested combination.
Beginning their vision for The Cheesy Toast Shack in a converted trailer, the couple toured festivals like Glastonbury and were delighted with the response fellow cheese fans had with their menu, including a string of accolades such as being named the best place to eat at the Fringe during their debut year, a Scottish street food finalist last year and the winners of street vendors of the year at the 2018 Menu Awards.
Two years on, they now have a pop-up business for events, a permanent trailer at Kingsbarns beach and a new kiosk at East Sands beach in St Andrews.
Building on the momentum, they are in the process of converting a shipping container and turning it into a mobile kitchen, with its first outing being the Edinburgh Fringe Festival this August.
And, it seems this couple are not the only cheese-loving fans who have turned to this niche market with businesses like Meltmongers in Edinburgh and Melt in Aberdeen also offering menus revolving around the grilled cheese concept.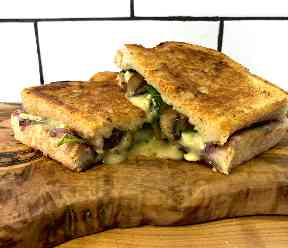 For Kate and Sam, experimenting with different flavours is very much a part of their ethos. From Nutella and mascarpone to balsamic mushroom with blackcurrant mayo jam and camembert, Kate says there is nothing they wouldn't experiment with when it comes to cheese pairings.
"Sam and I started The Cheesy Toast Shack due to mainly a total love of cheese," she says.
"It's the ultimate comfort food. You've had a bad day; have some grilled cheese. It's cold outside; have some grilled cheese. You've been on a diet all week and it's the weekend; have some grilled cheese.
"It's pretty much the answer to everything, or always has been in our lives at least."
While they enjoy experimenting with new flavours, there are a couple of permanent features which can always be found on their menu, with their most popular dish being the Mac 'N' Cheese toastie.
"We came up with this right at the start of our venture and developed our best possible secret recipe, and it's not stopped selling since we put it on the menu," Kate says.
"Other items come and go, however, we're famous for our Mac 'N' Cheese.
"Our Mac 'N' Cheese gets a lot of remarks about being a 'weird' concept before people try it, however, the Scots love a Macaroni Pie so it's not too out there if you think of it like that."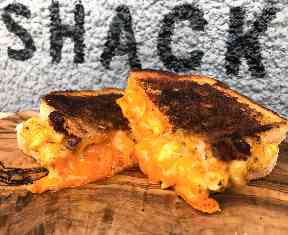 Making the most of their Fife location, the couple are passionate about using local produce and change their menu throughout the year depending on what's in season.
"Scotland has a lot to be proud for in terms of its food, especially where we're based" Kate says.
"We often work alongside St Andrews Farmhouse Cheese Company whose cheese is just the best we've used.
"In the spring, we work with the guys at Balgove Larder to source their seasonal wild garlic pesto.
"We've just had an Arbroath Smokie special on. We served this with mature Scottish cheddar, onions with a white wine and garlic sauce, lardons and sliced eggs.
"And we have previously done a seafood toastie with lobsters caught on Kingsbarns beach by local fishermen."
Kate adds: "In the cooler months, we sometimes incorporate more hearty fillings, such as our fire cracker pulled pork toastie, which is a 12-hour slow cooked pulled pork, with our homemade firecracker sauce, emmental cheese and sauerkraut.
"I think that Scots can recognise decent quality food and, rightly so, feel a sense of pride knowing it's come from Scotland itself."
Download: The STV News app is Scotland's favourite and is available for iPhone from the App store and for Android from Google Play. Download it today and continue to enjoy STV News wherever you are.