A lifetime devoted to care: Meet first nurses of the NHS
Two of Scotland's first NHS nurses share memories of the careers they forged in caring for others.
Fluffing her pillows and placing the open end facing away from the door, Win Logan Gordon's memories drift back to her days working on the wards of Scotland's hospitals.
She carried out this meticulous routine many a time during her days as a nurse, and is a habit she now does instinctively.
The 92-year-old was one of Scotland's first nurses to work under the National Health Service after it was formed in July 1948.
Her interest was sparked at the young age of 15 after a school appeal asking for more teenagers to help with the war effort was made to her class.
Motivated to do her bit for her country and join the war effort, she diligently trained in First Aid and basic nursing and began devoting three hours every Sunday to help out on the busy wards of the Royal Infirmary of Edinburgh.
In this period of great need, and at a time when many of the doctors and nurses from the hospital were away working on the front line, Win watched in awe at the hospital staff.
It was by no means an easy introduction but it did make her certain it was the path she wanted to follow, even if her young years meant she would have to first study in another area before returning, aged 19, to apply for nursing training.
"It was exciting because you knew you were doing what you wanted to do," Win says looking back at those early days of her nursing training and recalling the first day she was measured for her blue dress and white cap.
She has fond memories of the camaraderie shared by the student nurses during the years following the war, especially in the face of the strict regime they were expected to follow.
"The student nurses were really quite well looked after," Win says. "We all had our own room in the nurses residence and you had to live in.
"We were properly fed in a properly laid-out dining room. It was absolutely imperative that you attended.
She adds: "The home sister, of course, checked in every day to make sure it was tidy. I had to be very careful.
"And if you were off-duty, you must report back by 10pm unless you had a late pass."
Speaking about the training, Win adds: "It really was an apprenticeship system in those days.
"It was hospital based and illness based and the nursing students were essentially pairs of hands. We didn't have a great deal of time in the school, you were on the ward."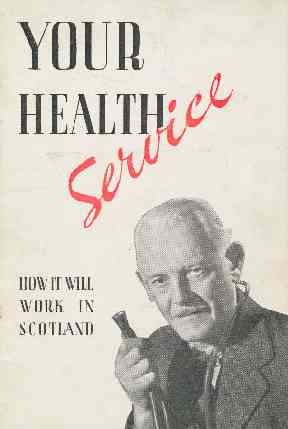 On July 5, 1948 the National Health Service was officially launched meaning that everyone had free access to all services such as a family doctor, prescription drugs, glasses and dentures for the first time in Scotland. In its first full financial year, the total cost of the NHS in Scotland was nearly £42m.
Looking back at the beginnings of the NHS as it marks its 70th year, Win says there was no definitive feeling of a sudden change within the hospital setting in those early days, and instead said it felt like part of a wider transition within the country as it began to rebuild and recover after the Second World War.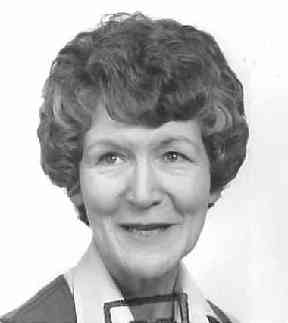 For almost four decades, Win was dedicated to her chosen vocation of nursing.
Initially working as a staff nurse in the Royal Infirmary of Edinburgh, she remembers feeling quite daunted with the physical challenges the nurses faced while caring for their patients and the strict rules instilled within the hospital setting.
"You had to be physically quite fit if you were in a big ward," she says.
"A medical ward had 24 beds in it, 12 down on each side, and you didn't have screens around the bed like you do now so you had to carry portable screens to put them around a bed.
"Sister lived on the ward and she had a sitting room and a bedroom in this corridor. When you were a night nurse on the ward, you had to be very careful not to make a noise because the sister was sleeping in her bedroom.
"The chief doctor and a few other medical staff did a daily round in the ward mid-morning and everything had to be quiet. He usually went to the sister's sitting room for his coffee after he his round.
"Another person on the ward who was very important was the maid. The wards were spotless. As a student nurse, you must not spill anything on the ward because if you did, you had to go and clear it up because the maid would be annoyed.
"As you looked from the door, every bed had to be on a straight line on each side of the ward - everything had to be meticulous."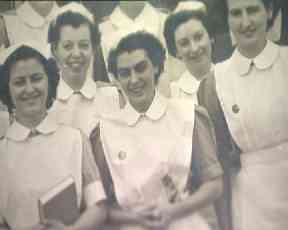 Former nurse Isobel Tough also remembers that feeling of pressure as a young student nurse to complete her duties under the studious eye of the matron.
The 87-year-old was too among the first intake of staff after the NHS was created, starting her career in November 1948 at the Aberdeen Royal Infirmary.
"The matron ruled that hospital, she really did," Isobel remarks. "She was good but it was a strict training.
"We were all seen by matron, we were all measured for our uniforms and caps and you had to have that uniform on just so and the caps on at the right angle and not a strand of hair out.
"She would come around the wards every day and would be looking sideways to check that the uniforms were right and the hats were right and that the beds were made a special way and that the patients were propped up at the proper angle. Nobody else got into the wards while she was doing this."
Working for more than 30 years in the profession, Isobel has been a part of a team who worked on a new Marie Curie community service in Aberdeen in 1966 to look after terminally ill patients, and also trained in occupational health - a posting she worked in for the final 17 years of her career.
Over her 30 years of service, the change in the treatments and technologies of healthcare had a big impact on the day-to-day role of a nurse, with Isobel recalling a vivid memory from her early nursing days when she devoted time to meticulously sterilise needles herself within the ward.
"I can clearly remember being left in the ward with 14 patients that I had to give antibiotics," she says. "This was the beginning of the antibiotics.
"You had to sterilise all the things yourself - sterilise the needles yourself - there was a little alcove in the ward with a tub where you sterilised. Boiled it and drew up your syringes.
"That was my first memory of giving injections."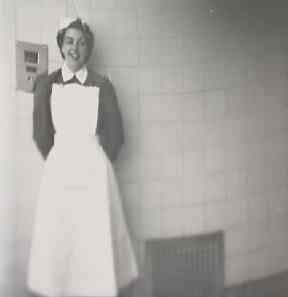 For Win, one of the biggest changes she witnessed during her working life was the change in care and prognosis for patients with tuberculosis (TB).
By 1948, the infectious disease was killing someone every two hours in Scotland and treatment facilities had growing waiting lists of patients.
Seeing this need, Win began working in a number of sanatoriums across Scotland caring for patients who would often be admitted there for at least a year. It was an interesting time to be working in this field as research in Scotland began to make strides in finding improved treatments.
Sir John Crofton developed the unofficially titled "Edinburgh Method", with Crofton and his team finding that, by combining three drug treatments, they could effectively treat all patients.
This meant that in three years, between 1954 and 1957, they were able to achieve a reduction of TB cases in the Edinburgh area by more than 50%.
This work then continued with the 1958 mass radiography campaign which invited people over the age of 15 to have their chest x-rayed and help detect damage to the lungs.
For Win, it was a fascinating to watch the process unfold: "In those days, there weren't any drugs for TB," she says.
"The treatment was rest, fresh air and a nourishing diet. And usually, patients were in hospital for at least a year, usually more.
"You became very attached to the patients and looked after their interests and what they were interested in to try to give them something to do other than thinking about their health.
"I found it very interesting. You no longer needed to be in hospital because you could go on your daily life on those three drugs. So the sanatorium then became superfluous."
Having a knowledge in this area, Win accepted a post in Hamilton, Ontario for a period of time to work on a project organised by the Canadian Government which was providing TB care for Inuit.
During this post, she became acutely aware on the importance of caring for the individual rather than just the illness and allowing focus to be given to the prevention of illness and the promotion of health.
Win says: "It really brought to my notice very obviously that it wasn't only the physiological aspects of nursing you had to think of but the psychological, socio-cultural, environmental and political economics."
She went on to co-write a book around the issue, which has since been translated into 13 languages since it was first written in 1980.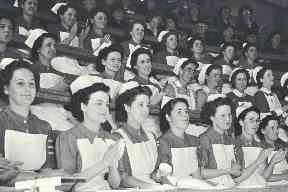 Her interests led her into education and she was part of the team who launched the first undergraduate degree programme in the UK and Europe where nursing was recognised as a graduating subject in 1966.
She has also taken on the roles of the executive director for the international council of Nurses in Geneva, and the dead of the department of health and nursing at Glasgow Caledonian University, to name a few.
Looking at her CV over the NHS' first 40 years, her devotion to the vocation shines through, that glint of determination she first had as a young teenager during the war never wavering.
Even today, at the age of 92, Win still dedicates time to helping others by volunteering with Carers Link, holding firm her belief that more care is needed to help people within the community.
"The advances in technology has been spectacular and has done a tremendous amount to improve the health of various people," Win says.
"Keyhole surgery has been quite spectacular in that it is not so rigorous as the old fashioned surgery was and doesn't take so much time and patients can get out of hospital more quickly.
"One thing which is very important nowadays is that we have an ageing population and they don't just have one thing wrong with them, they have a few things wrong with them.
"The hospitals can't cope with having so many more people in hospital. They have to have care in the community.
"That's a very big important change happening.
"I have only been a tiny part of the NHS. It has been rewarding to think that we have been able to make a contribution during the 70 years."
STV News is celebrating the 70th birthday of the NHS on TV and online throughout the week. We'd love to hear your memories and thank-you message to medics who have looked after you and your family.
Share them with us on social media using the hashtag #STVNHS70 or email us with your story at stvnews@stv.tv
NHS at 70
Download: The STV News app is Scotland's favourite and is available for iPhone from the App store and for Android from Google Play. Download it today and continue to enjoy STV News wherever you are.