'I have to play the hand I'm dealt' says MND fighter
Stuart Skinner wants to raise awareness of living with Motor Neurone Disease.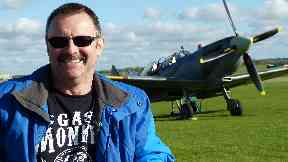 "It was like a punch to the gut."
That is the only way Stuart Skinner can describe being diagnosed with Motor Neurone Disease (MND).
The 62-year-old from Sutherland first noticed something was wrong almost two and a half years ago in November 2016.
"I didn't know exactly what it was, just that my knee had got damaged", Stuart says.
"I eventually went to see a GP about it and they put me through various tests, and I even went for acupuncture, which seemed to reduce the pain.
"I was eventually referred to the neurology department at Raigmore Hospital in Inverness in January 2017.
"On August 22, I received the bombshell that I had MND."
He and his wife were shocked by the diagnosis.
Stuart has lower MND, which he explains: "If I have to have it, I have the best type as it's quite a slow progressing version of the disease."
No one in the family had realised that there were two different types of MND.
The one that most people associate the disease with is upper MND - the same type that professor Stephen Hawking had.
While it is mainly Stuart's left leg that is affected, his right one is partially affected too.
"I did the worst thing that anyone could do when you're diagnosed with a disease - I Googled it," Stuart says.
"Of course one of the first things that came up was that it had a prognosis of two to five years and by this point, we reckoned that I had already had it for about two years.
"That got me down for a wee while - but this is the hand I've been dealt and I just have to play it."
Stuart adds that he's always been a glass half-full kind of person, saying: "I'm a great believer if you want something, you should go and get it, instead of waiting about for someone to hand it to you."
He started going to a support group, and says that just going and talking to other people going through similar experiences was helpful.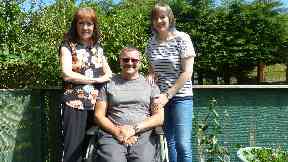 When Stuart had to give up working as a mechanic, he said it was "one hell of a blow".
Working for 40 years in various garages across the country, Stuart is a self described petrol head.
"When I started to need two crutches on the shop floor, I became a bit of a liability," he says.
Initially it was the small things that caused him frustration at home, such as losing the ability to change a light bulb.
"I've always been active outside work, either out doing things in the cars or taking the dogs for hour-long walks."
He said his wife, Linda, and daughters Shannon - who is his registered carer - and Morna have been the ones who have got him through everything.
However a lot of their plans for the future have had to change after the diagnosis.
"There are a lot of things we had been planning to do when we retired," Stuart says.
"We have our own motorhome and we started thinking maybe once we retire we can head off for a few weeks at a time.
"But the van is for sale now, because I can't get into it.
"It's not just the house that had to be adapted, it was me and my family's entire life."
Despite the difficulties the diagnosis has brought to his family, Stuart says it hasn't stopped him living life to the fullest.
Passionate about WWII aircraft, a grant from MND Scotland allowed Stuart and daughter Shannon to visit the Duxford Imperial War Museum in Cambridge.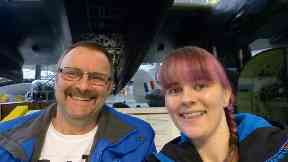 "Since I can remember I've had a passion for the aircraft, no idea why, no one in the family was ever in the air service, I've just always loved them," Stuart says.
"So Shannon and I went down and spent a full three days just at the museum.
"The grant from MND Scotland paid for the flights and hotel and I am so grateful, I cannot thank them enough.
"I felt a bit guilty asking for the grant as it just goes against the grain of what I am used to, but I am so glad we did.
"It was a trip of a lifetime."
Since then, Stuart has been taking part in studies to help further the understanding of what causes MND.
He said: "Some people are very ignorant, in the proper sense of the word.
"They have no idea what MND is and how it affects those who have it, so I have to explain it a lot.
"Some people ask 'can you not get an operation for that?' They don't understand that there's nothing that can be done."
He says he can sometimes hear his father's voice when explaining his MND, saying 'trust you to get something exotic'.
But he says that he doesn't blame anyone for not knowing about the disease, adding 'why would they?'.
"That's why I am sharing my story and trying to raise a bit of awareness among the public about what MND is."
Running from June 18 to 24, MND Awareness Week aims to tackle the misconceptions and stigma surrounding the disease.
Craig Stockton, CEO of MND Scotland, says: "I would like to thank Stuart for sharing his story.
"People affected by MND across the country have been speaking out about their experiences.
"We hope this will help more people understand the disease, its impact on families and how we, as a society, can treat people with MND, with the dignity and respect they deserve."
Download: The STV News app is Scotland's favourite and is available for iPhone from the App store and for Android from Google Play. Download it today and continue to enjoy STV News wherever you are.