Royal newlyweds transformed into artwork on head of a pin
Meghan and Harry have been engraved on a pin and sculpted into the eye of a needle.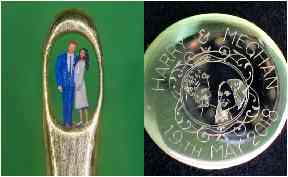 In the dead of night, Graham Short etches a tiny mark on the head of a pin, each scratch carefully made between heartbeats.
The intricate work requires patience and absolute silence, working from midnight to sunrise while the country sleeps.
"I do that to avoid any vibrations from passing traffic. If a lorry went past on the road, it would ruin the work," Graham explains.
For a man who once engraved the Lord's prayer onto a pin and etched 'nothing is impossible' on the tiny sharp edge of a razor blade, the 71-year-old lives up to the quotation marked on one of his most famous works.
Graham has partnered with fellow micro artist Willard Wigan, who creates tiny sculptures to create two unique pieces to commemorate the royal wedding.
Prior to the nuptials of the new Duke and Duchess of Sussex, Tony Huggins-Haig who runs the Tony Huggins-Haig Gallery in Kelso commissioned the two artists to create tiny artworks which would be auctioned off.
Each piece would benefit the seven charities Prince Harry and Meghan Markle chose to support and asked people to donate to in lieu of wedding gifts.
"I'm really pleased to be working with him, it's an honour really," Graham says.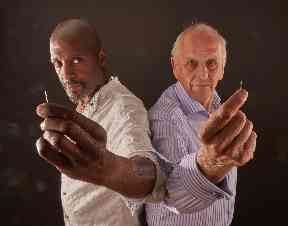 Willard has been creating tiny sculptures since his childhood, even making houses for ants crafted from splinters as a child.
"I was always curious about small things and anything tiny. If I saw those little dandelion seeds floating around, I'd pick one up and look at it.
"I always thought they looked like little fairies," Willard explains.
Some of his most famous works include a tiny gold motorbike crafted from a gold chain and placed inside a human hair and a tiny coronation crown placed in the eye of a needle which was gifted to the Queen.
"My dog dug a hole in the ground when I was very young and all these ants came out of the ground and I thought the ants were homeless. So I set about building homes for ants.
"When my mother saw it she was overwhelmed and she said to me if I keep making them smaller, my name would get bigger."
Like Graham, Willard left school with no qualifications but his interest for creating intricate works of art only grew with age.
"I suffer with autism, I've had it since I was a child but it's become a blessing because without it I wouldn't have the skill I have today," he explains.
He has trained himself to breathe slowly while he works to avoid ruining an artwork with the slightest movement, every stroke painted between heart beats.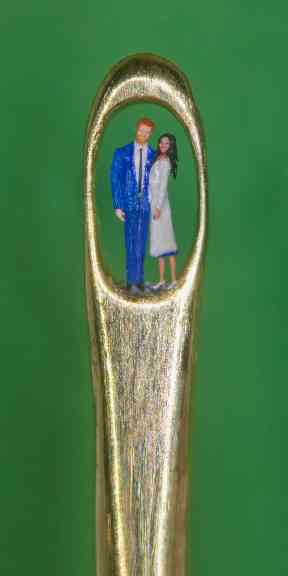 Using a technique similar to Willard, Graham explains he takes potassium magnesium and beta blockers to slow his heart rate down to 20 beats per minute, and using a stethoscope taped to his chest, marks each etch between the beats of his heart.
To commemorate the wedding, Willard worked for four weeks non-stop to create a likeness of Harry and Meghan when they announced their engagement inside the eye of a specially-made gold needle.
"The hard thing about them is that they are so close together, so you have to be careful that when you paint one, you don't paint the other," the 61-year-old says.
He explains his tiny tools include Dalmation hair gifted to him by a scientist which he uses as a paintbrush.
"They're both carved from a nylon tag. You've got to get the proportions right, the height right, the smiles on their faces, even the wedding ring on her finger.
"I had to capture microscopic happiness," he laughs.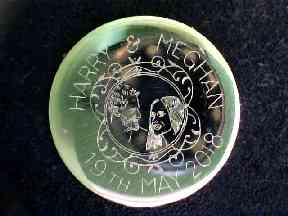 Graham's intricate piece of art saw him engrave a portrait of Harry and Meghan on top of a tiny gold needle for 11 weeks, with their wedding date and names etched either side of their faces.
"The thickness of a human hair is measured at 100 microns and some of the engraving and lettering I've done is only four microns high that I've worked on," Graham explains.
"It's such a frustrating job and I really dislike doing it.
"The best bit for [Willard and I] is when we've finished it, it's under a microscope in a display case and somebody comes along and says 'wow, that's fantastic'."
The two intricate pieces were commissioned by Tony Huggins Haig, who owns the THH Gallery in Kelso in the Scottish Borders.
Managers for both miniature artists, their artworks went on display in the gallery earlier in the summer before travelling around the UK.
They will be auctioned off in aid of the Duke and Duchess of Sussex's favoured charities towards the end of summer.
Artist and Gallery owner Tony Huggins-Haig explains: "Art can lift spirits moods, perception and even areas.
"We have and always will strive to create amazing art both for our gallery and beyond our walls".
Download: The STV News app is Scotland's favourite and is available for iPhone from the App store and for Android from Google Play. Download it today and continue to enjoy STV News wherever you are.