NHS at 70: Research and care around HIV saved my life
Cathy Crawford thought she had just years to live when diagnosed with HIV two decades ago.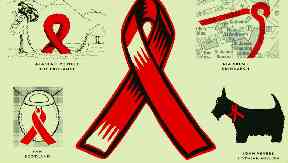 When Cathy Crawford listened to the doctor explain her HIV diagnosis, she immediately began to plan how best to use the time she had left.
Having been working as a teacher in Botswana in her 40s, she had watched with sadness as lives were lost to HIV-related illnesses.
She presumed her fate would follow suit. But the year was 1996, a defining moment in the history of the virus as the 11th International AIDS conference highlighted the effectiveness of a highly active antiretroviral therapy.
It was a massive medical breakthrough and would mark a significant shift in the number of people dying from HIV-related illnesses in Scotland.
But this was all information Cathy was yet to see play out, and social attitudes were much slower to change.
On returning back to Edinburgh after her diagnosis, she did so thinking she was now carrying a death sentence.
"I was in a relationship with someone and was pretty sure it was going to be OK," Cathy says, speaking about how she became infected with HIV from her partner of 18 months, Charles.
"He had given a blood transfusion to a relative who had HIV and they had taken his blood so that is why he thought he was not HIV positive.
"My view is that none of us are always sensible. I fit into that category as well.
"I was taking more risks because I was with a partner who had a much higher risk than I did."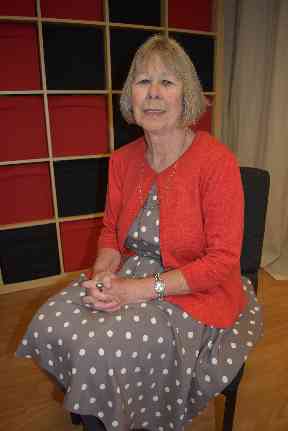 The first suspected cases of HIV were confirmed in Edinburgh in 1983. In 1985, a test for HIV became available and a testing clinic was set up that same year in the city to allow anyone who thought they may have been at the risk of the infection to be tested.
By 1987, cases of HIV and AIDS in Edinburgh and the Lothians were calculated as seven times the national average. The city had been dubbed the AIDS capital of Europe and hard hitting adverts featuring tumbling gravestones instilling a sense of fear around the virus.
Developing treatments and preventing the spread of the virus was at the heart of the work within the NHS in Scotland and more awareness campaigns followed, this time to remove some of the myths and misconceptions around how HIV was contracted.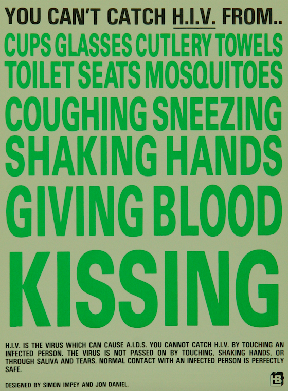 Retired clinical psychologist Dr Alison Richardson first became interested in devoting her time to this field after receiving an increasing number of referrals of people who had a phobia of AIDS.
"Treating somebody with an AIDS phobia was extremely difficult without knowing more about AIDS itself," Alison says.
"I went to see the main guy working in infectious diseases at the time - Dr Ray Brettle - who really pioneered the whole thing along with a GP in Edinburgh who set up a testing clinic and was really a champion, particularly for drug users with HIV.
"I sat and talked to him for about three hours and he was mesmerising. There had just been a report out called the Taylor Report which recommended that a clinical psychologist should be employed."
Alison applied for the job and worked as the head of clinical psychology for the Edinburgh HIV services in 1987, spending the rest of her career dedicated to caring for people living with HIV until her retirement in 2008.
During this time, she worked closely with specialist across the fields of medicine, mental health and public health to develop preventative and treatment services for those at risk of contracting, and those diagnosed with HIV.
"We used to spend at least an hour counselling people who were going to have a test because the prognosis was so awful," she says, speaking about the early days of her career in the field of HIV.
"At that time, we expected that they would die in the next couple of years. We didn't know that the people with HIV who were being diagnosed with HIV in Edinburgh might live for long periods of time.
"That's what they were living with - the expectation they were going to die soon and that they were going to die very young and that they shouldn't have any children because the children would be infected.
"So it had a huge effect on their lives."
She adds: "We were fortunate in that the government was throwing money at the problem, but an awful lot of it was dependant on people who were just incredibly fired up by the whole thing like Ray Brettle."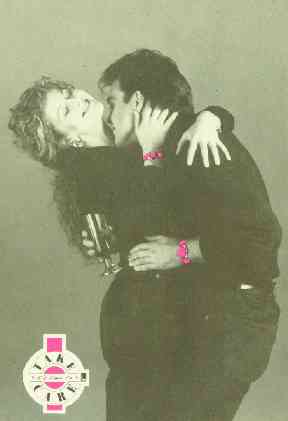 Although great strides were being made in the treatment of HIV, Cathy was still initially wary of treatment and worried it wouldn't allow her to live her remaining years fully.
"Even though, at the time in the NHS, I was getting much more positive messages from the specialists I was being treated by and they were saying 'look it has changed, it is changing' in my head, I was still believing that it was a death sentence," she says.
"The NHS was not only able to give me the medical treatment but the psychological treatment.
"The medical staff I have seen over the years have been incredibly caring and supportive and the research which has been done, it has saved my life no question.
"It took a while for me to get my head around it because if you have firmly decided that you are going to die, it is quite a difficult thing to think 'no I am not after all' and then think 'what I am going to do with the rest of my life'.
"I did feel that I couldn't see a future so at that stage, I definitely was not in a good place mentally."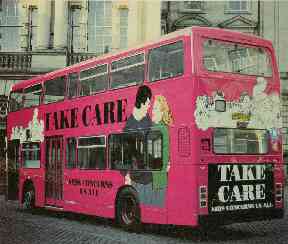 After her treatment stabilised, Cathy returned to her passion of education, teaching English as a second language until her retirement.
Speaking out about her own experience of living with HIV has also become important to her and is something she feels is important in reducing the feeling of stigma around the virus.
As part of this, she volunteers as a care mentor to support people who are newly diagnosed with HIV.
"People say to me now 'oh you are looking so well' and I think 'yes I am well'. But I know the bit they don't say is 'you are looking so well considering you've got HIV'.
"Milestone House is a concrete symbol on how things have changed with HIV because it was built as a hospice for people dying of HIV and, when it was built, the only treatment was good palliative care," she adds.
"It's changed from being a place where people went to die to being a place where people recuperate."
Today, it is estimated that 5200 people have been diagnosed and are living with HIV in Scotland. Access to treatment and care in Scotland is good and, in 2017, 4575 people attended specialist services. Of this number, 96% are receiving antiretroviral drugs and therapy.
While still no known cure, HIV is no longer a death sentence. Someone with HIV who gets tested and diagnosed early and is treated effectively will not go on to develop AIDS and instead can live a long life.
AIDS is now rarely found in the UK as early diagnosis and treatment means fewer people reach that stage.
While work continues in Scotland and around the world to raise awareness about further reducing the amount of people contracting HIV, Alison says the response of NHS Scotland to the HIV crisis when it unfolded in the 1980s and the ability to offer patients a number of treatments and support for free has been a significant milestone in the history of the NHS as it celebrates its 70th anniversary.
"It just could not be more different from having a deathly prognosis 30 years ago," she says.
"It could not be more different in the space of a really short period of time, in terms of advances in medicine.
"The infectious diseases unit at the Western General, which is the main centre, would now probably hardly have anyone in the ward at the one time with HIV or AIDS whereas, even in the early 2000s, at least 50% in the ward would have been HIV patients."
NHS at 70
STV News is celebrating the 70th birthday of the NHS on TV and online throughout the week. We'd love to hear your memories and thank-you message to medics who have looked after you and your family.
Share them with us on social media using the hashtag #STVNHS70 or email us with your story at stvnews@stv.tv
Download: The STV News app is Scotland's favourite and is available for iPhone from the App store and for Android from Google Play. Download it today and continue to enjoy STV News wherever you are.